Emma Stone Brightens Up the Venice Film Festival
The actress got things off to a good start in an elegantly understated dress by Giambattista Valli.
---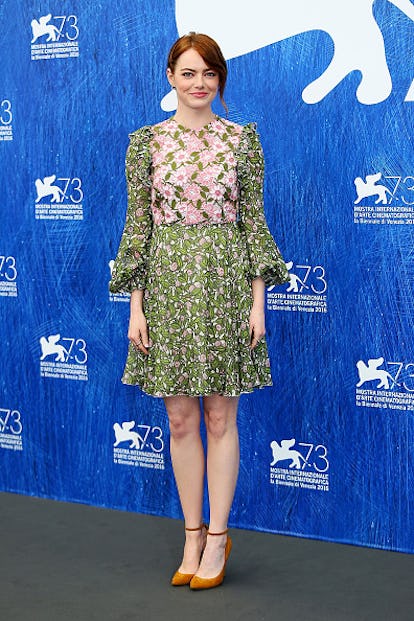 Getty Images
Who: Emma Stone.
When: Wednesday, August 31.
Where: At the 72nd Venice Film Festival for her new film, "La La Land."
What: A floral dress complete with embroidery and ruffles by Giambattista Valli.
Why: Hordes of actors are now starting to descend on Italy's coast for the 72nd Venice Film Festival, and thanks to Emma Stone, things are off to a great start. For its opening slot, the actress screened her new film, "La La Land," today, which has her singing and dancing alongside Ryan Gosling, who plays an aspiring jazz musician. It's getting rave reviews, and though Stone kept it modest and fresh-faced at the screening today, she still stood out in a floral look by Giambattista Valli, fashion's Prince Charming. It's a summer dress that, upon closer inspection, is detailed with ruffles and intricate lace, adding an understated hint of couture. Evening looks at the festival might be pretty straightforward – think glamorous gowns with slits up the thigh – but it takes someone like Stone to shine at the festival's daytime screenings. (She is, after all, Hollywood's golden girl.)
Watch a video interview with Emma Stone: