Emma Stone Gets Pressured Into Starting an Instagram on Billy on the Street
One confuses her for Emma Watson though.
---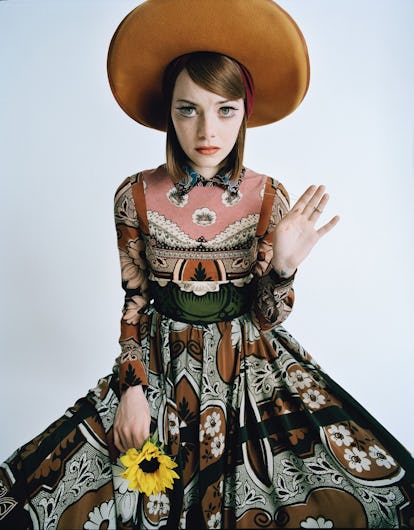 Photo by Tim Walker, styled by Jacob K.
The next time you enter into a situation that tests your patience, ask yourself, "What would Emma Stone do?" The La La Land star truly has the patience of a saint, as evidenced by her appearance in the opening episode of the latest season of Billy on the Street.
In the clip, Stone gets questioned, mistaken for Emma Watson, and shamed as random people on the street pressure her into starting an Instagram. "You don't have an Instagram?" one fan asks. "Why not? How do you keep in touch with the latest things? …Everything and everyone is on there. Will Smith just made an Instagram!"
Other compelling reasons Stone should get an Instagram that she respectfully listens to: "You need to make an Instagram … to show people where you are, obviously." With that kind of input, it's no wonder that, at the end of the clip, Stone is no closer to opening an Instagram account. But, at least she's highly entertained.
Stone's actual explanation for not being on Instagram is just one more reason she's so relatable. Back in 2016, she told Elle, "It makes me so crazy to look at social media. When you see people like, 'This is the best life ever! I couldn't be happier,' you're like, 'Shut up, that is not true.' Not everything comes together in the best way ever, every day. It just doesn't. Even when your dream you set out for comes true, it's not always perfect… That's not the reality of life."
Her best friend Jennifer Lawrence shares the same views, which is why she's not on social media either. Recently, though, she admitted to having a fake Instagram account solely for sleuthing. "I'm on it," she said. "But I'm a voyeur: I watch. I don't speak…There is always so much backlash…I really don't want to welcome that unless it's absolutely necessary. I don't want to put myself out there for no reason…. So many people are listening and paying attention, and they have so many opinions about absolutely everything." Consider Stone's episode of Billy on the Street all the proof you need of that.
Emma Stone's New Blonde Hair Is Just One of Many Stunning Looks
Attending the premiere of Superbad in 2007, actress Emma Stone looked fresh faced and youthful with simple black liner and her red locks softly tousled.

Jon Kopaloff/FilmMagic/Getty Images
Stone arrived to the 2008 MTV Movie Awards with her hair swept back with an embellished clip, dewy skin and black eyeliner.

Jon Kopaloff/FilmMagic/Getty Images
Darkening her locks to a deep auburn, Stone attended the premiere of Zombieland in 2009 with a golden smoky eye and a nude lip.

Jon Kopaloff/FilmMagic/Getty Images
Stone was platinum blonde with blunt bangs and a dramatic smokey cat eye at the The Trevor Project Annual Show in 2010.

Gregg DeGuire/FilmMagic/Getty Images
Stone radiated elegance with a simple up do, a natural eye and sun-kissed skin at the 68th Annual Golden Globe Awards in 2011.

Evan Agostini/NBC/NBCU Photo Bank/Getty Images
Attending the 5th Annual Essence Black Women in Hollywood Luncheon in 2012, the actress kept her red hair loosely pinned back.

Todd Williamson/WireImage/Getty Images
Back to blonde! At The Croods film premiere in 2013, Stone changed up her beauty look with a sleek playful top bun and a bright pink lip.

Luca Teuchmann/WireImage/Getty Images
At the 2014 Met Gala, Stone wore her hair softly tousled in a side braid and a shimmery, bronze smokey eye.

Larry Busacca/Getty Images
Stone attended the 71st Venice Film Festival in 2014 with her newly chopped locks in a tousled bob. She also wore a subtle winged eye and a berry lip.

Elisabetta A. Villa/WireImage/Getty Images
Attending the 21st Annual Screen Actors Guild Awards in 2015, Stone looked classic with a sleek side pony, a red lip, and a black winged eye.

Jeffrey Mayer/WireImage/Getty Images
Exuding old Hollywood glam with her auburn locks softly tousled to the side, rosy cheeks and a coral lip, the Birdman actress looked the part of an Oscar nominee at the 87th Annual Academy Awards in 2015.

Steve Granitz/WireImage/Getty Images
Stone showed off her dark side at the 2016 Met Gala with her brunette locks in a sleek do, a dramatic dark smoky eye and a nude lip.

George Pimentel/WireImage/Getty Images
Celebrating her Oscar win for her role in La La Land, Emma Stone steps out wearing her auburn red locks in elegant curls with a burgundy red lip.

Getty.
Wearing a soft mauve lip with her golden blonde tousled waves, Stone arrives at the AFI Life Achievement Award Gala.

Getty.
Debuting her latest look, Stone steps out in New York City with her new shoulder length platinum blonde locks

Getty.