Emma Watson Battles a Cult-like Tech Company in "The Circle" Trailer
Harry Potter-vet Emma Watson teams up with a Star Wars actor to tackle the evilist empire of all: Silicon Valley.
---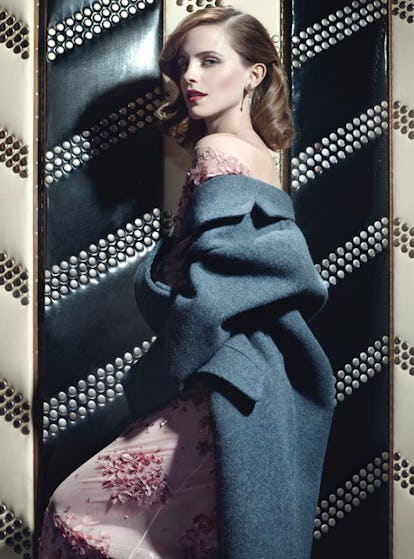 Photography by Michael Thompson, Styled by Edward Enninful
Emma Watson has experience playing a character who helps topple an evil wizard hellbent on purity and world domination. Her co-star, John Boyega, also has a bit of similar experience battling shady empires, thanks to his role in Star Wars: Episode VIII . Together, will their characters be able to overthrow what could be the evilest empire of all: Silicon Valley.
That's what their new flick The Circle aims to find out, and we get our first peak with a newly released trailer for the dystopian thriller.
Emma Watson stars as a twenty-something who gets her professional big break by landing a job at The Circle, a tech company that seems to take equal bits of inspiration from Google, Apple and Facebook, though we quickly learn that the firm also has a bit of twisted Wikileaks-like idealism and a general cult-like vibe.
In a genius bit of casting, Tom Hanks stars as the cult-cum-tech firm's magnetic public face. Genius, because, well, wouldn't we all join a cult lead by Tom Hanks? (After all, half of Hollywood wants him to run for president in 2020.)
In the trailer, Hanks' character espouses an ideology of radical transparency. "Without secrets, without the hoarding of knowledge and information, we can finally realize our full potential," he says at one point. His latest technological breakthrough is a tiny camera that allows people to essentially live stream every moment of their waking lives and allows others to see every single thing that they see (wait, didn't Snapchat recently unveil something like that?)
For the most part, Watson's character mostly just sits there and takes it all in, albeit with an air of skepticism. Boyega's character then shows up to tip her off that there may something far more sinister going on underneath Hanks' talks of idealism and radical openness.
The flick is all based on Dave Egger's 2013 novel of the same name. It drew generally mixed reviews, but the dystopian similarities to Brave New World and Nineteen Eighty-Four were certainly intentional. Hanks took an interest in the novel and helped shepherd the film towards production. Director, James Ponsoldt, best known for his previous literary adaptation The Spectacular Now and The End of the Tour, signed on to write the script and direct. Meanwhile, Watson snagged the lead role after original star Alicia Vikander dropped out to film a Jason Bourne movie.
It's just the latest film to exploit our tech-angst and greatest social media-fueled oversharing fears (Minority Report, Her, Inception …etc), but one of the few that's both technically science fiction and yet seems so close our actual reality. It doesn't imagine technology that seems so far off in the future that the film is set in some highly-stylized future. Instead, the world seems, well, exactly like our and the technological advances don't seem so impossible that we couldn't imagine them being developed in just a few years time. In other words, the evils are a far lot easier to imagine as real than either Voldemort or Kylo Ren.
Whether that ends up making for an enjoyable cinema experience is still up for debate. We'll find out when the flick is released in April of next year.