Everything That Went Down Inside Governors Ball, the Official Emmys Afterparty
For one, a few big winners seemed real casual about leaving their Emmys around.
---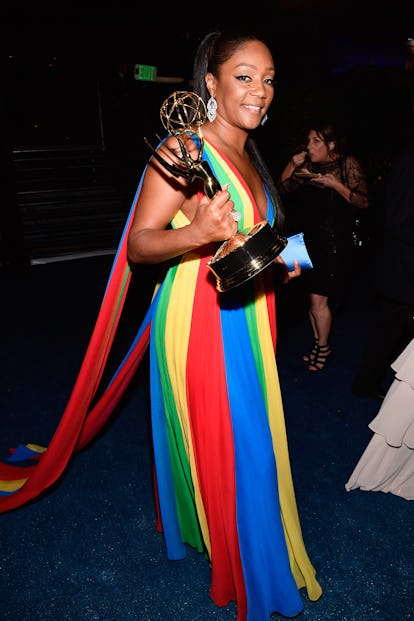 Frazer Harrison
Tiffany Haddish was on a mission Monday night inside Governors Ball, the Emmys' official afterparty. In her rainbow-colored gown, she beelined toward the winner's circle, as it's known, where winners stop by after the ceremony to get their trophies engraved.
Except for Haddish, the trophy she had in hand was a week old, after she won outstanding guest actress in a comedy series for her hosting gig on Saturday Night Live at the Creative Arts Emmys, the preliminary show held earlier this month.
"They don't have it," she finally said, after lingering and pleading with the engravers. As it turned out, ready-made plaques are screwed onto the trophies, and they simply didn't have hers. But soon she was handed a gift bottle of Sterling Vineyards cabernet sauvignon, which had also been personalized for each of the winners.
"This is a great wine," said 72-year-old Henry Winkler, who won his first Emmy, for best supporting actor in a comedy series, for his role in HBO's Barry, following six nominations and over four decades of work on television. "I've never had a bottle with my name on it."
"I'm so happy for Henry," Ron Howard had said earlier of his former Happy Days costar.
Howard was among the herd of TV's elite making their way to the post-telecast celebration. Mandy Moore was to his right, Sarah Silverman was a few steps ahead, and Keri Russell followed directly behind with The Americans costar and boyfriend Matthew Rhys, who snagged his own first Emmy for outstanding actor in a drama series.
"Thank you, FX, thank you Amblin [Entertainment], and finally, to the woman who truly got me this award, who stands in front of me every day and just puts up with me," Rhys said of Russell as he accepted his award, before adding, "She said, 'If you propose to me, I'll punch you clean in the mouth.'"
It was a reference, of course, to the night's biggest moment––when director Glenn Weiss proposed to his girlfriend, Jan Svendsen, while accepting his Emmy for outstanding directing for a variety special. They were approached all night, both showing off their respective trophies: Weiss had his Emmy, while Svendsen had her ring. The two completely stole the show.
Celebrating its 70th year, the ceremony, held at Los Angeles's Microsoft Theater with hosts Colin Jost and Michael Che of SNL, was, well, otherwise forgettable. It could have been funnier, more entertaining, less predictable. The program opened with a musical number that joked about the lack of diversity in TV––the clear theme of the night––but it was simply hard to ignore the back-to-back white winners that followed (Game of Thrones and The Marvelous Mrs. Maisel being the standout winners of the night). Other than the dramatic wedding proposal, the crowd, a who's who in the world of television, showed the most excitement when African-American actress Regina King (outstanding lead actress in a limited series or a movie for Seven Seconds) and English actress Thandie Newton (outstanding supporting actress in a drama series for Westworld), who has African origins, won their respective statuettes. Another crowd favorite was RuPaul, who won for both outstanding host for a reality or reality-competition program and outstanding reality-competition series for RuPaul's Drag Race.
"All of the dreamers out there," he said when he took the stage. "Listen, if you can't love yourself, how in the hell are you gonna love somebody else?"
Following the show, the action began early at Governors Ball, which had moved from its previous location at the L.A. Convention Center to the roof of L.A. Live (essentially, a giant parking lot––though you would never guess it inside the swanky tented space, filled with gourmet treats, specialty cocktails, and wine by Sterling Vineyards), as winners and guests made their way to their respective network parties.
One of the few Emmy winners still around—and perhaps the biggest of the night—Game of Thrones author George R. R. Martin (Thrones took home the last and highly coveted award, outstanding drama series), was sitting by the winner's circle chatting away with a waiter, who was expressing his admiration. After a long while, Martin got up, leaving his trophy behind.
"Don't forget the Emmy!"