The Emmys 2018: Fashion Got Political on the Red Carpet With Padma Lakshmi, Jenifer Lewis, and More
From Padma Lakshmi's reused gown to Jenifer Lewis's Nike ensemble.
---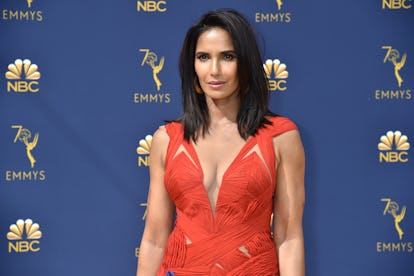 Jeff Kravitz/FilmMagic
In a post–President Donald Trump world, fashion has once again become a canvas for political messages. That was especially the case at the 2018 Emmys, where Padma Lakshmi, Jenifer Lewis, and other celebrities used their red-carpet moment to take a stand.
For Lakshmi, there wasn't just one message she wanted to send. She wore a dress that was already hanging in her closet to highlight the environmental toll the red carpet—and fashion in general—can take on the environment. "I'm excited to wear this beautiful J. Mendel dress again," she told People, explaining her decision to rewear the gown she wore last October to the Vogue India Women of the Year Awards in Mumbai. "I think in this day and age we should stop sending the message to young women and girls that we all have these endless closets of clothes we never wear more than once, especially on a red carpet. The hours that it takes, the artisans' labor, and the gorgeous fabrics all deserve to be worn again and treasured. It seems wasteful not to enjoy these dresses."
She also represented the American Civil Liberties Union by adding a blue ribbon to the gown. "It's also an opportunity to remind people about the ACLU, and the work they're doing with rejoining separated families," she explained. "The ACLU is making sure that kids are where they should be…it's a big deal. I think I'm very lucky to be standing here in a beautiful dress on TV. I was an immigrant, I was a girl who was separated from my parents for two years. I feel like if I have the good fortune to be here, then I should pay it forward and use what I've been given for the greater good to pull other people up. I think we have to do that as immigrants and also as women.'
Jenifer Lewis, meanwhile, went in a more casual political direction. She opted to wear Nike, which took a political stance with their latest campaign, featuring Colin Kaepernick and the words "Believe in something, even if it means sacrificing everything"—a reference to his kneeling during the national anthem at NFL games in protest of police brutality and racial inequality. "I am not going to stand up to show pride in a flag for a country that oppresses black people and people of color," Kaepernick explained during a press conference over a year ago.
The Black-ish actress wanted to use her moment at the Emmys to show her support for Kaepernick and their shared beliefs. "I am wearing Nike to applaud them for supporting Colin Kaepernick and his protest against racial injustice and police brutality," Lewis told Variety. "I'll wear Nike to say thank you. Thank you for leading the resistance. We need more corporate America to stand up also."
RuPaul showed his support for immigration, wearing a white suit that was printed with the image of the Statue of Liberty.
While many celebrities spread their political beliefs through their attire, the Tiny Furniture actress and Women's March organizer Sarah Sophie drew hers onto her arm. "Stop Kavanaugh," she wrote, referring to judge Brett Kavanaugh, who is controversially being considered to become the next Supreme Court judge. "For the Senate Judiciary Committee to move forward with a vote to confirm Brett Kavanaugh this week, without pausing for a thorough investigation of the allegations of sexual violence, would be a gross injustice and an insult to women," she wrote on Instagram, posting a photo of her arm. "Stop the vote."