The Emmys Thirst is Real: All The Stunts and Shenanigans Shows are Pulling For Nominations
In the age of "Peak TV," Networks are pulling serious stunts to make sure their shows get Emmy recognition.
---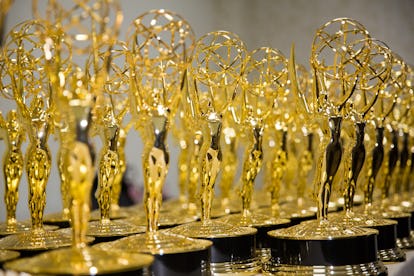 Greg Doherty
Anyone who doesn't live in Los Angeles and isn't involved in the making of television might not know that it is currently "For Your Consideration" season for the Emmy awards. Members of the Academy of Television Arts and Sciences that nominate shows for the small screen's biggest award have from June 12 until June 26th to get their nominations in. For Your Consideration events, where broadcasters try to put their best shows forward for potential noms, usually centers around star-studded panels and ads in publications like Variety and The Hollywood Reporter. This year is very different, however. Networks are getting super thirsty for attention. They're about as thirsty as an entire Instagram account made only of belfies taken in the gym locker room.
The leader of the pack is Netflix, which has transformed a 24,000 square foot venue in Beverly Hills into a sort of mini-mall devoted to their best programs. House of Cards Kevin Spacey showed up for a screening of the premiere of the newest season of the show. There was an Eggo-waffle breakfast inspired by Stranger Things and visitors to the space can ride the kids' bikes from the show (though they're stationary) or throw a foam refrigerator so that they look like TV strongman Luke Cage. One real estate expert told the LA Times that the streaming service probably paid $200,000 for the two-month lease alone. On top of a display of Titus's wardrobe from The Unbreakable Kimmy Schmidt at the Beverly Hills boondoggle space, Netflix also sent out rainbow bagels and funfetti cream cheese to entice people to "consider" the show when filling out their ballots.
Amazon Studios also has a similar space, though smaller, at the Hollywood Athletic Club. The networks can do this because the TV Academy's rules about campaigning and sending potential voters swag are much more lax than the Academy of Motion Picture Arts and Sciences, which runs the Oscars. The TV Academy host the only official FYC events (as they're called), which are more conventional screenings and panels (usually with the actors involved in the programs) but there are only a few spots awarded each year by lottery. Otherwise they won't give out their mailing list of 22,000 voting members. Netflix, Amazon and the rest get around this buy contacting members of trade guilds, like the writers union and producers union that are also likely Academy members.
As for Hulu, they're just sending random Handmaids all over town.
All of this attention is being lavished on the voters because, with more than 400 scripted series this year, everyone in the "Peak TV" is looking for their show to stand out from the pack, which is easy if it takes home a golden lady on September 17th. But now just the competition to get nominated is fierce than ever. Even the ads are getting more inventive. FX is capitalizing on what is happening in Washington with their ads for the Russian-spies-living-in-America drama (and Keri Russel wig showcase) The Americans. The spots show the Washington monument draped in the Soviet flag and send people to the website TheRussiansAreHere.org which touts this previous Best Drama nominee.
CBS is taking the same tack with it's campaign for Mom (which has netted Allison Janney two awards so far) taking out an ad saying it was donating the $250,000 it would have spent on a FYC campaign to Planned Parenthood instead. The network has also been distributing reusable green bags with their shows' logos at LA farmers markets and even made the packaging for the screeners they distributed for eco-friendly and studded with wildflower seeds so it can be planted in producers backyards.
The best chronicle of all this 2017 thirst, however, belongs to Deadline awards columnist Pete Hammond, who lists all of the parties, concerts, open bars, screenings, and other wonderful events that have been going on to try to entice people to consider whatever it is the powers that be want considered. It seems like his social schedule is absolutely packed! "It actually has turned into a kind of fun time of year in which the TV industry is basically proving they have a lot of interest in Emmy season," he writes. Yeah, sounds great. Too bad all of us regular folks are just sitting at home watching TV while everyone on TV is out partying.
Related: Priyanka Chopra, Millie Bobby Brown and More from the 2016 Emmys Red Carpet
Watch video interviews with Nicole Kidman, Millie Bobby Brown and more of this year's nominees here: