The Emmys Will Broadcast Live From 140 Locations With No Red Carpet
Zendaya says she'll still be dressed to the nines though.
---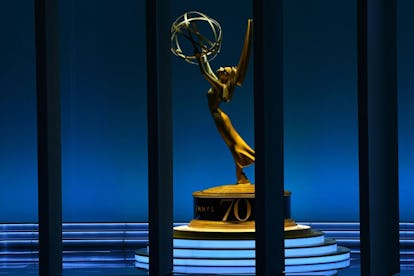 "We're not trying to make the Zoomies, we're trying to make the Emmys," Ian Stewart, president of the company producing this year's Emmy awards, tells Variety. But, make no mistake, this year's ceremony, scheduled for September 20th, will be quite unlike the Emmys you'd expect. For one thing, the ceremony will film live from up to 140 different locations, though the vast majority of those locations may be the nominees' living rooms.
The announcement clears up months of confusion and speculations as to how the first major show business awards ceremony of the COVID-19 era would occur (if at all).
Production company Done + Dusted says that host Jimmy Kimmel will anchor the ceremony live from Staples Center in Los Angeles, chosen because its large size will allow anyone there that night to properly social distance. Some category presenters (though not all) and musical guests may join Kimmel at the space, but for the most part the nominees will be back at home (in some cases because they're in strict quarantine due to the fact they may be preparing to enter production again under tight guidelines). One certainly can't hobnob at the Emmys on a Sunday night, and then show up at work the next morning and risk getting the people at crafts services sick. They don't deserve it.
There will also be no audience, nor a red carpet. Though, nominee Zendaya, at least, has announced that she'll still be dressed to the nines wherever she may be. Producers say it will be perfectly fine if someone wants to accept an award in sweatpants if they so choose.
Producers will also work to outfit all nominees with their own high-quality filming rig, so no one will be accepting an award via their iPhone camera.
"This will all depend on the comfort level of the people at the other end, but we've got to go and find them," Stewart said. "They might be at home, they might be in the garden, might be in a hotel, they might be standing on the side of the street. It doesn't really matter, wherever they feel comfortable. But we want to bring every nominee that we can logistically, live into the show."
One component still being worked out: whether or not winners will actually get to hold a statue during their acceptance speech. A plan to speed a car over to each winner's home in case they won was considered, but ultimately nixed.
Related: Emmys Snubs and Surprises 2020: Zendaya Prevails, The Women of 'Pose' Get Left Out