#EndSARS: How to Support the Nigerian Movement From Afar
From fact-checking, then spreading the word, to figuring out the Bitcoin donation Beyoncé endorsed.
---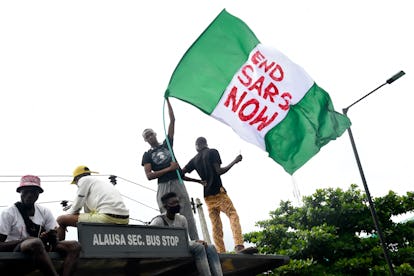 Pius Utomi Ekpei/AFP/Getty Images
On Friday morning, a young Nigerian named Oke tweeted "Nigeria will not end me." Three hours later, he was dead, allegedly at the hands of the Nigerian police. Details are scarce, but that's still more than we know about any other death since Nigeria's latest wave of protests to #EndSARS, or to end the Special Anti-Robbery Squad.
The way President Muhammad Buhari sees it, this month's protesters have already succeeded: He technically dissolved the notoriously brutal and corrupt branch of Nigerian police on October 12. At the same time, though, Buhari also established the SWAT (Special Weapons and Tactics) team. And in the week since, the state-sanctioned police brutality and human rights violations seem to have only gotten worse.
Finally, though, word is getting out. Within a matter of hours on Tuesday, which brought a surprise 4 p.m. curfew for Lagos, Beyoncé, Rihanna, and Nicki Minaj joined the thousands who've been posting about the violence. Lights were out when security forces opened fire on a peaceful protest in Nigeria's largest city, but some of those at Lekki Toll Gate still managed to capture video. (Along with audio of those continuing to sing the national anthem as shots rang out.) The state governor, Babajde Sanwo-Olu, has since confirmed one death, but Amnesty International reports at least 10.
Buhari has promised that disbanding SARS is "only the first step" in the government's commitment to "extensive" police reform. But his track record suggests otherwise. After all, SARS was "reformed" no less than four times between 2016 and 2019. This time, though, the protests feel different. They've spread all across Nigeria, and as far as Toronto and London. Here's how you can play a role.
Spread the word.
If it was just this week that you learned about SARS, let alone last night, you know how effective it can be to even just repost someone who's been speaking up. Share what you've found helpful, and to the best of your knowledge is accurate, cross referencing with people on the ground and the below Twitter account. Consider adding the #EndSARS carrd link to your bio; it's full of resources and background info, and has a selection of reliable reporting for reference.
Attend a solidarity protest.
Many protesters outside of Nigeria are using Instagram accounts as information hubs. Start by searching to see if your city has an equivalent to @endsarsNYC, or Houston's #endsarsHXC. If not, consider starting your own, whether on Instagram, Twitter, or other apps more amenable to sharing links. If you're in Nigeria, you can also volunteer.
Donate.
Keep your eye out for fundraisers, like this one for Diasporans Against SARS. Their most recent disbursement report lists donations to LifeBank, for the medical needs of protesters, and the Feminist Coalition, for ambulances and other forms of support. The latter is a particularly vital resource, though recently switched to Bitcoin out of censorship concerns. If Beyoncé can deal with the hassle, you can, too; find instructions and FAQs here.
Stay informed.
There hasn't been much in the way of reliable international reporting yet, which is why it's best to primarily follow some of the most prominent voices on the ground. This list is a good place to start; it includes the Feminist Coalition and people like Moe Odele, an attorney who's been regularly sharing updates while helping arrested protesters secure release. DJ Switch has also been sharing regular dispatches—she shared an Instagram Live from Lekki Toll Gate on Tuesday—and Davido has been providing educational and at times amusing commentary on the government's response.
Related: The World Is Witnessing Nigeria's Creative Golden Age