Enough Said: Behind the Scenes
Director Nicole Holofcener discusses her new romantic comedy.
---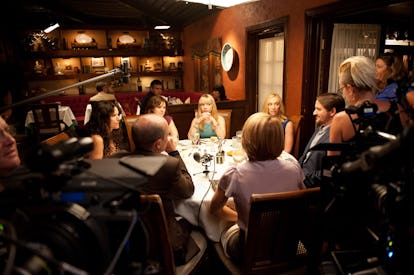 Nicole Holofcener makes painfully funny films for adults. In her new comedy Enough Said, the writer-director cast her romantic leads, Julia Louis-Dreyfus and the late James Gandolfini (in his final performance), for their capacity to express deep hurt, and the quick wit to deflect from the pain. "I was looking for actors who have many things happening all at once," Holofcener explains. "For example, Julia can go from tragedy to comedy and back again in a couple of facial expressions."
Louis-Dreyfus stars as Eva, a divorced masseuse with a daughter bound for college. One night, she meets Albert (Gandolfini), also a divorcée with a looming empty nest. At the same party, she then unwittingly befriends Marianne (Catherine Keener), a chervil-growing poetess whom Eva takes on as a client. At their sessions, Marianne complains unceasingly and in too much detail about her ex-husband—who, of course, turns out to be Albert. As Eva and Albert begin to date and then fall in love, a comic triangle becomes a vexing dilemma. Should Eva tell Albert that she is spend-ing time with his ex-wife, whom he cannot stand? Does she let on to Marianne that her overshares are potentially poisoning the well of Eva's new relationship? How much information—even if it provides a shortcut to knowing the man you are falling for—is too much?
"Hopefully, a mature adult would make the 'right' choice," says Holofcener. "If I were Eva, I think I would come clean. But I would still always wonder, 'Should I have asked some questions? Should I find out what's really going on with this guy?'"
It's a struggle to which Louis-Dreyfus brings an emotional range unseen during her Seinfeld run, but which has lately begun showing up in her role on HBO's Veep, for which she just received an Emmy nomination. "When I met her, Julia had this warmth and emotional availability that was nothing like the characters she's played," Holofcener recalls. The same, perhaps, could be said of Gandolfini. In a film stocked with surprising performances—as the best friend of Eva's daughter, Tavi Gevinson holds her own opposite Gandolfini and Louis-Dreyfus in her first screen role—Gandolfini's is the most stunning turn. His sensitive, humane presence is a worthy cap on a decorated career, but it's also unfortunate that there won't be op-portunity for a post-Sopranos second act as an unconventional romantic leading man. After all, Gandolfini famously described himself as "basically a 260-pound Woody Allen."
"Had Jim lived, I'm sure he would've had an enormously diverse career ahead of him," says Holofcener. "It's funny, because on the set he was constantly joking about being fired. It was like he was asking me, 'You cast me in this part? Are you sure I can pull this off?' I knew he could, and I think a part of him knew he could as well. He was just a bit embarrassed about it."
Enough Said: Behind the Scenes
"Here I am on a night shoot that was a race against the sunrise. I guess I was too tired to lower the monitor."
"A gorgeous bluff. I believe this was the first scene Catherine and Julia shot together, which was exciting for me."
"So much fun to have so many hilarious people at the same table. I had to keep telling everyone to stop joking around and actually work."
"See if you can spot Michaela Watkins in there. A brilliant, funny actor who had a small part. Next time there will be much, much more of her."
"Believe it or not, this picture was taken during nighttime. My cinematographer Xavier Grobet—Enough Said."
"This scene took forever because we were so close to the airport. Every scene at Albert's house has a plane in it."
"Tracey Fairaway (who played Eva's daughter) and Tavi (who played her best friend) crack each other up. It was nice to have youngsters on the set, keeping us old timers awake."