The Sources of Entertainment Keeping W Editors Sane
Reading books like Jane Austen's "Emma," visiting museums and art galleries digitally, watching a horror series, and FaceTiming with friends.
---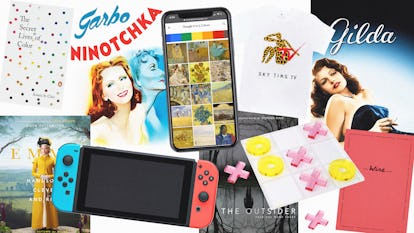 Collage by Tilden Bissell.
Welcome to How W Editors Are Staying Sane, a weekly column featuring a selection of items, practices, and sources of entertainment that are keeping all of us here at W magazine afloat during these strange, if dire, days. Some of the things listed here are newfound interests—others, we've just plain loved forever, and have been seeking solace in their comforts of late. Each week, we'll bring you a new theme based on what's bringing us as much balance as we can muster.
Maxine Wally, Senior Digital Editor
I think often about the implications of being in the middle of a global pandemic and a plummeting economy. These thoughts tend to send me into a spiral of worry and stress. In an effort to stand up against anxiety and stop the negative thoughts, I have turned to the most improbable genre: horror. Specifically, The Outsider, an HBO limited series based on a Stephen King novel about a string of curious murders that happen in a small town. It's one part mystery, one part otherworldly, and one part scare-the-shit-out-of-you grisly. It's also the highlight of my day. Once I'm done with work, cooking dinner, cleaning up my home and settling onto the couch for the evening, I look forward to tuning into the next part of The Outsider—which I have not been binging. I'm watching it one episode at a time, to savor it. There's something entertaining and fun about closing the door on my worried mind for an hour, and slipping into the terrifying world of Ralph Anderson, played by Ben Mendelsohn, and Cynthia Erivo as Holly Gibney. Getting the pants scared off of me is good, in these times.
Brooke Marine, Associate Digital Editor
I know everyone is trying to master TikTok dances or whatever, but I still don't have the app and I probably won't be downloading it any time soon. Instead, I found a YouTube video of Darrin's Dance Grooves. My brother and I begged our parents to let us get this video as kids because of the "As Seen on TV" commercials and because I wanted to learn Darrin Dewitt Henson's choreography he did for Britney and everyone else almost 20 years ago. Nearly two decades later, I still cannot master every step of an *NSYNC video (but there are still some pretty good basic warm-ups at the beginning to get the blood flowing). Also, I'm not a gamer but since we've been stuck inside I've logged a few hours on my boyfriend's Nintendo Switch. I mostly play the Mario games (Mario Tennis, Luigi's Mansion, Mario Kart, etc.) because I'm bad at the others. And honestly, this system is pretty good for community game play (and by community, I mean the three people including myself who are allowed in my house for the time being).
Allia Alliata di Montereale, Special Projects Editor
I am quarantining with my parents and each night, we pick a new movie to watch. In this way, we've been rediscovering old movies—revisiting happier times, watching films from the 1930s and 1940s. The past two nights we have watched Charles Vidor's Gilda starring Rita Hayworth and Ernst Lubitsch's Ninotchka with Greta Garbo.
I am totally late to the virtual museum tour obsession, but what better time to take advantage of it than now? I used to spend a lot of my free time at museums and galleries. Now that they are all closed, the Google Arts & Culture app does an incredible job of transporting me to a museum directly from my couch. Google offers virtual tours of over 500 museums and galleries all over the world—from the MAXXI National Museum of XXI Century Arts in Rome to the National Gallery in London—with high-definition images of the paintings and artifacts on each tour. I've enjoyed using it to virtually visit past exhibitions at museums I wasn't able to see, such as Creativity Across The Commonwealth at Buckingham Palace or Reigning Men: Fashion in Menswear, 1715-2015 at LACMA. The app also has other entertaining tools like Color Explorer.
I also am taking a photo or video every day, which I don't post to social media, to document this time: of myself, the plants, my food, my parents, my dogs. There are plenty of apps you can use to store all these images and videos in one place to eventually make a montage. I like using Leap Second for my videos.
Tilden Bissell, Digital Designer
I'm trying to stay away from my screen as much as possible when not working; the first few days I was checking social media obsessively, and while it's very important to stay informed and follow fun content (like say, W's Instagram Stories), breaks are key. Instead, I'm taking long walks around my neighborhood talking on the phone with my friends (I've mastered the awkward shuffle to maintain 6 feet from passing septuagenarians), doing yoga (I use Sky Ting TV), and reading. Right now my stack consists of: my friend's copy of Kafka on the Shore, The Secret Lives of Color, Dimes' new cookbook, Emotional Eating, Tartine Bread (like many millenials, I've decided now is the time to make sourdough), and a couple of zines I picked up at McNally Jackson before I left New York.
Jenny Oliver, Social Media Manager
I've had Jane Austen's Emma for years but never could seem to start the book. My current motivation is that the movie (which was in theaters) is now streaming, so I need to finish it before I start watching. Next on my list? Educated by Tara Westover.
When I get tired of books or movies, I'll order this tic-tac-toe set to keep my hands busy. The lucite pink and yellow X's and O's are sure to brighten my days. Plus, I'll be supporting a small, local business run by women.
Oona Wally, Senior Visuals Editor
In lieu of spending time together IRL, some friends of mine have initiated group FaceTime or Zoom virtual hangs. I was in one sipping a beer to celebrate of St. Patrick's day, and I have two scheduled with different friend groups later today. In the coming days, I'm expecting some creativity in the next few sessions—perhaps a focused discussion on a certain topic, or a theme to which we'll adhere. Either way, the online visits are a nice break from being alone in my apartment. Now, I have a big group here with me.
Related: The Niche Instagram Accounts Keeping Us Sane (Or, at Least, Distracted)