Stars Sarah Paulson, Laverne Cox and More Gather for Entertainment Weekly's Emmy Awards Party
All the top TV stars, and lots of newcomers from "black-ish" to "UnReal" partied West Hollywood ahead of the Emmy Awards on Friday night.
---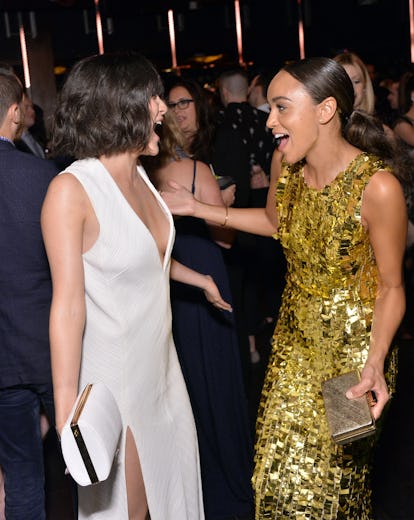 Getty Images
Entertainment Weekly held its yearly pre- Emmy Awards bash at the Nightingale Plaza in West Hollywood on Friday night, and the venue was wall-to-wall with some of the brightest talent in television today. Emmy nominees Sarah Paulson ("American Horror Story," "The People Vs. O.J. Simpson"), Cuba Gooding Jr. ("The People Vs. O.J. Simpson"), Niecy Nash ("Getting On") and Tituss Burgess ("Unbreakable Kimmy Schmidt") could be spotted on the packed dance floor, letting out some pre-Emmy steam to a soundtrack of vintage hip-hop. Also in attendance were former Emmy-nominee Laverne Cox, former *NSYNC heartthrob Lance Bass, and current comedy king Billy Eichner. The whole evening felt a bit like a high-stakes Hollywood Prom, with the Kings and Queens being announced at Sunday's Emmy ceremony.
Yara Shahidi, the 16-year-old breakout star of ABC's thrice nominated "black-ish," was missing her actual high school prom to attend the EW Party. But if Shahidi was sad about skipping out on the school dance, it certainly didn't show as she busted a move on the red carpet.
"I'm so excited! I've already seen some of my favorite people," said Shahidi. "It's better than prom — I'm not too mad that I missed my prom this year."
Inside the venue, "UnReal" star Shiri Appleby recounted her own early-life Emmy Awards experience–though hers was considerably less glam than Shahidi's. "I came to the Emmy's once when I was a freshman in college. I went as a seat filler!" Appleby said, laughing at the memory. "I'm really excited to finally go back to the Emmy's with a ticket. I'm mostly here to support my girl Constance [Zimmer, best supporting actress nominee for "UnReal"] and just cry and clap when I watch her on the stage on Sunday."
Appleby was one of many cast members from her critically acclaimed series to show up to the event. The "UnReal" crew was rolling deep at the EW party (Jeffrey Bowyer-Chapman, Genevieve Buechner, and Meagan Tandy were also in attendance), forming a well-dressed cheer squad for their Emmy-nommed co-star Constance Zimmer.
"Constance is one of the most kind, compassionate, loving human beings on the planet," Jeffrey Bowyer-Chapman, Zimmer's UnReal co-star said. "If karma makes any sense, this win will belong to her. She deserves it."
Bowyer-Chapman wasn't the only person praying for the karmic victory of a fellow castmember. TV and film star Mary Elizabeth Winstead, a recently announced addition to the cast of FX's "Fargo," was on hand to support her future "Fargo" co-stars.
"I'm so rooting for 'Fargo,'" Winstead said, quite literally sparkling in a sequin studded Jenny Packham dress. "I'm rooting for Kirsten Dunst and Jesse Plemons and everyone who's nominated because they're so deserving. I'm so proud to be a part of such a good show with so many talented people."
Indeed, there were many talented individuals in attendance on Friday–most of whom were anxious about the results of Sunday's impending awards ceremony. But Tituss Burgess, nominated for best supporting actor in "Unbreakable Kimmy Schmidt," was not one of the nervous nominees.
"What is there to be nervous about? There's so much television, and somehow these people magically dwindle it down to 6 people, and I'm one sixth of this equation? That is the trophy. I don't give a fuck about that statue. I already won!"
Inside Entertainment Weekly's Pre-Emmy Party
Singer Mary J. Blige attends the 2016 Entertainment Weekly Pre-Emmy party at Nightingale Plaza on September 16, 2016 in Los Angeles, California.

Getty Images
Actress Lea Michele attends the 2016 Entertainment Weekly Pre-Emmy party at Nightingale Plaza on September 16, 2016 in Los Angeles, California.

Getty Images
Actress Ariel Winter and actor Nolan Gould attend the 2016 Entertainment Weekly Pre-Emmy party at Nightingale Plaza on September 16, 2016 in Los Angeles, California.

Getty Images
Actress Laverne Cox attends the 2016 Entertainment Weekly Pre-Emmy party at Nightingale Plaza on September 16, 2016 in Los Angeles, California.

Getty Images
Actress Sarah Hyland attends the 2016 Entertainment Weekly Pre-Emmy party at Nightingale Plaza on September 16, 2016 in Los Angeles, California.

Getty Images
Actor Dave Annable and Odette Annable attend the 2016 Entertainment Weekly Pre-Emmy party at Nightingale Plaza on September 16, 2016 in Los Angeles, California.

Getty Images
Actress Maureen McCormick and dancer Artem Chigvintsev attend the 2016 Entertainment Weekly Pre-Emmy party at Nightingale Plaza on September 16, 2016 in Los Angeles, California.

Getty Images
Dancers Maksim Chmerkovskiy and Peta Murgatroyd attend the 2016 Entertainment Weekly Pre-Emmy party at Nightingale Plaza on September 16, 2016 in Los Angeles, California.

Getty Images
Internet personality Hannah Hart attends the 2016 Entertainment Weekly Pre-Emmy party at Nightingale Plaza on September 16, 2016 in Los Angeles, California.

Getty Images
Actress Karla Souza attends the 2016 Entertainment Weekly Pre-Emmy party at Nightingale Plaza on September 16, 2016 in Los Angeles, California.

Getty Images
Actress Shanola Hampton attends the 2016 Entertainment Weekly Pre-Emmy party at Nightingale Plaza on September 16, 2016 in Los Angeles, California.

Getty Images
Actor Tituss Burgess attends the 2016 Entertainment Weekly Pre-Emmy party at Nightingale Plaza on September 16, 2016 in Los Angeles, California.

Getty Images
Actress Yara Shahidi attends the 2016 Entertainment Weekly Pre-Emmy party at Nightingale Plaza on September 16, 2016 in Los Angeles, California.

Getty Images
Actress Bitsie Tulloch attends the 2016 Entertainment Weekly Pre-Emmy party at Nightingale Plaza on September 16, 2016 in Los Angeles, California.

Getty Images
Actress Sarah Paulson attends the 2016 Entertainment Weekly Pre-Emmy party at Nightingale Plaza on September 16, 2016 in Los Angeles, California.

Getty Images
Actress Ta'Rhonda Jones attends the 2016 Entertainment Weekly Pre-Emmy party at Nightingale Plaza on September 16, 2016 in Los Angeles, California.

Getty Images
Actresses Sarah Drew and Jerrika Hinton attend the 2016 Entertainment Weekly Pre-Emmy party at Nightingale Plaza on September 16, 2016 in Los Angeles, California.

Getty Images
Actresses Isabelle Fuhrman and Ashley Madekwe attend the 2016 Entertainment Weekly Pre-Emmy party at Nightingale Plaza on September 16, 2016 in Los Angeles, California.

Getty Images
Actors Shiri Appleby and Robin Tunney attend the 2016 Entertainment Weekly Pre-Emmy party at Nightingale Plaza on September 16, 2016 in Los Angeles, California.

Getty Images
Actresses Lea Michelle and Ashley Madekwe attend the 2016 Entertainment Weekly Pre-Emmy party at Nightingale Plaza on September 16, 2016 in Los Angeles, California.

Getty Images