Erdem Moralioglu: The English Channel
With his straight-up beautiful clothes, Erdem Moralioglu is fashion's latest It Brit.
---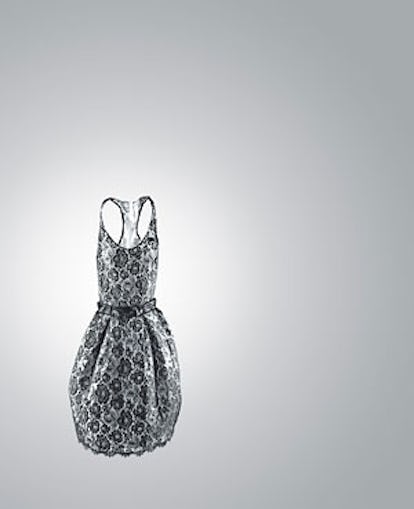 Erdem Moralioglu is a mouthful of a name. It doesn't roll off the tongue the way, for example, Christopher Kane or Gareth Pugh does. But Moralioglu is the best young British designer people should be talking about. Though he arrived on the scene at roughly the same time as Kane and Pugh­—as part of the new vanguard that reignited London Fashion Week—the latter two have whiplashed an international audience to attention with saucy sex appeal and perverse shock value, while Moralioglu has traded on something quieter: straight-up beautiful clothes.
Not that he's gone entirely unnoticed. Moralioglu has certainly turned heads within the Brit clique, picking up a Fashion Fringe award for a capsule collection in 2005 and the British Fashion Council's Fashion Enterprise award two years later. Still, he deserves a shout-out for sticking to his pretty guns.
"I'm a little romantic," he says by phone from his studio in London's Shoreditch neighborhood. It's a fairly innocuous statement for a designer who specializes in feminine dresses, yet Moralioglu immediately wonders if it will sound bad in print, something he does nervously and needlessly throughout the interview. Whether he fears coming off as corny or perhaps simple is unclear, but either way, the Victorian ruffles, French lace and luxurious silk chiffon gowns that define his collection, known simply as Erdem, could hardly be considered a liability. At least Keira Knightley didn't think so when she donned a deep violet pleated silk and rosette confection from the fall collection for the UK premiere party for The Edge of Love in June.
Though he was raised in Montreal, Moralioglu's work is steeped in a traditional English sensibility, something he credits to his mother—"a really stylish lady, always cultured," who grew up in Birmingham, England—and her affinity for PBS. "She was such an Anglophile," he says. "She was really obsessed with keeping us up on Masterpiece Theatre and all those Merchant Ivory films. I grew up watching TV in the basement in Canada, totally immersed in this romanticized idea of what England was."
After earning a B.A. in fashion from Ryerson University in Toronto, Moralioglu indulged his British fashion fancies, first as an intern at Vivienne Westwood, where he embraced archive duty and the opportunity to examine Westwood's collection of corsetry by Mr. Pearl (also known as Mark Pullin, the South African–born, Paris-based corsetiere to the stars), and next at London's Royal College of Art, where he won a spot in the M.A. program. He holds his time at RCA near and dear. So much so that he has not only gone back to teach a master's class there, but he can also often be found in the Royal College library, researching prints and various inspirations on his Mac PowerBook. "I always try to get the same seat," he says. Indeed, his heart is in London. Even a postgrad stint on Diane von Furstenberg's design team couldn't keep him away for long: "I moved to New York and was there for exactly a year to the day."
For all the British-based period influence—Moralioglu names Mainbocher, the American couturier behind Wallis Simpson's wedding ensemble, as one of his biggest design inspirations—his clothes are not at all costumey, nor are they without contrast, another Erdem signature tied to his upbringing. Moralioglu's Turkish father and the family's summer trips to Istanbul offered an exotic counterpoint to his English rose of a mother. Thus, with all the frills comes a touch of the subversive, mostly by way of his color work and moody prints. "There's always a bit of the dark side," he says, referring to his inspiration for spring 2009, taken from "really weird, surreal images from a Seventies production of A Midsummer Night's Dream."
In fact, "weird" and "odd" are apparently two of Moralioglu's favorite words. He uses them to describe all manner of things, from his prints based on blurred Victorian images to the rosette trim on a jacket and the posture of figures in his sketches. And it's exactly this vibe that Julie Gilhart, fashion director of Barneys New York, picked up on when she spotted hot jewelry designer Julia Muggenberg, who designs the Belmacz collection as well as Erdem's runway jewelry, in an Erdem blouse. Gilhart promptly ordered the collection and gave it an extra stamp of approval when she wore an Erdem frock to the Metropolitan Museum of Art's Costume Institute gala in 2006, appropriately titled "Anglomania." Says Gilhart: "I fell in love with it. It was so different. It was white chiffon with a print of brown birds on it eating butterflies. It felt very elegant but had an edge I like."
Barneys may have been the first buzzy retailer to hop on board, but it's certainly not Erdem's only advocate. Aside from the Fashion Fringe and BFC award money that got him on his way, Moralioglu has engaged more sponsors than a sobriety group. There's Mackintosh, the 185-year-old Scottish raincoat firm with which he's collaborated for the past four seasons; Swarovski, which is helping him produce his first accessories collection of clutches and belts for spring; Taroni, the famous silk producer, which has provided him with luscious duchesse silk satin; and the old-school French lace mecca Sophie Hallette, which cross-pollinated with Mackintosh for fall 2008. The result: two exquisite half-lace, half–sturdy cotton "raincoats."
Hallette's work was also featured prominently in Erdem's most recent effort, his first resort presentation, in a series of white glazed organza dresses gorgeously layered with black French lace. "It was an exercise in contrast, but a really straightforward one," says Moralioglu, who found resort's overtly commercial nature refreshing. "You don't necessarily carry the weight of making a really strong statement [as on the runway]," he says of the increasingly important season. "You're designing a dress for the sake of designing a dress, if that makes any sense." Of course it does, but again, such an honest, uncomplicated statement has Moralioglu considering a retraction: "I don't know if that's going to sound really bad in print."