Blue Chip Storage
Eric Firestone Gallery and The Hole collaborate on a group exhibition.
---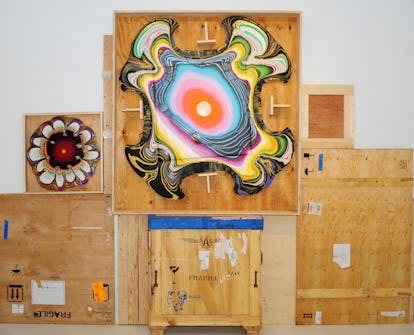 For their first collaborative exhibition, the East Hampton art outpost Eric Firestone and New York's The Hole came together to explore the aesthetic landscape that resides just behind the clean walls of every white cube space—hundreds of crates. Cheekily named after the reality TV program Storage Wars, the joint show attempts to recreate the experience of a private collector's tour of a gallery's catacombs by displaying works in their original packaging. Both unseen and archived pieces by artists like Raymond Pettibon, Sanford Biggers, and Max Snow appear fresh and full of potential when contextualized by their raw origins rather than the blank slate of a whitewashed gallery wall. By providing an intriguing juxtaposition to an industry norm, the show engages with the paradoxical nature of most contemporary collections, which often spend more time in storage facilities than on display. "It is very guerilla in terms of curation," says Firestone, who co-curated the show with The Hole's Kathy Grayson after seeing her crate display at NADA. "Our hope is when you walk into the show you realize there are no boundaries in terms of how to display art, only our conventions."
Photos: Blue Chip Storage
Holton Rower's Stable Disfunction, 2012. Courtesy of the gallery.
Anders Oinonen's Upsopposite, 2012. Courtesy of gallery.
Evan Robarts' New Magic Marker on Panel Piece Studio, 2014. Courtesy of the gallery.
Sanford Biggers' Cumulus II (1/3), 2013. Courtesy of the gallery.