Erin Fetherson Reveals the Secret to Her Romantic Style
The fashion designer loves whimsical shoes, mismatched bridesmaid's dresses and voluminous skirts.
---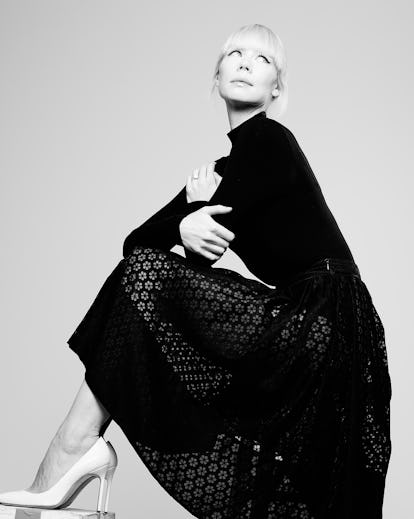 Fashion designer Erin Fetherston is best known for designing pretty clothes, modern wedding gowns, and picture perfect bridesmaid's dresses that girls actually want to wear after the big day. But with her sunny public persona and "Charmed, I'm Sure" video series instructing Fetherstonites on everything from bubblegum etiquette and sitting gracefully to cutting one's own bangs and sabering champagne, Fetherston is a brand in herself. Here, the stylish designer shares her best bridal tips, style icons, summer must-haves, and more.
Define your style in three words: Feminine, spritely, romantic.
Daily uniform: I usually wear pieces from my collection mixed together with simple basics. Lately, I've been wearing a lot of fitted summer sweaters with voluminous Erin Fetherston skirts. I also love anything with a shirt collar.
Greatest hits: Erin Fetherston pleated chiffon baby doll dress, Charlotte Olympia studded kitty flats, Red Valentino pink pea coat, classic black quilted Chanel bag, Globetrotter 1897 Safari trolley case luggage, vintage black maribou chubby, white faux fur jacket.
Preferred footwear: I love shoes that have a touch of whimsy or humor. I collect Charlotte Olympia's kitty flats and also adore Tabitha Simmons's shoes. For evening, I love a classic pump. I have the Manolo BB pump in every variety!
Finishing touches: There's nothing like glowing skin. I love serum no. 1 from Benshen. I also treat my hair like an accessory unto itself—whether it's milkmaid braids or perfectly blunt bangs. Hair can make the look.
Nighttime look: For red carpet or black tie, lately I've been feeling for dramatic, floor-grazing ball skirts paired with minimal tops like my Erin Fetherston X Cosabella bodysuits . That's what I wore to the CFDA awards.
Best recent discoveries: The Wei of Chocolate—the most delicious, health conscious chocolate I've ever had!
Wedding day must-haves: A friend with a good eye on hand to help fluff hems and smooth wrinkles during photos.
Style tips for the bride: While it's natural to want to look your best, make sure you still look like yourself. I see so many brides overdo it when it comes to hair and make-up. I always advise brides to keep it natural and be sure to do full hair and make-up tests before the big day.
Style tips for the bridesmaid: Bridesmaid dressing can be daunting. Instead of choosing matchy-matchy dresses for the bridal party, choose one common element like color or silhouette to tie the looks together.
Lusting after: An embroidered book clutch from the Olympia Le Tan x Disney capsule collection.
Style pet peeve: The "Emperor's New Clothes" quasi-naked red carpet trend of late. Can't we leave something to the imagination?
Favorite haunts: Café Clover, NAVY, and La Grenouille in New York; Auberge du Soleil in Napa Valley; Le Comptoir de Relais and Toraya in Paris; Villa San Michele in Fiesole: Sa fonda in Deia, Majorca; and Coral Reef Club in Barbados.
Style icons: I love classic beauties like Audrey Hepburn, Grace Kelly, and Mia Farrow; cool '60s chicks like Jane Birkin, Marianne Faithful, Twiggy, Francoise Hardy, and Jean Shrimpton; and the fictional darlings Alice in Wonderland, Heidi, and Anne of Green Gables.
Summer must-haves: Humidity taming hair products. I love this sea salt spray from La Tierra Sagrada.
What's always in your bag: iPhone, hair comb, Kiehl's lip balm, Mary Ruth Organics hand cream.
Photos: Erin Fetherson Reveals the Secret to Her Romantic Style
Erin Fetherston. Photo by Juan Algarin.
A selection of Fetherston's Manolo Blahnik BB collection. Courtesy of the designer.
A still from Fetherston's "Charmed, I'm Sure" episode on How to Trim Your Bangs. Courtesy of the designer.
Erin Fetherston at the 2015 CFDA Awards. Photo by BFA.com.
Erin Fetherston. Photo by Claiborne Swanson Frank.
A pair of Fetherston's Charlotte Olympia flats. Courtesy of the designer.
Erin Fetherston with her husband, Gabe Saporta. Photo courtesy of the designer.
Erin Fetherston. Courtesy of the designer.
Hanneli Mustaparta and Erin Fetherston. Photo by BFA.com.