Be Kind, Rewind
Curator Erin Goldberger revives an old video store with video art.
---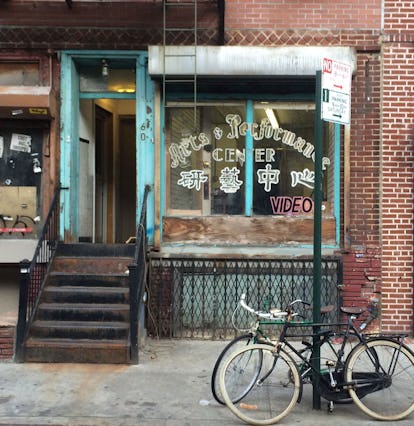 On Wednesday night in lower Manhattan, Chinatown neighbors took notice when an unassuming storefront with peeling signage ("Arts and Performance Center"), which had lay dormant for a decade, was suddenly animated with young visitors. The former Chinese video store has been resurrected as, well, a video store—only with artier stock. Masterminded by Half Gallery director Erin Goldberger and artists Phillip Ashley and B. Thom Stevenson, whose paintings fill the walls, "New Release" is a project space and month-long love letter to the VHS rental shops of the pre-VOD era.
Goldberger, who curated the artist videos, on view throughout the store alongside classics like Rambo and 9½ Weeks, drew inspiration from the local video store of her youth, Video Video. (We all had one, no?) "My spot had a purple curtain for the porn section," she recalled. She pointed towards the back. "The bathroom is our porn section—it has a red door."
"My local was called Movie Mart," said Philip Ashley, who prints archival photographs on textured canvases. "I used to ride my bike there once a week to get Sega Genesis games." In his own work, Stevenson reimagines movie posters, their stylized text lifted straight from throwback flyers and title sequences. "Now everything is in 'Netflix' font," he said, sadly.
As for the video art on display, Goldberger turned to known video artists, like Jeanette Hayes and Siebren Versteeg, as well as some less familiar with the medium, like Ryan Foerster and Chris Succo. All the pieces were transferred onto VHS, with the exception of Versteeg's "2 Hours of Explosives," which the artist already had on tape.
But it's possible that New Release is a little too convincing. "Some people in the neighborhood have been coming by thinking that it's a video store," Goldberger says. "And then they're like, 'Wait—there's only VHS in here."
"New Release," 60 Mulberry Street, is open through June 28.
"New Release." Photo courtesy of Erin Goldberger.
"New Release." Photo courtesy of Erin Goldberger.
"New Release." Photo courtesy of Erin Goldberger.