Ladies' Man
Ermanno Scervino's ultra-luxe designs put femininity before fashion—and the goddesses of the red carpet love him for it.
---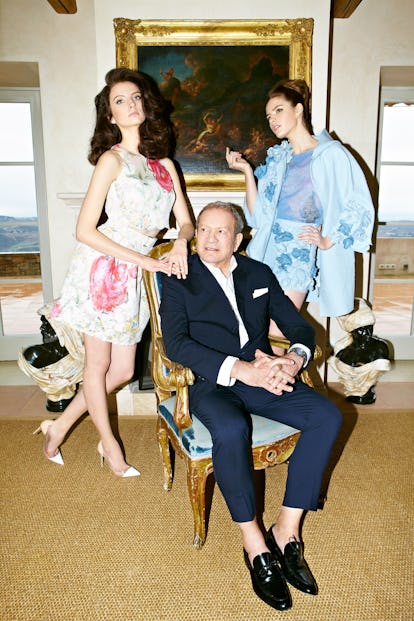 Now that his presence is required for apicture, Orso has decided to act up. At just under a year old, the Tuscan Maremma sheepdog is technically still a puppy, but he's the size of a small bear, with the strength to match. He is jumping and licking and shedding blond hair all over designer Ermanno Scervino's sunny living room in his home near Florence. Ermanno, sockless in a slim black wool suit, does his best to maintain a stately pose, but it takes six people—standing just out of range of the camera—to ensure calm. "I didn't pick this breed at first," he says once the room has been returned to order and a uniformed housekeeper has offered tea in silver service on white linen doilies. Orso's father, Ermanno's first Maremma, was a gift, says Toni Scervino, a cofounder and now the CEO of the Ermanno Scervino label. (Ermanno, who was born Ermanno Daelli, assumed his business partner's moniker as a kind of stage name in 2000.) Toni puts his forearm straight into the dog's fearsome mouth while explaining that it was the breed's combination of machismo and sweetness that won both men over. Still, when Ermanno loaned this 13th-century villa on a hill to his friends Kim Kardashian and Kanye West for their wedding last May, the dog was most definitely not on the premises. I wondered how these two men, with a reputation for exercising such rigorous control over their output—including women's ready-to-wear and alta moda, lines for men and kids, denim, swimwear, and lingerie—could tolerate even such a benign source of chaos."Orso can be naughty, but he knows who's boss," Toni says. And at Toni's sharp "Basta!" the wriggling beast immediately falls back into line. Toni smiles and rubs the dog's nose. That answers that.
Ermanno Scervino is not a name hugely familiar to most Americans, as the brand does business almost entirely in Europe, Asia, and the Middle East. That is due to change, however, with the opening of a boutique this year at Bal Harbour Shops, the luxury shopping mall in Miami Beach. There is also a New York location on the horizon, as well as a new contemporary line, Ermanno, at a gentler price point. (A typical Ermanno Scervino cashmere sweater goes for four figures.) But the label has already built a reputation on the red carpet. Rita Ora, Rosie Huntington-Whiteley, and Kate Hudson have stepped out in its highly feminine, curve-enhancing clothes. Sandra Bullock, Rosario Dawson, and Jennifer Lopez have each been spotted in a spaghetti-strap pencil dress sculpted from black leather with lace cutouts. Ermanno Scervino's signature leans toward a kind of ladylike yet very sexy silhouette: Think jewel-encrustation, animal prints, and head-to-toe ensembles, with matching dress, topcoat, bag, and shoes. Lace features heavily, especially in the fast-selling swimwear collection. Some of those unlined pieces, reminiscent of a golden age Gina Lollobrigida, offer a proper peekaboo effect. "It's not meant for swimming," says Toni as he gives me a tour of the company's headquarters, a 10-minute drive from the villa. "We have a shop on the port in Ibiza, and people come ashore from their yachts to buy."
At more than 100,000 square feet, Ermanno Scervino's home base is a behemoth where design, prototyping, and production all happen on site. Still, the company is campaigning for a government permit to double the facility's size. Most other designers, even the highest-end ones, outsource much of their production to independently owned factories. Ermanno Scervino works with outsiders too, mostly in Tuscany, but whenever possible the company either acquires small workshops, or at the very least becomes their No. 1 customer. It's easier to crack the whip when you're the lion's share of someone's business. "We send things back so much," Toni says. "Our tailors, our fabric people—we make them cry."
It's clear, as we're touring the grounds, that Ermanno is hands-on. He frequently roams the production and prototype wings, and his massive office-atelier on the top floor is less of a Giorgio Armani–style embodiment of the brand than a place where one rolls up one's sleeves, pins clothes on dress forms, and gets on with it. There is no artwork or dramatic lighting, only rows and rows of fabric bolts stacked against the wall near the desk. By Toni's estimation, about 90 percent of the textiles are custom-made. That same attention is reflected in the garments. Seams are heavy and bound. The slinkiest dresses are undergirded with hidden foundations. The kind of women who seek out coordinating day looks clearly appreciate the effort, to the tune of about $100 million a year.
Ermanno got his start in the 1980s in Florence, where, as a self-taught designer, he fashioned contemporary pieces out of vintage scarves, leather from Ibiza, and silver from India. Toni, who met Ermanno through mutual friends, had studied medicine and was just beginning his residency when the idea of becoming a doctor suddenly turned him off. He began working for Ermanno, "who was so much an artist and a dreamer that he lived for his imagination only," says Toni, and thus needed a left-brain type to sort out the business side. On a visit to Cortina, a chic ski resort in the Italian Alps, Ermanno came up with the idea that would put them on the map. "Down jackets were practical, but there was no glamour to them," he says. So he reimagined them in luxe materials like waterproofed silk and cut them in formfitting silhouettes. He produced his first parka in 1993, and after he started to offer matching lace-edged slip dresses, things took off. "They became like evening wear," he says of the puffer-frock combos. Even in 1990s Italy, where dress codes were still quite rigid, "women would go to the theater in them. It was incredible."
The down jackets also caught the attention of R&B and hip-hop stars, who, one might argue, were the first to glam up athletic gear. Ermanno met Kanye West at the label's Paris boutique on the Rue du Fauborg Saint-Honoré. "He was already wearing the parkas," Ermanno says. (He's in them all the time, actually, whether black and voluminous or Army green and lined in fox fur.) "Then he became a friend. He and Kim would come to visit, and when Toni and I took them to see the famous Forte Belvedere on one visit, they fell so in love with the place, they decided to have their wedding there." The loan of the house, which is just a few minutes away, afforded them a rare bit of privacy before and after the big day.
Sequestered by a gate at the top of a dizzyingly steep hill covered in vines, hydrangea, and white roses, the villa is particularly inaccessible to paparazzi. The decor is low-key—sisal rugs atop terra-cotta floors, sofas slip-covered in eggshell canvas—but it's a tightly run ship. The chitchat among Ermanno, Toni—who divides his time between Florence and Milan—and the staff is friendly, but there's a white-glove correctness that feels of a piece with the overall Ermanno Scervino universe, where men wear gray double-face cashmere and women have curves. It's not that the brand is retro—the fabric research, in fact, is the definition of cutting edge—but there is a set of Old World values that clings to its output. Before rushing off to catch the fast train to Milan, which he says he loves because of the quiet, highly civilized executive car, Ermanno sums up his unapologetically throwback fashion philosophy. "Dresses have a lot of messages to convey," he says with a shrug. "But beauty comes first."
Ermanno Scervino, at his home in Tuscany, with models wearing spring 2015 Ermanno Scervino.
(From left) Ermanno Scervino crop top, $2,340, skirt, $5,200, and belt, $765, ermannoscervino.it; Gianvito Rossi pumps, $730, net-a-porter.com. Ermanno Scervino parka, $3,900, sweater, $1,675, and shorts, $595, ermannoscervino.it.
The designer and his dog, Orso.

Photographer: Hugues Laurent
Scervino, with a model wearing a look from spring 2015 Ermanno Scervino, in his studio.

Ermanno Scervino dress, $4,790, and sandals, $1,135, ermannoscervino.it.

Photographer: Hugues Laurent
Kanye West, visiting the atelier, in Florence, 2014. Photograph by New Press Photo/Splash News.
Rosie Huntington-Whiteley in Ermanno Scervino, 2013. Photograph by David M. Benett/Getty Images.
Look from the fall 2015 runway. Photograph by Getty Images.
Jennifer Lopez in Ermanno Scervino, 2014. Photograph by Axelle/Bauer-Griffin/FilmMagic/Getty Images.
Look from the fall 2015 runway. Photograph by Getty Images.
Hair by Loris Rocchi for Bumble and Bumble At Close Up; makeup by Laura Stucchi for Lord & Berry AT Close Up; models: Appoline Rozhdestvenska at IMG Models, Asia Piwka at Elite.