Badu As She Wants to Be
Sartorial wild child Erykah Badu achieves style-icon status as a new face of Givenchy.
---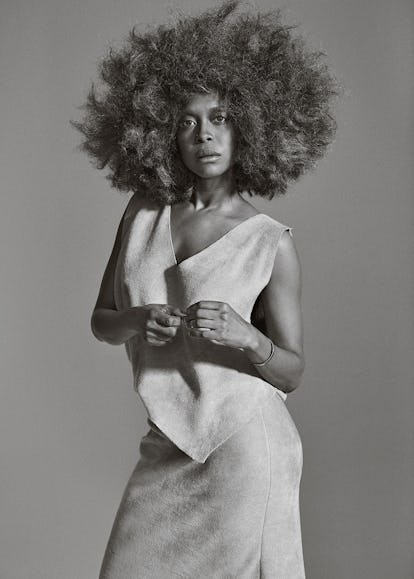 Though it may have flickered softly while this decade's meretricious pop princesses paraded in their tinsel, Erykah Badu's style—lushly nostalgic, glamorously weird—never wavered. Badu's exalted ragtag of big coats, psychedelic dresses, and winged cuffs has always matched the languorous tempo of her music, and no one (save, perhaps, Patti LaBelle or Isabella Blow) ever made so eloquent a case for headgear: towering wraps, Seussian hats, and wigs that might be visible from outer space.
This spring, Riccardo Tisci selected Badu for the Givenchy campaign. "Seeing myself on giant billboards in Paris—it was eye-opening," Badu says. "I've never followed a lot of brand names." But there she was, very Givenchy and yet, bejeweled and beturbaned, distinctly Badu. When Tisci and his muse arrived together at the Metropolitan Museum's Costume Institute gala in New York in May, it was clear that the sui generis music icon had become a style star.
"I've always been more of a gypsy," Badu protests over lunch in Hollywood. She is wearing wantonly torn overalls atop fishnet shorts, and several long, brilliantly colored feathers poke out of her head wrap, which in turn pokes out from under a top hat. "But Riccardo wanted to use models of color, and, as a black woman, I felt it was corporate reparations."
The singer-songwriter calls her style "functional art." She freights her necklaces with charms and talismans—a Mayan calendar, an eye of Horus, an Ethiopian cross—"items with some vibration or frequency that I need." And her gaze alights on anything with a pattern. "I'm turned on by geometry. My major in college was theater, but my minor was physics." She also learned a thing or two from her mother, a woman with what Badu calls "champagne taste and beer money," who knew her way around a thrift store.
Badu grew up in Dallas, where she lives with her son, Seven, and daughters Puma and Mars. "I'm not onstage picking groupies. I'm picking babysitters," she says, adding that her next album, which comes out in early 2015, will be highly autobiographical. "My musical goal is always to be naked." It may come as no surprise to learn that Badu has other gifts, too. "People don't realize that I'm a renaissance woman," she clarifies. "I home-school my children. I'm a cook. I design all my hats. I'm my own manager. I write the songs and direct the band. I'm a DJ. I'm a doula. I'm a Reiki master."
Though like any good Dallas girl she likes the occasional splurge at Neiman Marcus, one thing Badu hopes never to be called is a fashion plate. "Fashion is what's in," she says. "Style is what is."
Hair by Ramsell Martinez for Oribe; makeup by Ozzy Salvatierra for MAKE; photography assistant: Chantal Anderson; fashion assistant: Shadi Beccai; special thanks to Studio 1444.