How Visionary Stage Designer Es Devlin Recreated Her Magic In Her London Home
Her visual alchemy has lit up stages from London's Royal Opera House and Louis Vuitton runway shows to tours for Beyoncé and Kanye West. Now the set designer Es Devlin turns her eye homeward.
---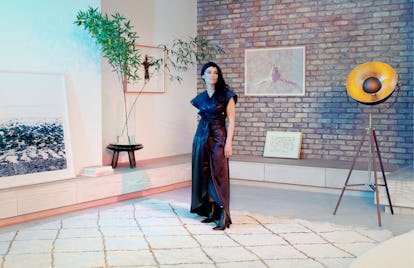 Photograph by Catherine Hyland; Styled by Beatriz De Cossio.
The kitchen and living room walls of Es Devlin's home in the leafy London suburb of Dulwich are made from London stock, the ubiquitous yellowish sandstone bricks that were used to build the ­original house in 1895. They are the most common brick in the city, but ­Devlin's version is not quite as ordinary as it seems. "I wanted a bare brick wall, but I wasn't happy with the way the bricks came out," she says. "So I got the painter at the National Theatre to come and retouch them. She did it so well that you can't really tell they're enhanced."
Visual illusions come readily to Devlin, a petite, delicately pretty 46-year-old who is one of most influential stage designers of our time. She has devised mesmerizing sets for Otello, at the Metropolitan Opera in New York, and Salome, at London's Royal Opera House, and is the designer of choice for music royalty, including Adele, Beyoncé, Kanye West, and the Weeknd. Arriving onstage for her 2014 tour, Miley Cyrus whizzed down a giant slide that extended like a tongue from the mouth of a gigantic Cyrus portrait dominating the stage. Devlin has also conceived the futuristic settings of Nicolas Ghesquière's runway shows for Louis Vuitton. "Our dialogue is very precious to me," Ghesquière says. "Es is a real storyteller and knows how to create a world that stands on its own."
The defining image of the world she has created with her husband, the theatrical costume designer Jack Galloway, 53, and their daughter, Ry, 11, and son, Ludo, 8, is their glorious garden. Unusually large for London, it is filled with cow parsley, wild garlic, and other flowers, grasses, and heritage trees, and is revealed like a stage set through the 60-foot-wide glass wall that Devlin had installed at the back of the house. "This place is all about the garden," Devlin says, gazing out at it in her all-black work uniform of pants, boots, Louis Vuitton military-style jacket, and gray Homburg hat. ("If, like me, you're short, need to be identifiable on set, and don't always have time to sort out your hair, you just stick the hat on and boom!" she says.)
Her family home also contains two studios: one for Devlin's six-strong team, the other for Galloway's. The couple bought the property in 2016, having decided to move closer to their kids' schools from the old paint factory that they had bought as a wreck in 2000. "I didn't understand this house at first," Devlin recalls. "It was all little rooms and chintz wallpaper. I walked out and said, 'Thank God we don't have to live anywhere like that.' And Jack said, 'You're missing the point, Es. Where else are we going to find somewhere with that width?' "
The house was gutted, turning the "little rooms" into fewer, bigger ones. Devlin sketched the new layout of the house and its contents, which were drawn in detail by her design team and fabricated by local artisans. Much of the furniture and the floors are made from Douglas fir planks like those she and Galloway had admired in the interiors of the British designer John Pawson. At one end of the living space is the kitchen, replete with wooden cooking tools they found in Africa, bowls made by local potters, and vessels carved by the jazz musician John Alfredo ­Harris. A lounge area features a couple of works by the British artist Antony Gormley (a birthday gift for Galloway from Devlin, who has picked up most of the other art in the house from student shows at nearby schools), and a pair of human figures made from corrugated cardboard that she designed for the all-cardboard set of a 2005 Royal Shakespeare Company production of Euripides's Hecuba.
Mirrored doors separate the living and working zones. In Devlin's studio there are models of the sets she has created for two Don Giovanni productions and a new ballet by Alastair Marriott, opening at the Royal Opera House in November, as well as her three conceptual representations of The XI, a block-long development with a pair of residential towers designed by the Danish architect Bjarke Ingels between New York's High Line and the Hudson River. (The installations, commissioned by the developer HFZ, are now on view at The XI gallery.) Flanking a studio window are two giant hands, replicas of those made for the 2017 production of ­Carmen at Austria's Bregenz Festival. "Es has this remarkable ability to create a synthesis of ideas, emotions, and the ­artist's ambitions in an image that impregnates itself on your mind," notes Alex Poots, one of her early collaborators and the artistic director of the Shed, the cross-disciplinary arts center set to open in New York City next year.
Devlin grew up on England's south coast with her three siblings. Her mother is a teacher, and her father an education journalist. "I loved reading, drawing, and making things on the floor by sticking bits of cardboard together," says the designer, who studied English literature at Bristol University and spent a year at Central Saint Martins art school before deciding to focus on stage design. "I hadn't been to the theater much, but people kept on ­telling me to check out the Motley Theatre Design Course. When I walked in, I just felt at home. I spent all my time in the studio making miniature models."
Devlin had found a field that combined her passions for art, literature, and bringing things to life. After completing the course in 1995, she worked in indie ­theaters like the Bush, in London, creating extraordinary sets on shoestring budgets, largely by building most of them herself. She seemed poised for a stellar design career in the performing arts until Poots persuaded her to create the stage set for a concert by the British post-punk band Wire in 2003. Devlin encased each of the four musicians in a glass cube. When Kanye West spotted photos of the set on ­Devlin's website, he asked her to design his 2005 tour, a job that launched her as a force in music and fashion.
Crossing over into pop culture has given Devlin greater visibility and much bigger budgets. "At Louis Vuitton, fashion shows are larger than life, and Es can face the challenge," Ghesquière says. Yet she still loves working in theater, where she brings personal touches: For a 2015 production of Hamlet, starring Benedict Cumberbatch, at London's Barbican, she brought her own furniture from home to augment the set. "Some of her most impressive designs have been achieved with rudimentary materials," says the design curator Libby Sellers, who wrote about Devlin in her book Women Design. "Yet she has elevated set design from a supporting to a leading role."
Having relished the chance to devise memorable visual spectacles for her collaborators, Devlin now feels ready to do the same for her own ideas, starting with one of her first loves: reading. "It has been thrilling to see a hundred thousand people enthralled by a big pop concert, and I'd love to do that for reading," she says. "I've been thinking about creating some sort of mediated event by designing visual or aural stimuli to encourage people to read for longer. If I'm going to leave our kids and leave our garden, it's got to be for something that matters."