The Big Chill
Sue Harmsworth, the globe-trotting founder of ESPA, has perfected the art of pampering.
---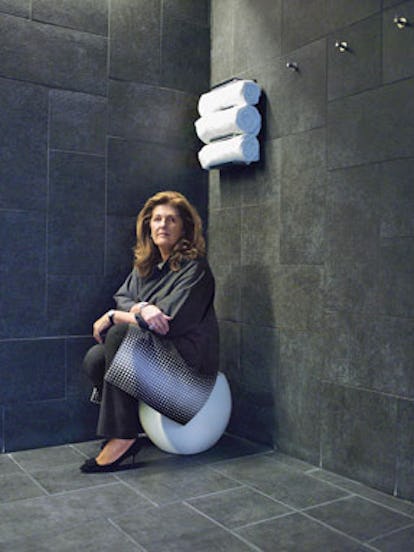 Spa guru Sue Harmsworth is in the business of helping people relax, but chilling out is apparently not high on the busy Brit's personal to-do list. During the past two weeks, she has traveled from her home in London to Abu Dhabi and Dubai—where her company, ESPA, is working on 10 new projects—and she is now in New York to celebrate the opening of the Peninsula Spa by ESPA. Even as Harmsworth sips a cup of aloe rose tea while waiting for a treatment at the hotel's 35,000-square-foot rooftop oasis, she cringes at the muffled bang of a door closing and remarks that some kinks still need to be worked out. "I'm a terrible client," she confesses. "I'm a perfectionist."
It's a trait that has clearly served Harmsworth well. In the 16 years since she founded ESPA, the company has conceived, developed, designed and staffed 140 spas for nearly every high-end hotel group in the world, including the Ritz-Carlton, Mandarin Oriental, Four Seasons, One&Only and Peninsula Hotels. Of those spas, 60 are also managed by ESPA. Peter Borer, Peninsula's chief operating officer, who has worked with Harmsworth on seven of the luxury chain's nine spas, says he is especially impressed by her attention to detail. She insists, for example, that the rolling chairs on which facialists perch during treatments move without a single squeak. "She's tough," says Borer. "But it's always countered with a twinkle in the eye and a smile."
Each ESPA location is unique, from the ultramodern lakeside sanctuary at the Europe Hotel in Killarney, Ireland, to the opulent villas at the One&Only Reethi Rah in the Maldives. "We're never cookie-cutter," insists Harmsworth, 64, a warm, tall woman with a penchant for all-black ensembles and chunky jewelry. But what the spas do have in common is a vibe that manages to be both exotic and familiar. Treatments celebrate local ingredients—smoothing Tahitian black pearl powder rubdowns at the Four Seasons in Bora-Bora, for example—yet the decor is plush and neutral enough to make guests feel at home, and staff members are meticulously trained, for up to 16 weeks prior to a spa's opening. "If the client won't commit to training, then we don't usually go ahead," says Harmsworth, adding that ESPA turns away 80 percent of the hotels that seek out its services.
The spas also share a focus on wellness, with offerings like joint-release massage and—at ESPA's new, stand-alone spa in Riga, Latvia—a nine-month-long pre- and postnatal body-care program. It's a subject that Harmsworth comes to naturally: Her grandmother was an herbalist; her mother, a pediatric nurse. After working as a magazine editor in London, she moved to Canada in the late Sixties to help establish Vidal Sassoon in North America. Upon leaving Sassoon, she opened her first spa in Toronto, and in the Eighties, she relocated briefly to France to study thalassotherapy (seawater-based healing). She then ran the famed fat farm Grayshott Hall in Surrey, England ("We had Pilates before anyone had heard of it," she boasts), and went on to train staff for cruise-ship spas. In 1993 Harmsworth culled all of her knowledge and founded ESPA. Her chic, natural product line, available at all the spas and online, was launched the same year.
While the next generation of Harmsworth's spas will include high-tech services like genetic testing, she continues to champion age-old traditions like aromatherapy and ayurvedic medicine. "You won't see us coming up with a different treatment every month just to appease the fact that strawberries are the latest thing," she says.
But of-the-moment locales are another story. Shortly after leaving New York, she'll be in Africa to scout private game reserves with a pint-size entourage: her four grandsons, ages five to 12. (Both their father, Michael, 41, and Harmsworth's older son, Charlie, 43, work for ESPA.) "I don't buy them many things; I buy them experiences," she says of her grandchildren, reasoning that, ultimately, they will treasure a trip taken with Grandma more than a long-forgotten toy. "I think this applies to the spa industry, too," she adds with certainty. "People remember experiences."