Esteban Cortázar is Back! And This Time, He's Not Going Anywhere
The youngest designer to ever show at NYFW, the former wunderkind is firmly back in the scene with fun, flirty collections that have earned him fans like Gwyneth Paltrow and Cate Blanchett.
---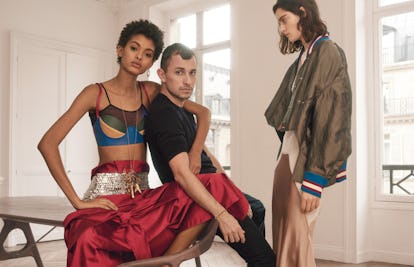 Photographs by Raf Stahelin, Styled by Jaime Rubiano; Hair by Cyril Laloue at B Agency; Makeup by Helene Vasnier at Artlist; Models: Celine Delaugere at IMG Models; Samile Bermannelli at Supreme Management; Photography Assistants: Dani Bastidas, Jean Garcin
Like child actors, fashion designers are highly susceptible to the curse of early success. Peak too soon and you can be yesterday's news by the time your peers are tackling internships. But Esteban Cortázar, famously the youngest-ever designer to show at New York Fashion Week—when he was 18—is, at 32, once again in the spotlight.
Since relaunching his business in 2012 with an exclusive capsule collection for Net-a-Porter, Cortázar, who was born in Bogotá, Colombia, and is based in Paris, has expanded his retail reach to Moda Operandi, Curve, the Webster, Barneys New York, Bergdorf Goodman, and LuisaViaRoma. His growing legion of admirers includes Gwyneth Paltrow, Rihanna, and Cate Blanchett, all of whom have worn his quirky, just-this-side-of-avant-garde designs; style setters Lauren Santo Domingo and Sofía Sanchez de Betak, as well as Hanne Gaby Odiele, the model's model, are also fans.
"I've had my eye on Esteban's work for a long time," says Sarah Andelman, a cofounder of the influential Parisian concept store Colette, which has been carrying the line for three seasons now. "I love his colors and cut. The clothes are feminine but for a strong woman who owns herself."
Further evidence that Cortázar has hit his stride is abundant in his spring collection, a sexy fruit salad of color-blocking, flamenco ruffles, '90s raver jeans, and slouchy layering. Cortázar, who will show today in Paris, where he settled in 2007 after living in New York and Miami, says his diverse influences included Rastafarians, as well as village girls in India who hack their saris and tie sweaters around their waists. The colorful asymmetrical dress that caught Paltrow's eye for a recent gala is a patchwork of Tibetan text; a white minidress held in the back by a knit peace sign became the starting point for a longer, less revealing gown worn by María Clemencia Rodríguez de Santos, the first lady of Colombia, when she accompanied her husband, Juan Manuel Santos, to accept the Nobel Peace Prize in Oslo, Norway, in December.
"The collection was about unity and enthusiasm," Cortázar says, seated at a conference table in his airy Paris showroom. His almond-shaped eyes light up as he talks a mile a minute. "And it is a true reflection of what happened."
What happened would put anyone's enthusiasm to the test. One day this past summer, after Cortázar had left his charming, recently purchased apartment in the 9th arrondissement to go to work, his cleaning lady showed up to find "flames coming out of the window," he recalls. The fire destroyed almost everything he owned, including his book collection, art objects, all his clothes, and an indoor tree. He's currently living in a rental while he renovates, but he fixes his gaze resolutely on the bright side. "My main focus was to concentrate on what I gained from the experience, rather than what I lost," he says. "The day it happened, all my friends and family came—everyone was there for me—and that is real wealth. Our relationships with the people we love are what we can hold onto. Things, who cares?"
Sure, but what if his personal archive, including early sketches and photographs from his adolescence, hadn't been safely stored in his office? "Yeah, that would have been tough," he admits. Though Cortázar was first introduced to a wider public through his debut New York show, in 2002, he cut his fashion teeth when he was a little kid bopping around Miami after school.
"South Beach then was a town of retirement homes and eccentric old people," he recalls. "The News Cafe, downstairs from my apartment, was the local ice cream–and–coffee shop, and The Delano hadn't opened yet. Then, all of a sudden, you started having Peter Lindbergh, Patrick Demarchelier, and Bruce Weber coming to shoot right across the street from where I lived, on Eighth Street, at the Third Street Beach."
The News, frequented by a newly relocated Gianni Versace, was the only place in town where Cortázar could find Italian Vogue, i-D, and The Face. He lapped them up and became a mascot to Versace, Todd Oldham, and the galaxy of fashion stars who started to cluster around the area.
"I'd go hang out with my dad on the beach before going home to do my homework, and Herb Ritts would be shooting Cindy Crawford. Odile Gilbert would be doing the hair, and I'd be like, 'I've seen her picture, that blonde woman. That's Odile!' Anytime I saw there was a shoot on the beach, I'd try to sneak onto the set. I was just like, 'Can I watch?' Next thing you know, I'd be sitting on Cindy's lap."
Once Cortázar was in position, his precocity kept him there. A typical anecdote: Little Esteban, age 13, is peacocking with pocket money from his father and dining with a shopgirl friend at Joia, a sleek new restaurant in town. He gets pulled aside by the manager, a friend of his father's. "He said, 'Madonna's in the back of the restaurant; you should meet her.' I was wearing a black thrift-store cowboy hat I had customized, punching holes in it, and Madonna loved it." After chatting him up, she said she'd love to see his sketches. Afraid that she would leave before he could make the 10-block round trip home and back, he said, "What if I leave you my cowboy hat?"
She was still there when Cortázar returned, and she liked what she saw in his Judy Jetson–meets–Adrian aesthetic. "She said, 'I want to see what else you're going to do.' " As a parting gift, Cortázar gave her the hat; she was repeatedly photographed in it afterward, including at an unannounced appearance at the Rainforest Foundation benefit concert at Carnegie Hall, where she paired it with a black rhinestone-studded Versace column.
The Best of Esteban Cortázar, from Naomi Campbell to Madonna
Esteban Cortázar, in his Paris studio, with models wearing looks from his spring 2017 collection. Models wear Paula Mendoza x Esteban Cortazar jewelry.

Photographs by Raf Stahelin, Styled by Jaime Rubiano; Hair by Cyril Laloue at B Agency; Makeup by Helene Vasnier at Artlist; Models: Celine Delaugere at IMG Models; Samile Bermannelli at Supreme Management; Photography Assistants: Dani Bastidas, Jean Garcin
Looks from Cortázar's spring 2017 collection. Models wear Paula Mendoza x Esteban Cortazar jewelry.

Photographs by Raf Stahelin, Styled by Jaime Rubiano; Hair by Cyril Laloue at B Agency; Makeup by Helene Vasnier at Artlist; Models: Celine Delaugere at IMG Models; Samile Bermannelli at Supreme Management; Photography Assistants: Dani Bastidas, Jean Garcin
Cortázar, age 14, at one of his early fashion shows, 1998.

Courtesy of Esteban Cortazar
Walking for his runway finale in 2003, with Naomi Campbell and Carmen Kass, in New York.

Getty Images
A young Cortázar poses in Miami Beach with his dad's girlfriend.

Courtesy of Esteban Cortazar
Sir Elton John and Madonna, in a hat customized by Cortázar, performing in New York, 
1998.

Getty Images
Cortázar, with Cindy Crawford, in New York, 1998.

Courtesy of Esteban Cortazar
The late Kal Ruttenstein, the fashion director for Bloomingdale's at the time, was Cortázar's first proper mentor and bought his initial collections for the store. Cortázar didn't exactly change the course of fashion history, but, nevertheless, he survived—no small feat at a time when industry consolidation was the norm. Then, in 2007, he was hired as the creative director of Emanuel Ungaro, following Vincent Darré and Peter Dundas; Ungaro's signature ruffles, bright colors, and obsession with Latin romance were in Cortázar's DNA. "I didn't go to college for fashion; I learned it by experiencing it and doing it, so Ungaro was my real fashion school," he says. "The ateliers pushed my creative muscles, and I learned about tailoring and draping."
His collections were generally well received, but in 2009, in the fashion equivalent of electing a reality TV star as president, his bosses installed scandal queen Lindsay Lohan to share the creative duties. This proved to be one sequined pasty too much, and Cortázar promptly left. "I didn't have anything against Lohan," he says. "I just didn't understand the idea of bringing a tabloid celebrity into a heritage brand to work with me. I looked at the bigger picture and said, 'This is not good for me.' " He stayed in Paris, where he consulted for and designed a capsule collection for the mass Latin American brand Exito.
In 2012, Net-a-Porter revived his label, and Cortázar began experimenting with "See now, buy now" scheduling—making clothes available to the press and general public simultaneously. This retailer-friendly approach is another reason Colette's Andelman keeps coming back: the faster the delivery to stores, the more time the clothes can spend on the racks, selling at full price before the change of seasons. Listening to his buyers and customers is one of Cortázar's biggest strengths, says Carmen Busquets, the Venezuelan fashion dynamo and one of the original investors in Net-a-Porter, whose portfolio now includes Farfetch, Moda Operandi, and Lyst. "Esteban has learned from experience how to run his business. He has a loyal clientele that likes him. He listens to advice, and he's open, but he knows what he wants."
Getting there came from many years at the grindstone, and also from leading a relatively quiet life outside of work. Cortázar spends a lot of his downtime with his team, either at the Japanese joints near their office in the 1st arrondissement, or at Clamato, a seafood bar in the 11th. He feeds his senses at museums and galleries like Emmanuel Perrotin and Thaddaeus Ropac, or with the fashion on display at the Musée des Arts Décoratifs, especially the shows curated by his friend and customer Pamela Golbin.
Otherwise, he's a neighborhood homebody, looking forward to the moment his apartment is finally redone and he can return to the shops and cafes around the trendy Rue des Martyrs that he haunted before the fire. The Sturm und Drang of youth, the anticipation of going to work for a famous French house, the startup jitters of going back out alone have all passed.
"I've had reviews since I was a teenager," Cortázar says. "I learned early on, even before Ungaro, that not everyone is going to love what I do. The moment I realized that, it set me free."
Paris Fashion Week Street Style Is Making Even Vetememes Look Chic
Street style at Paris Fashion Week Fall 2017.

Photo by Adam Katz Sinding
Street style at Paris Fashion Week Fall 2017.

Photo by Adam Katz Sinding
Street style at Paris Fashion Week Fall 2017.

Photo by Adam Katz Sinding
Street style at Paris Fashion Week Fall 2017.

Photo by Adam Katz Sinding
Street style at Paris Fashion Week Fall 2017.

Photo by Adam Katz Sinding
Street style at Paris Fashion Week Fall 2017.

Photo by Adam Katz Sinding
Street style at Paris Fashion Week Fall 2017.

Photo by Adam Katz Sinding
Street style at Paris Fashion Week Fall 2017.

Photo by Adam Katz Sinding
Street style at Paris Fashion Week Fall 2017.

Photo by Adam Katz Sinding
Street style at Paris Fashion Week Fall 2017.

Photo by Adam Katz Sinding
Street style at Paris Fashion Week Fall 2017.

Photo by Adam Katz Sinding
Street style at Paris Fashion Week Fall 2017.

Photo by Adam Katz Sinding
Street style at Paris Fashion Week Fall 2017.

Photo by Adam Katz Sinding
Street style at Paris Fashion Week Fall 2017.

Photo by Adam Katz Sinding
Street style at Paris Fashion Week Fall 2017.

Photo by Adam Katz Sinding
Street style at Paris Fashion Week Fall 2017.

Photo by Adam Katz Sinding
Street style at Paris Fashion Week Fall 2017.

Photo by Adam Katz Sinding
Street style at Paris Fashion Week Fall 2017.

Photo by Adam Katz Sinding
Street style at Paris Fashion Week Fall 2017.

Photo by Adam Katz Sinding
Street style at Paris Fashion Week Fall 2017.

Photo by Adam Katz Sinding
Street style at Paris Fashion Week Fall 2017.

Photo by Adam Katz Sinding
Street style at Paris Fashion Week Fall 2017.

Photo by Adam Katz Sinding
Street style at Paris Fashion Week Fall 2017.

Photo by Adam Katz Sinding
Street style at Paris Fashion Week Fall 2017.

Photo by Adam Katz Sinding
Street style at Paris Fashion Week Fall 2017.

Photo by Adam Katz Sinding
Street style at Paris Fashion Week Fall 2017.

Photo by Adam Katz Sinding
Street style at Paris Fashion Week Fall 2017.

Photo by Adam Katz Sinding
Street style at Paris Fashion Week Fall 2017.

Photo by Adam Katz Sinding
Street style at Paris Fashion Week Fall 2017.

Photo by Adam Katz Sinding
Photo by Adam Katz Sinding
The Best Street Style Looks Get a Technicolor, Electrified, Animated Treatment
New York's Best Street Style Gets a Technicolor, Electrified, Animated Treatment