Esther Gauthier Loves Vintage Shoes, Hates Glitter
The French founder of AQUA Studio in Tribeca shares her style notes.
---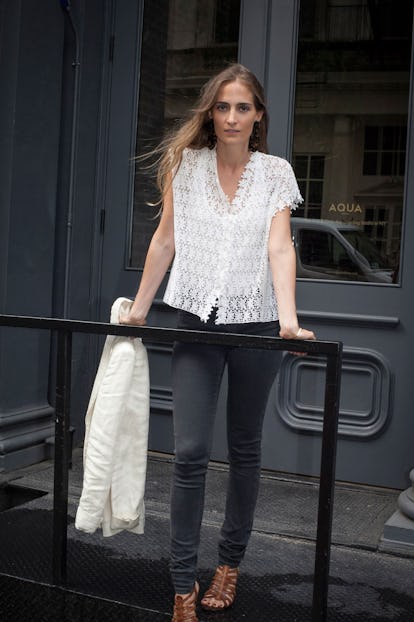 Creating a revolution in the highly saturated New York fitness scene (SoulCycle anyone?) is no easy task. But that's just what Esther Gauthier has done since founding AQUA in Tribeca earlier this spring. The studio offers a unique form of exercise called aqua cycling, in which participants don bathing suits and pedal away on stationary bikes mounted in a pool (the water's natural resistance helps purportedly promote extra caloric expenditure and combat cellulite, among other benefits).
Gauthier, 30, first moved to New York from France seven years ago to work for fashion photographer Enrique Badulescu. But with management degrees from both La Sorbonne and Dauphine University in Paris, she was always keen on starting her own business. When she took an aqua cycling class in 2011 in Paris, she found her opportunity. Gauthier hopes to build on AQUA's enormous initial success with a juice bar, retail and more locations throughout the U.S.
Define your style in three words: Casual-chic, classic and eclectic.
Daily uniform: Slim jeans, comfortable T-shirt or loose shirt, blazer, two-inch heels, often topped with a hat, or earrings, or both.
Greatest hits: Opening Ceremony navy wrap jacket, Christian Lacroix scarf, Burberry vintage raincoat, modern Terra New York raincoat designed by Yurika Nakazono, Parme Marin Necklace Unique Piece, Louis Vuitton classic weekend bag, Jerome Dreyfuss handbag, James Perse tees, A.P.C. jeans, my great grand-mother's white lace top, my 1964 Vacheron Constantin watch.
Preferred footwear: Vintage shoes. Leather boots in the winter, two-inch stilettos, and loafers in the summer. Otherwise, my secret (not so secret) is that I always find very nice and affordable shoes at Zara, Gaimo Espadrille.
Finishing touches: Earrings! I have an impressive collection of vintage and designer clip-ons. I have always loved earrings. I got this from my mom. I have multiple scarfs as well, hats and necklaces. I love accessories.
Nighttime look: A black outfit and smoky eyes if for a very dressed up dinner or party.
Best recent discovery: The book Stiletto Network by Pamela Ryckman.
Favorite stores: NYC: Sunny's Florist in NYC (beautiful little bouquets made by Sunny), Marym Nassir Zadeh (beautiful selection of designer clothes and accessories), The Museum of Art and Design, The Metropolitan Museum of Art Roof Top, Le Labo (I get my Fleur d'Oranger perfume from them), ABC Carpet & Home (most inspiring design store), Sprout in Williamsburg (for plants). Paris: COS (very pretty and simple affordable clothes), Merci (very inspiring concept store and tea room), Bash (clothes).
Style pet peeve: Flashy and glitter.
Style icons: My mom, Marie Gauthier, who is the master at putting together an elegant yet casual outfit. She is so chic!
Last purchase: I do not have it yet but it will be Le Petit Cartable designed by cute Parisian couple Violette and Léo. It is such a special bag. I ride my bike from meeting to meeting and carry my laptop with me so I have been searching for an elegant backpack, in vain. My brother Guillaume who knows me quite well found this one for me. It is exactly what I wanted. The backpack of my dreams.
Lusting after: Time to train and run the NYC Marathon with my dad Jean-Luc Gauthier and my brother, Guillaume.
Favorite haunts: NYC: Lovely Day, Freeman's; Cafe Mogador in the East Village; Hotel Delmano, Moto in Brooklyn, and Coffee in the Rockaways. Paris: La Chaise au Plafond in Le Marais, Le Cherche Midi in St Germain (Italian restaurant).
Summer must-have: At least one summer hat.
Favorite swimwear: Erès.
Next vacation: Somewhere relaxing and sunny with my fiancé, Aaron Griesdorn, who has been such a great support during the build-out of AQUA. We both deserve a break.
What you're packing: Sunscreen and books. I'll try to leave my laptop behind (which is almost mission impossible for me).