Star Trek's New Spock Is Ethan Peck, Mary Kate Olsen's Rumored First Kiss in Passport to Paris
His grandfather is also a Hollywood legend.
---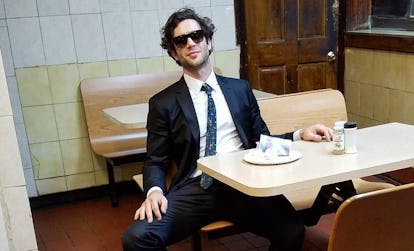 instagram.com/ethangpeck
Star Trek: Discovery just found its young Spock. Ethan Peck — yes, the same Peck as Gregory Peck, his grandfather — will be suiting up as the elf-eared icon for the second season of the CBS All Access series
Peck, who definitely has the ears for the part, confirmed his role on Twitter, writing, "Thanks to the Nimoy family for your open arms, warm welcome, smiling curiosity and support, for making me feel worthy, as I embrace and take into my heart the iconic half alien we know as Mr. Spock. It is an incomparable honor. ?? #StarTrekDiscovery #LLAP"
It was his personality, though, that won him the role. "Through 52 years of television and film, a parallel universe and a mirror universe, Mr. Spock remains the only member of the original bridge crew to span every era of Star Trek. The great Leonard Nimoy, then the brilliant Zachary Quinto, brought incomparable humanity to a character forever torn between logic and emotion," showrunner Alex Kurtzman told The Hollywood Reporter. "We searched for months for an actor who would, like them, bring his own interpretation to the role. An actor who would, like them, effortlessly embody Spock's greatest qualities, beyond obvious logic: empathy, intuition, compassion, confusion and yearning. Ethan Peck walked into the room inhabiting all of these qualities, aware of his daunting responsibility to Leonard, Zack and the fans, and ready to confront the challenge in the service of protecting and expanding on Spock's legacy. In that spirit, we're thrilled to welcome him to the family."
Aside from being a scion and playing Serena van der Woodsen's short-lived rival on Gossip Girl, Peck is also known from playing Mary-Kate Olsen's on-screen love interest and rumored first onscreen kiss in the twins' 1999 film Passport to Paris. (Turns out that French accent was fake. In a 2003 profile on the Olsens, the director Alan Metter revealed to Rolling Stone that Peck was Olsen's "first kiss of any kind, because she was jumpy and did a dozen takes." "We got to pick the guys that would be in the film," Olsen revealed, adding that she and Ashley sourced their love interests from audition tapes.
Now that Peck is playing a young Spock, though, his Passport to Paris role is in the rearview mirror of his résumé.