Eugenie Niarchos's Charmed Life
The granddaughter of a shipping magnate creates a treasure trove all her own.
---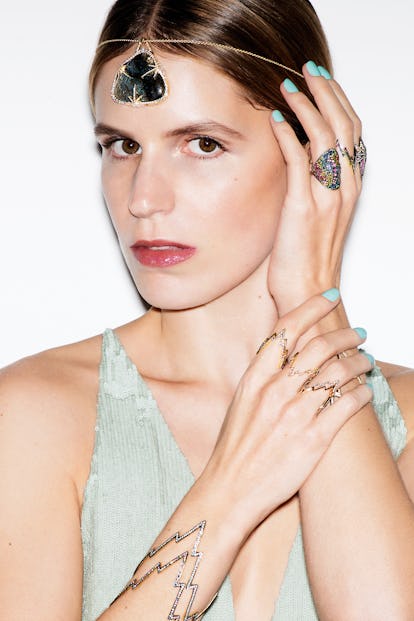 Photographs: Katja Rahlwes Stylist: Gianluca Longo
Twenty-eight-year-old Eugenie Niarchos, who is jewel-like herself, with porcelain skin and glittering eyes, launched her brand, Venyx, in Paris in 2013. The name is a combination of "Venus" and "onyx," two words that suggest much of what inspires her: antique jewelry, science fiction, nature, and what she refers to as "retro-futurism." "I had an idea in my head for a crocodile-skin ring," she says of her initial impetus. "No one had captured that texture the way I knew I could using gold and stones." The collection—whose statement piece was a necklace with 415 hand-set diamonds—wasn't Niarchos's first foray into the world of style. The daughter of Philip Niarchos and Victoria Guinness, and granddaughter of shipping magnate Stavros Niarchos, Eugenie had interned at French Vogue and studied fashion marketing in London before her pal Gaia Repossi asked her to collaborate on two lines for Repossi, Gaia's family's jewelry house, in 2007. "Fashion has become about mixing and matching, yet in jewelry there was this big gap between old-fashioned and forward-looking designs," Niarchos says. "We are all about filling that gap."
Hair by Mari Ohashi at LGA Management; makeup by Lucy Burt for Mac; manicures by Pebbles for Ciate. Digital technician: Rebecca Lievre. Photography assistant: Virgile Biechy.