Eurovision 2017: Portugal Wins an Upset Victory, Thanks to Salvador Sobral and His Minimalist Performance
That being said, the latest edition of Eurovision was full of plenty of theatrics, from people in gorilla costumes to shirtless dancers and pyrotechnics.
---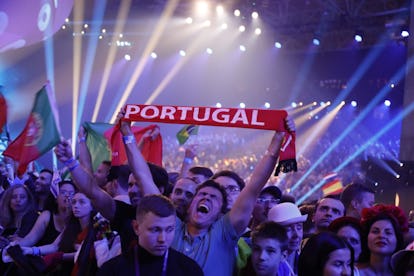 Usually you can count on a Eurovision winner popping up in cheesy dance clubs all across the continent for at least a year before another snazzy pop song takes home the crystal microphone trophy. That might not be the case this year after Salvador Sobral took home the first trophy for his home country of Portugal. His song "Amar Pelos Dois" (which translates to "Love for Both") is not the typical winner of the contest, which usually goes either to a soaring ballad à la Celine Dion (the 1988 winner) or a catchy synthesizer heavy ditty like ABBA's "Waterloo" (the 1974 winner). Instead it's a sweet and touching croon performed by a man who looks something like if Kermit the Frog moved to Brooklyn and got a job as a busboy at a middling farm to table restaurant.
Many didn't think that Sobral, performing a song composed by his sister Luisa Sobrol. Rather than having dancing gorillas and giant pillars of flame shooting out from the stage like his compatriots from Italy and Israel, Sobrol took a more minimalist approach, standing in the middle of the arena flittering his hands around each other like they were fairies doing acrobatics. He was perfectly still, looking like a stiff wind would carry him and his tune away and we would never seen them again. During his final performance, after his win, he wore his trophy as a hat and he shared singing duties with his sister, whose voice is just as clear and ethereal as his own, forcing the question: why did she give the spotlight to her brother if he's just as good?
Portugal was both the judges' and the fans' favorite of the night and both the critics and viewers also agreed about second place finisher, Kristian Kostov of Bulgaria, who did a great job with his slow song "Beautiful Mess." With its overly sweet lyrics and soaring score, it wasn't my favorite of the night. "Our love is untouchable," the teen sang. No, this song is unlistenable! I thought.
I was a much bigger fan of the third place finisher Moldova, even though the band has one of the worst names ever: Sunstoke Project. What exactly sort of project is that and why hasn't anyone scrapped it yet? Apparently the project is like a wedding band and the entire song "Hey Momma" is what it's like to be in a three person band where they all have Guy Fieri's haircut. After all of their female backup dancers dresses turned into wedding dresses, they're all dong the funky chicken and it's like every white people wedding I've ever been to.
Speaking of which, the Eurovision 2017 theme was "Celebrate Diversity," which seemed to just be a celebration of the diversity of white people. I think that Sweden had one black backup dancer and maybe someone who was Asian. Hungary's Joci Papai was the first Gypsy contestant, but then he started rapping about being a samurai in the middle of his song. The lyrics were Hungarian so I don't know what he was talking about, but I do know cultural appropriation when I see it. However he also used a milk jug covered in mirror tiles as a percussion device, which was the most Eurovision thing to ever exist.
Anyway, the fourth place finisher was Belgium. Blanche's song "City Lights," was, in my opinion, the best song of the night. She had this Adele thing going on with a deep throaty voice over a very mild but catchy score. I would actually pay money to download this (or I'll probably just stream it off of Spotify for free, let's be honest). But her performance was nothing more than standing on the stage in a black dress. With a little bit more panache I think she could have taken the trophy.
Eurovision 2017: Meet All 43 Contestants from This Year's Competition
Belgium's Blanche sang the song, "City Lights" at the 2017 Eurovision competition.
Israel's IMRI sang the song "I Feel Alive" at the 2017 Eurovision competition.
Albania's Lindita sang the song "World" at the 2017 Eurovision competition.
Bulgaria's Kristian Kostov sang the song "Beautiful Mess" at the 2017 Eurovision competition.

Picasa
Russia's Julia Samoylova sang the song "Flame Is Burning" at the 2017 Eurovision competition.

Ivan Knyazev +79266027757
Greece's Demy sang the song, "This Is Love" at the 2017 Eurovision competition.

Cr : Giannis Mixelopoulos
Portugal's Salvador Sobral performed the song "Amar Pelos Dois" at the 2017 Eurovision competition.
Hungary's Joci Papai sang the song "Origo" at the 2017 Eurovision competition.

Bodnár Boglárka
Azerbaijan's Dihaj sang the song "Skeletons" at the 2017 Eurovision competition.
Moldova's Sunstroke Project performed the song "Hey Mamma" at the 2017 Eurovision competition.
Germany's Levina performed the song "Perfect Life" at the 2017 Eurovision competition.
F.Y.R. Macedonia's Jana Burcheska sang the song, "Dance Alone" at the 2017 Eurovision competition.

AniDimi
Italy's Francesco Gabbani sang the song "Occidentali's Karma" at the 2017 Eurovision competition.
Iceland's Svala performed the song "Paper" at the 2017 Eurovision competition.
Latvia's Triana Park performed the song "Line" at the 2017 Eurovision competition.

filips smits
Romania's Ilinca sang the song "Yodel It!" with Alex Florea at the 2017 Eurovision competition.

Andreea Zamfirescu
Spain's Manel Navarro sang "Do It For Your Lover" at the 2017 Eurovision competition.
Belarus' Naviband sang the song "Story Of My Life" at the 2017 Eurovision competition.
Czech Republic's Martina Bárta sang the song "My Turn" at the 2017 Eurovision competition.

Marie Bartošová
Artsvik, Armenia's contestant at the Eurovision 2017 competition, sang the sing "Fly With Me."
Denmark's Anja sang the song "Where I Am" at the 2017 Eurovision competition.
Lithuania's Fusedmasc sang the song "Rain Of Revolution" at the 2017 Eurovision competition.
France's Alma sang the song "Requiem" at the 2017 Eurovision competition.

Renaud CORLOUER – FTV
Cyprus's Hovig sang the song "Gravity" at the 2017 Eurovision competition.
Ukraine's O.Torvald performed the song "Time" at the 2017 Eurovision competition.
Ireland's Brendan Murray sang the song "Dying To Try" at the 2017 Eurovision competition.
Poland's Kasia Moś sang the song "Flashlight" at the 2017 Eurovision competition.
United Kingdom's Lucie Jones sang the song "Never Give Up On You" at the 2017 Eurovision competition.

Charlie Clift
Australia's Isaiah sang the song "Don't Come Easy" at the 2017 Eurovision competition.
Norway's JOWST sang the song "Grab The Moment" at the 2017 Eurovision competition.
Other than that, my favorites were Cyprus which presented Hovig singing the catchy song "Gravity." But once again, his performance was a bit lackluster. This is a song called "Gravity" and there was no one floating, there were no hoverboards, there were no people flying on wires. What a waste! He just walked on a line on the stage like it was a balance beam or a sobriety checkpoint. My other favorite was Israel's Imri, but I think that had to do less with his song "I Feel Alive" and more to do with his arms. It was the best gun show I have seen, and I have been a member of the NRA since my eighth birthday. The Israeli government should make it agains the law for Imri to ever wear sleeves again, because I just want those arms to wrap around me and fall asleep in them forever.
But we don't really watch Eurovision for the quality of the songs do we? No, we watch for the absolutely insane pop spectacle of it all. In that category Romania took the crown by a Maltese Mile (Is that actually a saying? Well it is now!) thanks to Alinka, wearing a dress so short that the Vatican has denounced it. The singer performed "Yodel It" by, you guessed it, yodeling. Yodeling has not been this cool since Jewel was on Dancing with the Stars. The background visuals for the performance were just insane, with giant Technicolor toy soldiers being destroyed by fake glitter cannons shooting multicolored pixels across the enormous screens in the arena.
Croatia's Jacques Houdek might have been the oddest performer of the night switching between a high tenor voice and a deep bass the same way most of change our minds about ordering either the shrimp tempura roll or a California roll when we go out to get sushi. It was like Luciano Pavorotti and Adam Lambert were having a singing contest but they were both trapped inside the same body.
Demy, the Greek entrant, wins special points for having the only shirtless dancers this year, and they were two guys pretending to be swans or something splashing around in a pool on stage. At the end, they both put their arms together to form a giant heart and it looked like they were about to make out, which would have been a very fitting protest against some of the parts of Europe where such activities aren't looked upon so fondly.
Oh, and we can't forget about Belarus and Naviband, which was singing about the history and culture of their people in their native language, the first time they have done that at Eurovision. Well, apparently their culture has a lot to do with hover boats, guitars covered in lace, and couples that you think are brother and sister until they start making out at the end of the song and shocking everyone.
Portugal upset early favorite Italy, possibly because the most memorable thing about Francesco Gabbani's song was that he was dancing with a guy in a gorilla suit for some strange reason. Azerbaijan's Dihaj (who looks like Ivanka Trump dressed up as Sia for Halloween) is one of those performers who thinks that she's too smart and avant garde for Eurovision, but here she is anyway, dancing in the middle of a box made out blackboards with the words "Drum Drum Drum" written on it a million times. There was also a dude on a ladder wearing a horse head. That's not art, it's just tomfoolery. And we know you bought that mask at Party City for $12.99. Stop frontin', Azerbaijan.
It will be a shame to leave the Ukraine, the host of this year's presentation, for Portugal next year, because they did a great job producing the show. The three hosts, Timur, Alex, and Valod all did excellent jobs and they could also double as Bel Ami models if their work as television presenters doesn't work out in the long run. I don't know about their fashion choices though. Alex and Valod were both wearing glittery tuxedo jackets and Colonel Sanders floppy ties and later changed to a black tux with white tie and white tux with black tie respectively.
Ukraine really knew how to bring it with the interval performances, however. The first song was by Ruslana, the highest-selling recording artist in Ukrainian history. She did something that was sort of like the "Thriller" music video if all of the clothing was done by Rick Owens and then slashed apart on its way to the stage. I will personally sponsor her visa so that she can emigrate to the U.S. The best though was a long performance by Onuka, who is apparently the Svedka vodka robot. She and some cohorts dressed as musical storm troopers incorporated traditional Ukrainian instruments like harps and giant horns into an electronic performance which wouldn't have been out of place at a Blue Man Group performance except there were no men, blue is too diverse for a show about celebrating diversity, and there was actually lyrics. Otherwise, totally the same thing. Ukraine is going to be a hard act to follow for Portugal next year, especially with a winner as different and unlikely as theirs.
Lion Babe's Jillian Hervey Has Made Her Mom Vanessa Williams' Silver Sequined Leotard Her Own