Why You Should Be Watching Eurovision 2017, Europe's Super Bowl, Hunger Games, and American Idol All in One
A guide to the pageantry, the costumes, the politics, the wacko madness of the Eurovision Song Contest.
---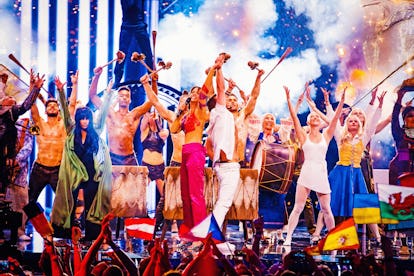 Photo by Getty Images.
Here in America, we are no strangers to singing competitions. We have The Voice, America's Got Talent, Lip Sync Battle, possibly a new reboot of American Idol, and the slowly decaying corpse of The X-Factor. Still, nothing can truly compare to the Eurovision Song Contest, commonly referred to as Eurovision. On Saturday, May 13, some 40-odd countries will compete over the most popular song on the world's smallest continent. Last year, 204 million viewers watched the Ukraine take the top prize. That is double the audience of the Super Bowl.
So, what's the appeal? Well, to begin, everyone loves a televised singing competition—and the way Eurovision does it is completely over the top. Each country designates a singer and devises an elaborate stage show, including props, light shows, costume changes, overt displays of national identity, and so much European dance pop that it will make you want to pronounce Ibiza correctly.
In other words, it is completely bonkers, like American Idol if it were accompanied by years of national rivalries and divided by political alliances—and if it were also to feature a bunch of Russian grandmothers in babushkas baking cookies on stage while singing a song called "Party for Everybody." If you haven't watched it before, this is your year. The finale of the 2017 contest will be shown on cable, on Logo, or streaming for free on Eurovision's website.
And, just in time for your viewing party, here's everything you need to know to pass as a Eurovision veteran to your expat friends.
The Original E.U.
The contest was started in 1956 by the European Broadcasting Union as a way to bring the divided countries of Europe together after WWII. The first contest was held in Switzerland, the home base of the EBU, and featured only seven countries. This year, 42 countries will compete in the final, including Israel and Australia, even though they are decidedly not in Europe. To be eligible, countries must be members of the EBU and broadcast the competition in their home country. Ireland is the most successful country in the competition, having won seven times, including a dominant run of four straight wins from 1992 to 1996. Ireland's Johnny Logan is the only person to win the contest twice, in 1980 with "What's Another Year" and in 1987 with "Hold Me Now."
How Things Work
The path to victory in Eurovision is even more complicated than winning the Electoral College. Each eligible country submits a song for the competition; originally, songs had to be in the native language of the country, but since that requirement was removed a vast majority of the songs are in English. (Last year only three were not.) Moreover, both the songwriter and the performer are not actually required to be from that country, which is what lead to Canadian Celine Dion winning, as a kind of mercenary, in 1988 for Switzerland.
Each country gets to participate in a semi-final, held on May 9 and 11 this year. Sixteen countries will participate in the final on Saturday: the UK, Spain, Italy, Germany, and France—the so called "Big Five"—have a reserved spot in the final each year because they give the most money to the EBU. The host country also has a protected berth in the finale. This year, the Ukraine is hosting the festivities since they won in 2016 for Jamala's "1944." The other 10 spots go to the 10 highest scorers in the semi-finals that are not the host country or one of the Big Five.
The winner is decided by a combination of telephone voting and juries made up of five music professionals in each country. Viewers cannot vote for their own country, which often leads them to vote for their neighbors or political allies. The Eastern and Western blocs tend to stay together in a show of solidarity.
Starting last year, the popular vote and the critics' votes were tallied separately and, a little like the 2016 election in the U.S., the winner didn't receive either the highest number of phone votes or jury votes but ended up the victor-elect thanks to some combination of the two.
The Madness Begins
Each year, the program starts with a short introduction by the local hosts followed by the 16 musical acts. Each artist is introduced briefly, usually by a terrible pre-taped segment, and then commences their performance, which must be live with no backing vocals. Songs can be no longer than three minutes, which keeps the program rolling along nicely. Following the final performance, the host country puts on an "interval act," which often focuses on the history and culture of that country. Although last year Justin Timberlake stopped by to do a song or two, and I'm fairly certain he's not Swedish.
Following the interval, the hosts from each country announce who their top three vote getters are. This might seem boring, but it's my favorite part of the show, because each nation brings their own very emblematic and flamboyant presenter in an effort to make the most of their international moment. It's as close as you may ever get to seeing Effie Trinket announce the name of the the tribute from District 12 in real life. Once the winner is determined, the singer performs the number again, and then we all drift off to sleep with laser light shows in our dreams.
And the Winner Is…
Most Eurovision winners are one hit wonders (and a disproportionate number of entrants have only one name, like Lindita, Artsvik, Isaiah, and Dihaj). The most famous Eurovision winner is definitely ABBA, who won in 1974 for "Waterloo" and is now one of the most successful bands of all time. Celine Dion is one of the few other winners who have gone on to international success. The 2003 winners TaTu were more infamous than famous, posed by their Russian Svengali as both sisters and lesbian lovers, which set off a wave of controversy. Some of that gay exploitation was corrected in 2014 when Austria's Conchita Wurst, a bearded drag queen, won for the song "Rise Like a Phoenix."
But there are definitely some performances that are so outlandish they're simply Eurovision famous. The West Germans won the award for weird in 1979 with "Dschinghis Khan," which featured a song about Genghis Khan, with singers wearing cast-off costumes from Xanadu. In 1981, the UK band Buck's Fizz scored a huge hit with their Eurovision entry "Making Your Mind Up," which was about sleeping around and featured the male singers ripping off the female singers' skirts.
In 2004, Ukrainian entrant Ruslana showed the world what it would look like if a sorority girl dressed as Slutty Xena the Warrior Princess performed a song called "Wild Dances." Not to be outdone, in 2006 Finnish rock band Lordi showed up in elaborate makeup to perform "Hard Rock Hallelujah" as some sort of rock 'n' roll demons. DJ BoBo got just as goth in 2007 for his song "Vampires Are Alive" which, you guessed it, is about being a vampire. At some point Ireland must have decided it was sick of winning and in 2008 sent a puppet named Dustin the Turkey as its representative.
Handicapping This Year's Field
The smart bet this year is on early favorite Italy, with Francesco Gabbani's and his song "Occidentali's Karma." It's about Buddhism, and he's performing with a dude in a gorilla costume, so it seems Eurovision AF. Just as Swedish producers have taken over the pop charts, they're also major Eurovision contenders and have finished in the top five four of the last five years. This year, they're sending Robin Bengtsson and "I Can't Go On," which sounds exactly like something every SoulCycle instructor would be really into.
There are a few nascent countries that could take their first crown, however. Bulgaria has only placed as high as fourth but Kristian Kosov's ballad "Beautiful Mess" may take them all the way. Portugal is the country that has competed the longest without a win, but this year Salvador Sobral might break the drought. His sister wrote "Amar Pelos Dois" for him and it sounds like something Caitano Veloso would sing.
Naturally, this year is not without controversy or political strife. France's entry might be disqualified because it was performed before being entered into the contest, but the country's entrant said it has produced a new bilingual version of Alma's "Requiem" which should make it eligible. More definitely, Russia had to withdraw from the competition because its singer Yulia Samoylova is banned from entering the Ukraine because she traveled from Russia to the disputed Crimea region in 2015. Of course, the singer disputed this occurred.
It wouldn't be Eurovision without a ton of drama, both on and off the stage.
See what's trending in W video: