With a New Will Ferrell Film, Eva Mendes Is Showing Off Her Funny Bone
She's best known for her screen-idol face and siren curves, but with a new Will Ferrell film, Eva Mendes is showing off her funny bone.
---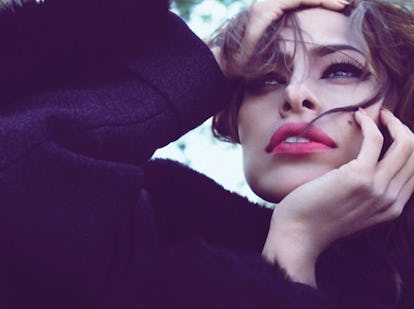 Eva Mendes was riding in a cab through New York's SoHo in May when it stopped at a red light on Houston Street. Looking out, she saw herself splashed 50 feet wide across a billboard, writhing in a white tee and skinny Calvins. "There I was," she says, "all greased up, my head thrown back, and I thought, Who are you? Are you kidding me?" Later that day the curvy beauty, now ensconced in a banquette at the Carlyle hotel restaurant, laughs as she recounts how disconnected the sighting made her feel. "There's that little surreal moment," Mendes says. "I'm proud of it, absolutely, because why not? I can access that side quite easily, and I enjoy it, but certainly how boring if that was all I had to offer. The goal is to explore all sides."
Coming from an actress who has posed nude for the cover of Maxim, provoked a controversy with her bare nipple in a 2008 TV ad for Calvin Klein perfume and spotlighted her shapely breasts in countless photo shoots—in Italian Vogue, they were smushed upward by an unseen woman's feet—this may strike you at first as disingenuous. But spend a little time in Mendes's company and you begin to see that her most substantial assets are not just the ones on perennial display.
"Can I get something out of the way really quickly?" she asks as she scans the menu, holding up her slender hands to show me her crazy long fuchsia nails. "Not me! These are fake nails for a photo shoot, and they won't come off. I was looking at my hands and thinking, Ugh! What are these?"
Talons aside, Mendes, 35, is surprisingly delicate and unadorned in person, with a quick wit and the kind of boundless optimism that reveals itself in the way she says "aMAZing!" when asked to describe an experience. Tonight she's wearing a white gauzy summer dress with a plunging V-neck, and her hair is loosely piled atop her head. She has willowy arms, a forehead that furrows and slightly buck teeth, as she calls them, that lend her generous smile its warmth.
"It's very hard for me to be seen as funny, and the truth is, that's where I'm most comfortable," she says when talk turns to her latest film, The Other Guys, which opens in August and also stars Will Ferrell and Mark Wahlberg. Mendes plays über woman Sheila Gamble, a Knicks dancer–turned–doctor married to a dunderhead of a forensics cop (Ferrell) who doesn't realize what a babe his wife is. "These are the two comments I get from people when they meet me," says Mendes, who lives in Los Angeles but is in New York for the Metropolitan Museum of Art's Costume Institute gala. "'You seem a lot taller on film,' and 'You're funny.' If people hang out with me, they see I'm a ham."
Photographer: Mert Alas & Marcus Piggott Stylist: Alex White
Photographer: Mert Alas & Marcus Piggott Stylist: Alex White
Eva Mendes wears Nina Ricci's faux fur jacket, at Jeffrey, New York.

Photographer: Mert Alas & Marcus Piggott Stylist: Alex White
Dolce & Gabbana's silk dress, at select Dolce & Gabbana boutiques, 877.70.DGUSA.

Photographer: Mert Alas & Marcus Piggott Stylist: Alex White
Marc Jacobs's alpaca coat with attached belt, at Marc Jacobs, New York, marcjacobs.com; Nina Ricci's silk dress, at Barneys New York, New York, barneys.com; Zainab, Los Angeles, zainabonline.com; Agent Provocateur's nylon lace bra, at Agent Provocateur, Chicago and Los Angeles; Bloomingdale's, New York. Harry Winston earrings.

Photographer: Mert Alas & Marcus Piggott Stylist: Alex White
Photographer: Mert Alas & Marcus Piggott Stylist: Alex White
Talented, sexy and something of a ham, Eva Mendes proves there's more to her than meets the eye. Here, she wears Miu Miu's wool dress with metal adornments, at select Miu Miu boutiques, miumiu.com. David Yurman's platinum, tourmaline and diamond ring, price upon request, at David Yurman The Townhouse, New York, 212.752.4255.

Beauty Note: Mendes heats things up but still stays cool with Shiseido Makeup Sheer Matifying Compact Foundation SPF 22; Luminizing Satin Eye Color in Squirrel, Caramel, Cavern and Slate; Smoothing Eyeliner in Brown; Perfect Mascara in Black; Accentuating Color Stick in Bronze Flush; and Perfect Rouge lipstick in Valentine.

Photographer: Mert Alas & Marcus Piggott Stylist: Alex White
Ferrell and longtime cowriter Adam McKay, the film's director, had written Gamble expressly for "someone like Eva Mendes, who is instantly recognizable as one of the most beautiful women in the world," says Ferrell, without knowing if she'd actually go for their brand of goofball absurdism. And then McKay had lunch with her, "and it's kind of shocking how funny and cool she is," he says. "She's very quick and honest and isn't afraid to make fun of herself. So within two seconds, she isn't like a beautiful Hollywood actress anymore, she's Eva and game for anything."
In the past 12 years, Mendes has appeared in 24 movies, though it's safe to say that despite some memorable performances, none have propelled her to the top of Hollywood's A-list. She's longing to stretch, she says, having been cast more typically for her looks, so redolent of the full-bodied Sixties Italian sirens Sophia Loren and Gina Lollobrigida, than for her acting cred. Among her best-known roles: Denzel Washington's mistress in the 2001 police drama Training Day; Joaquin Phoenix's sexy squeeze in the compelling 2007 cop thriller We Own the Night; and the canny, fast-talking gossip columnist Sara Melas in Hitch, the 2005 blockbuster romantic comedy that costarred Will Smith as the dating coach she falls for. Though Mendes was singled out for praise, it was the heavyweights Washington, Phoenix and Smith who got the lion's share of critical attention.
With The Other Guys, however, Mendes may well give her co-stars a run for their money. "It was completely liberating," she says of the opportunity to play in another key. "Never have I had so much fun with a character and felt so natural at it. Had I done this movie three years ago, I wouldn't have had the confidence to throw it back at Will, and now, if anything, I was overly confident. I didn't know when to stop!"
Mendes, Ferrell recalls, was nimble on her feet and always knew where the joke lay. His and McKay's method is nonstop improvisation, a working style they've honed in such films as Anchorman and Talladega Nights, but one that was new to Mendes. Asked to sing a little ditty they'd composed called "Pimps Don't Cry," Mendes "made up this funny, weird, touching moment where she's caressing my face and singing this song like a lullaby, completely seriously," says Ferrell. "It was odd and insane and funny all at the same time."
No stranger to being the lone female in a testosterone-fueled ensemble, Mendes happily jumped into her next project, tentatively titled Last Night, because it allowed her to work alongside Keira Knightley and to inhabit a buttoned-down, understated character for the first time. The film, which does not yet have a release date, features Knightley and Sam Worthington as a married couple tempted to stray. Mendes plays the husband's alluring business associate, and though she's the other woman, "she is not seen as overtly sexy as she's been in other films," says freshman director Massy Tadjedin. "There's a softness and subtlety­ in her performance that makes it a very real depiction of a woman."
While waiting for her Monster, the indie movie that turned Charlize Theron from babe into Oscar-winning actress, Mendes has tried to be savvy about the roles she accepts. Her winning turn as Nicolas Cage's prostitute girlfriend in Bad Lieutenant: Port of Call New Orleans (2009) may have been overshadowed by Cage's deliriously whacked-out performance, but the chance to be directed by Werner Herzog, she says, was reason enough to sign on. She initially turned down director James Gray when he approached her about We Own the Night because she wanted a more complex, sensual character than was written. Only after Phoenix joined the roster and Gray promised to allow her greater input did she go forward. "She's now trying to avoid 'sultry, hot' Eva Mendes," says the director. "She'll say, 'Can you please write me a part?' She has a very deep commitment to the craft of acting in a way that most actors of her generation simply do not."
Mendes did not grow up with any ambition to become an actress. The summer before her senior year at California State University, Northridge, where she was dabbling in communications without much focus, her neighbor, a photographer, happened to snap a few pictures of her, which caught the eye of an agent. Soon she was booked for an Aerosmith video ("Hole in My Soul") and won her first film role, as a screamer in the straight-to-video horror flick Children of the Corn V: Fields of Terror (1998). Her utter lack of experience led Mendes to seek out L.A. acting coach Ivana Chubbuck, with whom she still regularly takes class.
Her big break came three years later in Training Day, and though the script didn't call for it, she suggested to director Antoine Fuqua that she appear fully nude in her first scene. She and the character played by Washington had just made love, she reasoned, so why was she topless but wearing her underwear? "I've never had a problem with nudity, but I don't put it out there without a reason," says Mendes. "I'm not an exhibitionist. But, honestly, for my art I'll do anything, almost. I'll go there."
She certainly went there in We Own the Night—in the opening scene, Mendes masturbates in her underwear. "I remember calling my acting coach after seeing that first scene and telling her how embarrassed I felt, and she said, 'It means you bared your soul.' I was like, 'Right,'" she says in agreement, adding earnestly, "I'd never felt that before."
When asked whether all the nudity makes her feel objectified, Mendes doesn't flinch. "I know I walk a fine line between being a respected actor and being what they call a sex symbol," she says. "It's a hard one to walk if you want to be known as a real, credible actor. But I've never felt objectified. Nothing you see me do is an accident. I might act like it's an accident, but the opposite is true. I'm incredibly calculated when it comes to my career."
And she's not shy about using her celebrity to open doors. After admiring a gallery show by Francesco Vezzoli while she was in Rome last year, she arranged to meet the Italian artist and suggested they do something together. Soon after, Vezzoli, known for his clever use of celebrities, cast her in a new project at the Jeu de Paume in Paris. The work took the form of an ad campaign for a fake museum show, and included a video that evoked Fellini's La Dolce Vita, in which Mendes channeled Anita Ekberg as she promoted the museum. Also included were photographs of Mendes re-creating famous sculptures of women, all of them, in the artist's eyes, icons of carnal desire.
For all her steamy allure, Mendes has, in fact, led an exceedingly sheltered life. The youngest by more than 10 years of four children, she grew up in the Silver Lake area of Los Angeles in a tight-knit, rambunctious household. Her Cuban-émigré parents divorced when she was about 10, and Mendes was raised by her tough-minded mother, whom Eva regularly accompanied on weekends to Grauman's Chinese Theatre, where her mom, Eva senior, worked in the gift shop and the box office. Afterward, they'd see a movie together. She still remembers the way her voluptuous mother dressed for work (in a "long geisha gown—gorgeous!") and always had her hair done, even off duty. Money was forever tight, and Mendes recalls the anxiety she felt whenever the phone or the electricity was cut off.
But they always had meat on the table, courtesy of her father, a meat distributor, who occasionally took five-year-old Eva on his rounds to the slaughterhouse. "I loved my dad so much and wanted to go to work with him," she says. "He'd put me in a room to draw. I couldn't see what was going on, but then my dad would come out, full of blood. So now I don't eat anything from a slaughterhouse."
A member of the drill team in high school, Mendes ran through a variety of odd jobs, including one at Hot Dog on a Stick. She was fired after she gave what she thought was an amusing secret Santa gift—comprised of personal-care products she'd bought at a drugstore—to a fellow employee. "The girl I gave it to didn't have a sense of humor," she remembers, and in an instant she's back there. "In your face, Marcelle!" Still, she was, by her own admission, "a late bloomer." She shared a bed with her mother until she was 17, and didn't leave home until she was already working as an actress. "I've never really lived on my own," says Mendes. "I didn't dorm anywhere or have those experiences that a lot of my friends had."
She met her current love, music producer George Augusto, shortly after high school, and the two now own a midcentury house in the Hollywood Hills. To hear Mendes tell it, her idea of a fun night is staying home with her dog, Hugo, a Belgian Malinois, to watch the episodes of 60 Minutes she Tivo'ed. Lately she has been listening to recordings of Maria Callas, whom Mendes says she'd love to play onscreen. "You can catch me at a very dark hour listening to an aria from Norma and crying my f—in' eyes out," she says. "I love doing that."
She's also fascinated by the diva's decision to abandon her career for shipping magnate Aristotle Onassis. "She gave it all up in the name of love, only to be left because she gave it up," says Mendes, who is developing a project based on a Callas biography by Nicholas Gage. She admits that the story has become something of an obsession for her, seeing in it, perhaps, resonances with her own dual passions. "I'm a modern woman in the sense of I take care of myself, I'm fiercely independent and I'm really ambitious," she says. "Yet I have these old-school thoughts ingrained in my mind. I do like to belong to a man. I love having a man in my life and being his woman at the end of the day. I know it's a dichotomy."
Motherhood is another role Mendes has yet to fully resolve. "I've never had a longing to have children," she says. "I've been thinking about it lately because it's like, Oh, God, am I going to do this? I don't know is the answer."
Despite her candor about most issues, she refuses to discuss her 2008 stint in rehab at Utah's Cirque Lodge—for what her reps then vaguely called "professional support" for "personal issues"—professing that audiences know too much about actors. But she does go to therapy weekly, she allows, and "loves" self-help, pointing out that she regularly listens to audiobooks by self-help gurus Wayne Dyer and Eckhart Tolle. "It's really interesting," she says of Tolle's The Power of Now, "especially because Eckhart has such a comforting voice. It's great to fall asleep to that and just have that sit in my subconscious."
The next time we meet, it's the day after the Met ball, and Mendes has her hand stuck in a glass of ice at the St. Regis hotel. The diamond-studded ring she'd borrowed to wear the night before with her Dolce & Gabbana strapless floral gown is still on her finger. The jewelers had shown up that morning to retrieve it, she tells me, but try as she might, she couldn't yank it off. So now she's soaking her swollen finger, hoping to remove the ring before her afternoon flight to L.A.
The theme of this year's Costume Institute show is "American Woman," and as Mendes describes the opening, she orders a Red Bull and recounts how she spent just 14 minutes at the after-party so that she could head back to her hotel room to watch movies. When the conversation turns to her own, I ask if she feels that her ethnicity has limited her choice of roles. "I'm sure it has," she offers, "but I just want to see the positive. I don't consider myself a Latin American actress. I was born and raised here, and I have Cuban parents, but for me, I am the new American girl. It's not only Drew Barrymore and the blond Midwestern girl. This," she says, extracting her finger from the ice to point to her face, "this is also what we look like now."
Eva Mendes's Style Evolution As Hollywood's Femme Fatale
Fresh on the scene, Eva attended the LA premiere of The Others wearing a simple white button-up dress paired with a bold orange shoulder bag and tan platform sandals. Photo by Getty Images.

Getty
Eva opted for a sexy black menswear inspired look while visiting the Mann Village Theatre in 2002. She completed her look with super long locks. Photo by Getty Images.

Getty
At the 2003 Toronto Film Festival, the actress kept her look simple on the red carpet. She donned a black v-neck maxi dress with what floral appliqué on the waist and hemline. Photo by Getty Images.

Getty
At the Golden Globe Awards, Mendes opted for a slinky halter top with an exposed back. Photo by Getty Images.

Getty
Mendes stunned in a gold floor grazing slip dress as she attended the Gucci Spring 2006 Fashion Show. She completed her look with a small gold clutch bag and minimal jewelry. Photo by Getty Images.

Getty
The actress upped the sex appeal of a white Christian Dior skirt suit, wearing nothing under it. The paring of black peep-toe pumps with this look kept it chic. Photo by Getty Images.

Getty
Mendes looked ultra hot in a bright red halter gown for the 2006 MTV Movie Awards. She accessorized with a small gold clutch bag, gold bangle bracelets and gold hoop earrings. Photo by Getty Images.

Getty
At the New York premiere of We Own the Night, the actress looked classic and stunning as she posed on the red carpet in a one shoulder grecian inspired gown. Photo by Getty Images.

Getty
Mendes looked darling in a strapless floral cocktail dress with nude scrappy platform sandals for The Spirit at New York ComicCon in 2008. Photo by Getty Images.

Getty
Dressed in a canary yellow Bill Blast strapless column dress, Mendes radiated on the red carpet of the Los Angeles premiere of The Spirit. She completed her look with a gorgeous diamond Van Clef & Arpels bracelet. Photo by Getty Images.

Getty
All eyes were on the actress as she posed on the red carpet at the 66th Annual Golden Globe Awards in a white Christian Dior gown paired with a turquoise Van Clef & Arpels sterling collar necklace. Photo by Getty Images.

Getty
The actress strutted down the red carpet of the 66th Venice Film Festival in a black Armani Prive gown featuring a center cutout bodice and ribbon bondage skirt. Photo by Getty Images.

Getty
At the 2010 Met Gala, the actress glowed in a vibrant orange Prada strapless gown. The gown featured a beaded bodice and peplum skirt with frontal split. Photo by Getty Images.

Getty
Staying true to her infinity for strapless feminine gowns, Mendes donned an exquisite red floor length Gucci gown at the La Dolce Vita World Restoration Premiere during The 5th International Rome Film Festival. Photo by Getty Images.

Getty
At the Art Of Elysium Heaven Gala 2011, the actress looked angelic as she donned a romantic silk Valentino gown featuring a rose ruffled shoulder with draped neck and bow waist. Photo by Getty Images.

Getty
Mendes smoldered at the Holy Motors premiere in this little black square-neck lace dress. She accessorized with simple black pumps and a gold and black clutch bag. Photo by Getty Images.

Getty
Mendes took to the red carpet for the 2013 Vanidades Icons of Style Awards dressed in a sexy black vintage Luis Estévez black frock with fringe details falling from the halter neckline. Photo by Getty Images.

Getty
The actress turned new fashion designer looked lovely in a black and white printed frock at the Eva Mendes for New York And Company Spring 2014 Collection pop up store launch party. Photo by Getty Images.

Getty
During her most recent Eva Mendes x New York & Company FW 16 Show, Mendes posed in a darling bureaux peter pan styled dress. She completed her looks with black lace stockings and burgundy Mary-Janes. Photo by Getty Images.

Getty
Actress Eva Mendes made her first public appearance in 6 months at the opening of a new New York & Company store in Miami on Thursday. Photo by Getty Images.

Alexander Tamargo/FilmMagic/Getty Images
Watch W's most popular videos here: