Evan Mock's Style Icon Is Shirtless Iggy Pop
The skater, model, and photographer grew up in Hawaii—where he frequently wore board shorts, fake gold chains, and not much else.
Photographs by Rayscorruptedmind
---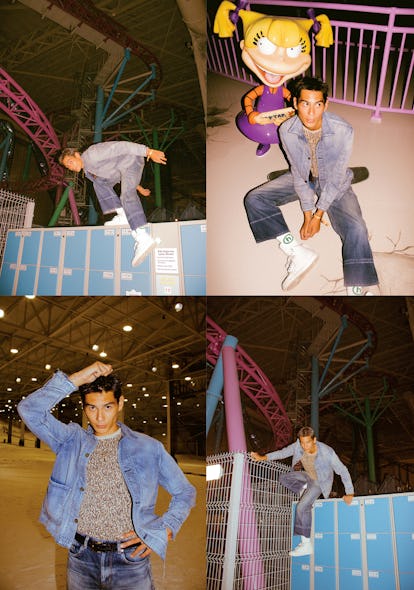 For our annual "The Originals" portfolio, we asked creatives—pioneers in the fields of art, design, fashion, comedy, activism and more—to share their insights on staying true to themselves and pushing the creative envelope in a chaotic year. Read all the Q+As from this year's group here.
Your life completely changed overnight in January 2019, when Tom Sachs took a video of you skateboarding and Frank Ocean posted it on Instagram. These days, you model, you surf, you skate, you take photos, and you get photographed at parties. You run a streetwear label called Sorry in Advance, and you're about to make your acting debut in the upcoming Gossip Girl reboot. I imagine that even in relatively normal times, people have difficulty understanding what exactly it is that you do.
My parents don't really understand at all, which is fine. They're just supportive of anything I do, which is amazing. As long as I'm paying bills, then I'll be all right.
You've said that everyone wants to be a skater, or at least have close proximity to one. What is it about skateboarding that people find so fascinating?
Skate culture is so deeply rooted; there's so much within it. It's inspired by so many different things. I think skateboarding just has this effect on people—they're very interested in what it takes to be a skateboarder and their day-to-day lifestyle. Which is funny, because skaters look forward to traveling the world and ending up in a ditch somewhere, not beautiful places.
What was your style like as a teen?
I went through a lot of different phases. I've lived in Hawaii pretty much my entire life, so obviously, we were skating and surfing all day—just 13-year-olds hitchhiking all around the island, going from skate park to beach. I'm usually in board shorts—no shoes, no shirt, no service. Very minimal. I was always into gold chains. I would go buy a bunch from this 25 cent machine at my local market and wear, like, five fake gold chains.
Do you have a style icon?
Iggy Pop.
That makes sense with the shirtless thing.
It's a pretty obvious choice. He's always been a staple, but I feel like I have a new style icon every day. A style icon could just be someone I see walking down the street in New York.
What's the most unoriginal thing that people ask you?
If I live in a grass hut, after I tell them I've lived in Hawaii my whole life. You would be surprised. It doesn't happen as much anymore, because I'm with older people who know what the world looks like. It's usually a joke, but it's so unoriginal. Like a bad dad joke. [Laughs]
How do you respond?
I just say, Yeah—and we don't have Wi-Fi.