Is Steve Jobs's Daughter Eve Fashion's Next It Girl?
The Silicon Valley scion is the new face of Glossier.
---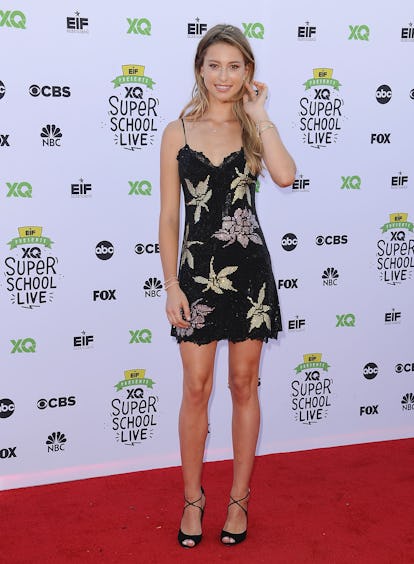 Photo by Jason LaVeris/FilmMagic/Getty Images
The fashion and beauty worlds love a new face with a familiar name, so it's almost sort of surprising that they're only now taking notice of Eve Jobs, daughter of the late Apple founder Steve Jobs. The 22-year-old blonde is one of the faces of Glossier's Holiday campaign. While she joins Euphoria's Sydney Sweeney and and RuPaul's Drag Race's Naomi Smalls in the push, Eve Jobs's shoot was completely socially distanced. She didn't even have to leave her bathtub.
In a series of self-shot portraits, Jobs reclines in her bathtub with a wine glass, gold jewelry, bubbles, under-eye masks, and of course, a tube of Glossier lip gloss. "Biggest thanks to @emilyweiss & everyone at @glossier ! Go check out the collection," Jobs wrote in the Instagram comment.
"Obsessed w this collab," wrote Jennifer K. Gates, the 24-year-old dauther of Bill and Melinda Gates in the comments (the Silicon Valley scions are friends, competitors in the equestrian world, and former college classmates).
Eve is the youngest of Steve Jobs' four children. Though this is her first major move into the fashion and beauty space, she's had a public Instagram for years and counts 156,000 followers. A member of Stanford University's class of 2021, Jobs mostly used her Instagram in earlier years to show off her accomplishments in her equestrian pursuits. She's been ranked the 5th best show jumper under the age of 25, and has competed in the famed Hamptons Classic alongside Jessica Springsteen (daughter of Bruce), Georgina Bloomberg (daughter of Michael), and Mary-Kate Olsen.
But over the past few years, Jobs has given followers more insight into her life, including her style. She also once let slip that she met her current boyfriend through Instagram DMs.
She, for example, was a big fan of Off–White's collaboration with Nike.
She knows how to pair an Yves Klein-inspired top with her love of art.
She's also channeled Margot Tenenbaum and some Euphoria makeup for Halloween.
Though Jobs has focused on show jumping in her youth, she's also publicly mentioned she has an eye toward the future. A good idea, considering her father once reportedly told his biographer that he could easily see Eve running Apple if not the entire country. "She's a pistol and has the strongest will of any kid I've ever met," he said. So you could certainly imagine she may opt for pursuits more serious than snagging seats in the front, but it seems to be available to her, if she wants.
Related: How Lourdes Leon, The Latest Miu Miu Girl, Became Fashion's Quietest It Girl