Earth Angels
For Eco-Fashionistas Elizabeth Von Guttman, Alexia Niedzielski, And Charlotte Casiraghi, Green Is The New Black.
---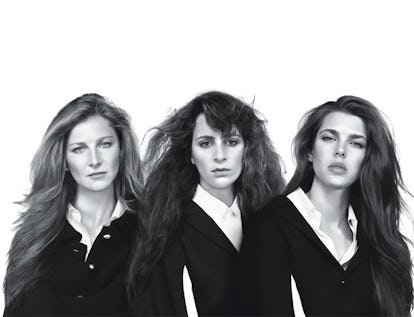 THE IDEA THAT having good hair and doing good works are mutually exclusive died around the time Angelina Jolie became a United Nations goodwill ambassador. Let's face it: A shot of glamour really helps a cause.
Take EVER Manifesto, a free newspaper-magazine-website (the format changes with each issue) aimed at cajoling the fashion and design worlds into embracing ecologically sound methods of production. Its founders—Charlotte Casiraghi, Alexia Niedzielski, and Elizabeth von ­Guttman—have Rolodexes (and closets) that are not exactly the ­Greenpeace norm. And that's a good thing: Upbeat and mouthy, ­EVER's vernacular is one that cool kids can actually understand.
"We're not eco-warriors; we're not into hemp clothes," says von ­Guttman, 33, who, like Niedzielski, 27, is based in London. Adds Niedzielski: "So much of the language of environmentalism is just not appealing. Why not make these ideas more seductive?"
With many designers still using toxic dyes and forest-depleting hardwoods, it's clear that lecturing the industry hasn't exactly paid dividends. EVER works from the inside, prodding like-minded editors and brands to step away from their routines and come up with tangible, eco-friendly ideas. "A manifesto is different from a magazine," says Casiraghi, 25, who helps oversee the writing and editing of EVER. "It's a very direct form of communication."
The first issue, published as a newspaper in September 2009, was edited by Vogue Italia's Franca Sozzani, sponsored by Loro Piana, and took on the theme of sustainability. The new issue, out now as a magazine and several orders of magnitude larger, makes the case for bamboo as an ideal material for design research and development, and was guest edited by W's editor in chief, Stefano Tonchi. Meanwhile, Gucci offered creative director Frida Giannini's services in judging a sustainable-handbag contest among students at Paris's Institut Français de la Mode and put the winning bag up for sale online and at select Gucci stores worldwide.
Like the Manifesto's guest contributors, Casiraghi, Niedzielski, and von Guttman all have outside gigs. Von Guttman and ­Niedzielski's Ever Consulting advises and produces events for André Balazs, ­Fendi, and Vanessa Bruno, and the pair is on staff at the London-based ­indie magazine Industrie. Casiraghi, the daughter of Princess Caroline of Monaco, competes year-round as a show jumper on the Global Champions equestrian tour.
Taking an ecological career turn was not an ­obvious choice for the trio, but duty called. "The overconsumption and greed of our industry" is what got them going, von Guttman says. "And so we turned to what we knew best." Adds Casiraghi: "We want to show that you can change things. Maybe not the whole world—but things."