Every Time Gucci's Alessandro Michele Talked About Life and Death
Between cemetery references in his Spring 2017 collection, his love of antiques and baroque rings, and a collaboration with the GucciGhost, the designer Alessandro Michele is the most fabulously funereal of designers.
---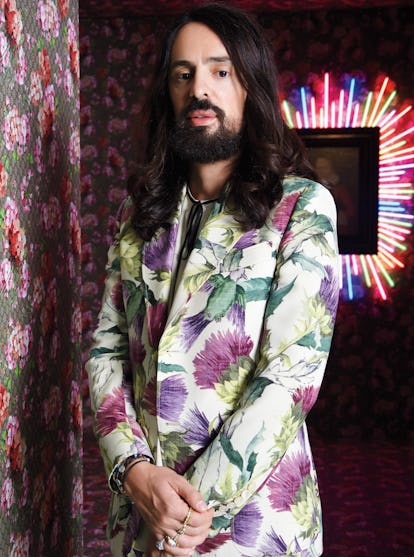 Alessandro Michele photographed in October at "No Longer/
Not Yet," at the Minsheng 
Art Museum, in Shanghai. Photography by Jeff Yiu. Styled by Patrick Mackie
The Hollywood Forever Cemetery played a prominent role in Alessandro Michele's Spring 2017 show at Milan Fashion Week, which existed in its own temporal realm — somewhere in-between a funeral and a wedding. And while Michele himself isn't religious, his work often plays with themes of life and death, using the past as a reference for how we wants to live and dress in the present.
As evidenced in the numerous profiles of him as well as his own Instagram account, Michele is a lover of relics and vintage finds, adorning each of his fingers with funeral rings and decorating his homes and offices with antique art and furniture. He also sees getting dressed in the morning as an act of warding off death, or to "forget that you have to die," as he told GQ magazine in a profile published today. This is not the first time Michele has waxed poetic about the of life and death. In fact, it's a charming ice breaker for the designer. Below, every time the Gucci designer has referenced the great beyond.
"Sometimes I dress myself or I put jewels on me, just to have fun. You know what I mean? You try to confuse the bad. If you put something beautiful on you and you try to play like a child with crazy things on you, it's like you forget that you have to die. And death doesn't recognize you." — As told to Zach Baron for GQ
"'My father was a shaman. He told me that time doesn't exist. He didn't use a clock. He didn't know when my birthday was. He would say, 'You were born in the autumn—it was a hot autumn, it was the beginning of the seventies.' He told me that if you try to stop with the idea that time exists you will live forever. I said to him, 'How can I do it? I need to make appointments.' But he was always late for things, because he didn't care about appointments. So I think he was quite ready for his appointment with death.'" — As told to Rebecca Mead for The New Yorker
"'I bought this [at an antique store, near Bond Street],' he said, extending his hand to point out an English funeral ring. It was backed by woven human hair and bore a tiny image of a skeleton holding what looked like a telescope. On the inside of the ring was a date: February, 1695. The person commemorated by the ring, Michele speculated, 'was a soldier, or a sailor.' He asked me, 'Is it not beautiful? I love that the English celebrate death.'" — Rebecca Mead for The New Yorker
"For me, nothing is old. I don't know why. If a dress is beautiful, and it's very ­personal, I think it can live forever. I think that we still have the idea that if you have something beautiful, next season you have to put it in the bin." — As told to Alexander Fury in conversation with Demna Gvasalia for T magazine
"Time. Time is against me. I need more time to work in every single project. This is the first big enemy." — As told to Vanessa Friedman for the New York Times
"The day that I will not have the chance to run under the beauty, I don't want to live anymore. Because it's one of my first reasons to live. I mean, when I am nervous, I try to look at something beautiful. I get in a beautiful place. I try to read something beautiful. I try to read something like a beautiful poem—something that makes me feel better because it's like my religion." — As told to Zach Baron for GQ
"I take care about what I put in my life, because life is an illusion, you know. It's real that we are on the Earth, but we don't know for how long. The idea of tomorrow is an illusion. So I want to put this kind of illusion into my life." — As told to Rebecca Mead for The New Yorker
"Can you try to explain what you felt when you were just one day old? You can't remember. It's like you knew about it because everybody tried to explain to you how it was beautiful, but you can't remember exactly. It was just energy, you know?" — As told to Zach Baron for GQ
"I'm not interested in the future—it doesn't exist yet—but I'm really interested in the past and the contemporary." — As told to Hamish Bowles for Vogue
"I have a big respect for my life, and this job can become your life." — As told to David Amsden for W magazine.
"My life—it's a piece of work," he says. "And my work is a piece of life." — As told to Zach Baron for GQ
"I did not want any rules, since rules create endings, and I prefer beginnings." — As told to David Amsden for W magazine.