There Are People Having Actual Sex in Eckhaus Latta's Latest Campaign
Always full of pleasant surprises, the designers Mike Eckhaus and Zoe Latta let their models really let loose for Eckhaus Latta's (slightly pixelated) spring 2017 campaign.
---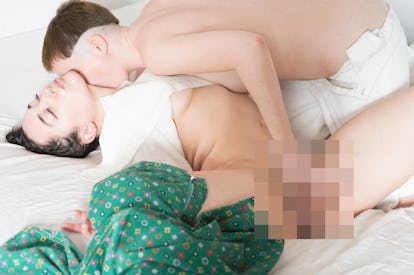 Courtesy of @eckhauslatta
In the years since Eckhaus Latta has emerged as one of both art and fashion's most beloved young labels, its previous campaigns, which have included titillating images like men covering up their nether regions in smoked salmon, have so successfully melded the two fields, they've even ended up in the Hammer Museum's "Made in L.A." biennial. Their latest, though, likely won't land itself in such a public setting. It was unveiled on Monday night behind an online barrier where visitors must agree that they're 18 or older to continue—a necessary precaution, given that the images portray not just Eckhaus Latta's spring 2017 collection, but also a diverse group of real-life couples having real-life sex.
Not that that stopped Eckhaus Latta's longtime stylist Avena Gallagher from doing her usual magic, putting the brand's typically unexpectedly cast models—unsigned names hardly hiding prominent tattoos like the word "misanthropy,"—in items like flimsy knit tank tops and corduroy pants in a printed emerald. Thanks to the Seoul-born, New York-based photographer Heji Shin, who's been known to shoot Eckhaus Latta alums like Juliana Huxtable, not to mention a "German sex education book for teenagers," the clothes somehow ended up even freer and steamier than when they were first showcased on a hot summer day in the park.
There is, of course, some pixelation; after all, the brand has started to increasingly dip its toes into the mainstream lately, from an appearance on the Forbes 30 Under 30 list in 2016 to their new expansion into pre-fall to a brick-and-mortar store in Los Angeles, albeit one based in a medical cannabis dispensary. At the same time, though, designers Mike Eckhaus and Zoe Latta have also kept up doing things decidedly their own way. They studied sculpture and textiles at art school instead of fashion design in the first place, and they've held their runway shows in unexpected settings like during the middle of a snowstorm under a massive dome in Queens.
Still, their success, along with a healthy dose of post-election anxiety, has lately led to a few existential questions, one of which Eckhaus brazenly brought up after showing their fall 2017 collection at New York Fashion Week: "Why do we make clothes?" the designer asked earnestly.
Months later, the pair seems to have finally figure that one out: to take them off, of course.
A Brief History of Fashion's Most NSFW, Controversial Ad Campaigns
For their first large-scale campaign, the designers behind Eckhaus Latta enlisted a diverse group of 30-something couples to not only wear their spring 2017 collection, but have real sex in front of the camera for the photographer Heji Shin, who had produced a similar series of images for a German sex education book for teenagers.
In 1971, a nude (and largely hairless) Yves Saint Laurent posed nude for Jeanloup Sieff to debut his first-ever perfume for his namesake label, Pour Homme.
Other than her controversially "heroin chic" ads for Calvin Klein, a topless, 17-year-old Kate Moss also starred in this 1992 campaign for the brand with Mark Wahlberg—one that made her so uncomfortable, she later said it prompted a nervous breakdown.
Rumor has it that Wonderbra's billboards of Eva Herzigova caused traffic build-ups and car crashes when they went up in 1994.
It didn't take long for controversy to erupt after Steven Meisel and Calvin Klein cast a crew of apparently underage models, including Kate Moss, for a 1995 Calvin Klein campaign; eventually, CK responded to the outcry over the ad with another ad, a full page in the New York Times announcing it was pulling the original advertisement.
This infamous 2000 campaign from Yves Saint Laurent, featuring a nude Sophie Dahl, drew 948 complaints to the U.K.'s Advertising Standards Authority, making it the eighth most complained about advertisement in recorded history.
Yves Saint Laurent again pared things down for one of his perfume ads in 2002, this time swapping out the designer's likeness for a chiseled model to go full frontal.
Tom Ford and Carine Roitfeld both solidified their reputations as provocateurs when the designer and stylist drove down the fact that they were working for Gucci by shaving a "G" into a model's pubic hair for this 2003 campaign shot by Mario Testino.
American Apparel, whose founder Dov Charney has faced a litany of sexual harassment lawsuits, began its run of controversial ads depicting highly sexualized and barely clothed women—an approach that was highly successful in creating conversation, but hardly saved the brand from bankruptcy—with this 2006 campaign.
The concept of "sex sells" barely gets more explicit than in Terry Richardson's 2007 campaign for Tom Ford's men's fragrance, an ad that was banned in Italy.
"Stupid is as stupid done" is how some critics responded to Diesel's 2010 "Be Stupid" campaign, which featured images of models flashing security cameras, among other suggestive poses. Some felt the images were needlessly sensationalistic while others described them as youthful and rebellious.
Dakota Fanning's 2011 campaign for Marc Jacobs' Lola campaign was banned in England after the U.K.'s Advertising Standards Authority deemed it too "sexually provocative" for the then 17-year-old actress, who was photographed by Juergen Teller.
Thanks to a little Photoshop, Barack Obama and Hugo Chavez were just several of the world leaders found making out in a 2011 campaign by United Colors of Benneton, which has a long history of provoking with their ads.
The model Anna Ewers has long been one of Alexander Wang's muses, but the pair ended up in hot water with this 2014 campaign, in which Ewers is only just barely wearing Wang's clothes.
This 2007 campaign by Dolce & Gabbana's came to be known as the "gang rape advert" not only then, when several magazines refused to run it, but when it resurfaced online in 2015.
The U.K.'s Advertising Standards Agency also banned this 2015 Miu Miu campaign, shot by Steven Meisel, for being "irresponsible" in sexualizing an apparently underage (but actually 22-year-old) Mia Goth.
Calvin Klein courted controversy again last year with a campaign that featured a model photographed from under her dress, but the acclaimed British female photographer Harley Weir, whose work has long been interested in youth culture and sexuality, defended the campaign.
Related: Eckhaus Latta Doubles Down in the Face of the Post-Election Unknown
Kate Moss on How Photographers "Always Ask" Her to Take Her Clothes Off: