Exclusive: Eckhaus Latta Debuts Camper Campaign Video Starring Model Hari Nef
The New York label cast the model in the campaign video for their new collaboration with the Spanish footwear brand Camper.
---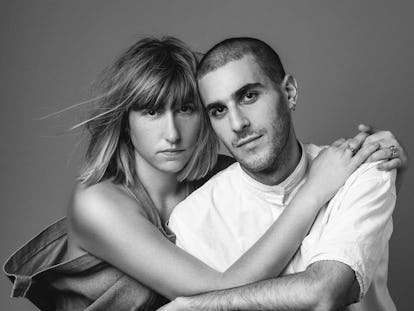 This past March, an exhausted Hari Nef landed in Mallorca after a chaotic Paris Fashion Week. There, she spent the next five days shooting a video for New York-based label Eckhaus Latta's new collaboration with the Spanish footwear brand, Camper.
"We were bopping around Mallorca in a rental car, figuring it out as we went along," explained 24-year-old Nef of starring opposite performance artist Martine Gutierriez in the film directed by Alexa Karolinski. "The spontaneity and vulnerability of making art in a public space was thrilling," she continued.
The three-minute film, entitled "Island," features Nef and Gutierrez in a state of bright-eyed wanderlust, as they roam the island chasing sheep, stomping on oranges, and spray painting on castle walls.
"We wanted to speak to being dislocated in another context, the odd feelings of travel and displacement," explained 29-year-old Mike Eckhaus, who was also on set for the adventure alongside his design partner, Zoe Latta.
This kind of surrealistic, experimental film is precisely what you would expect from Eckhaus Latta, the underground art house label who's stirringly inventive and artful approach to fashion has brought them to the fore over the past couple of years.
They have also won the adulation of the art world, collaborating with blue chip artists such as Bjarne Melgaard and institutions like MoMA PS1. Their shows have become a main event of New York Fashion week, where vibrant personalities walk the runway, such as Juliana Huxtable, Dev Hynes, and of course, Nef, who's relationship with the designers runs deep.
"I know this is a bold thing to say, but I'm not sure if I would be modeling if it wasn't for them, they were one of the first people who looked at me and said 'you're a model,'" Nef said of the duo, with whom she first started working in 2013 as an undergrad at Columbia University. At the time, Nef was helping them cast their shows, until they flipped the switch and asked her to walk for them a year later.
"They fought for me at a time when people in fashion didn't see it for me. They were encouraging to me at a time I didn't know if I was cut out for it."
But she was cut out for it, as evidenced by her beguiling performance stomping around in the Camper x Eckhaus Latta knitted boot, which comes in three colors. And while the shoe hits stores for the first time this Thursday, the idea for it has been in the works for nearly a decade.
Eckhaus and Latta first began experimenting with the design concept when they were students at the Rhode Island School of Design, stretching wool socks over discarded boots. "We wanted it to feel less like a sock and more like a boot," Eckhaus explained, "and working with Camper and we were able to see it through as a functional design."
The result is a shoe that straddles the worlds of footwear and knitwear. "Camper has a reputation for having strong shoes you can actually wear in daily life," said Latta. "The girls were running around in the shoes – and it wasn't even their size – jumping on tractors, chasing lambs, things that most people don't do on the daily."