Exclusive: Inside the "Viktor & Rolf: Fashion Artists" Exhibit
A conversation about the duo's upcoming exhibition, heading to Australia, and the W feature that changed their career.
---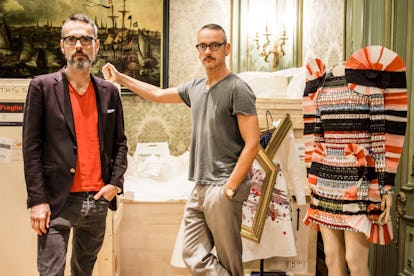 © 2016 TEAM PETER STIGTER
As with many design duos, Viktor Horsting and Rolf Snoeren – the pair behind Viktor & Rolf – are so close they can finish each other's sentences. In fact, when Snoeren was not available at the last minute for this interview, Horsting apologized profusely, but assured us that he could speak on their collective behalf.
"Rolf is stuck in meetings all day, I am so sorry," Horsting said over the phone from their Amsterdam studio. "But don't worry — I will be good enough for the two of us."
The two have been creative partners for nearly thirty years, having met at the Arnhem Academy of Art and Design in The Netherlands before going on to win the prestigious Hyères prize in 1993 and launching their brand. Next week, the National Gallery of Victoria in Melbourne, Australia will open "Viktor & Rolf: Fashion Artists," a museum exhibit that showcases three decades of the brand's artistic highlights. And there have been many — their eccentric, theatrical fashion shows have featured performances and appearances from Tilda Swinton, Tori Amos, Rufus Wainwright and more. The show will revisit all of these, giving museumgoers an up-close view of the technical expertise that goes into each and every garment, in addition to featuring several new works.
The show itself is curated by Thierry-Maxime Loriot, the brains behind "The Fashion World of Jean Paul Gaultier" – a blockbuster of a museum show, as it were. And if Loriot's new work with Viktor & Rolf is anything like what he did with Gaultier, "Fashion Artists" is going to be huge — Gaultier is one of the most-visited museum shows of all time, touring a record twelve cities over five years and clocking well over two million visitors.
Can't make the opening in Melbourne next week? Luckily, you can preview it here, with Viktor & Rolf's behind-the-scenes shots of their preparations for the show. And read on for Horsting's thoughts on social media, art and fashion, and curating his own history.
Inside "Viktor & Rolf: Fashion Artists"
© 2016 TEAM PETER STIGTER
© 2016 TEAM PETER STIGTER
© 2016 TEAM PETER STIGTER
© 2016 TEAM PETER STIGTER
© 2016 TEAM PETER STIGTER
© 2016 TEAM PETER STIGTER
© 2016 TEAM PETER STIGTER
© 2016 TEAM PETER STIGTER
© 2016 TEAM PETER STIGTER
© 2016 TEAM PETER STIGTER
© 2016 TEAM PETER STIGTER
© 2016 TEAM PETER STIGTER
© 2016 TEAM PETER STIGTER
© 2016 TEAM PETER STIGTER
© 2016 TEAM PETER STIGTER
© 2016 TEAM PETER STIGTER
© 2016 TEAM PETER STIGTER
© 2016 TEAM PETER STIGTER
© 2016 TEAM PETER STIGTER
© 2016 TEAM PETER STIGTER
© 2016 TEAM PETER STIGTER
© 2016 TEAM PETER STIGTER
© 2016 TEAM PETER STIGTER
© 2016 TEAM PETER STIGTER
© 2016 TEAM PETER STIGTER
© 2016 TEAM PETER STIGTER
How did this exhibit come together? How did you decide to work with Thierry-Maxime Loriot? Rolf and I were actually having dinner at Takara in Paris, this Japanese restaurant that we love. One night Thierry happened to be there to, and he came up to our table and introduced himself. We thought, yeah, great, this is one of those meetings that often happens and then nothing comes of it. But then he followed up! And our work is so right for a museum like the NGV.
What makes your work so fitting for a museum show? The sculptural aspects, for one. And we always try to communicate something with a fashion show that's just different from the look of the season. We always try to tell a story and to do that in a museum is a great opportunity because a fashion show lasts for ten minutes but a museum show is much longer. A fashion show is limited and a museum show is much more democratic. There is also the element of control — in a museum, you can really control the presentation.
Why Australia? Does Australia have any special significance for your brand? Well, our perfume happens to be doing really well in Australia! But that is a coincidence. It was Thierry was asked by the NGV after his Gaultier show and he thought about us and invited us. The NGV is an amazing institution because it is the biggest museum in that part of the world. They have a fantastic collection, and even have an important collection of historical costumes and couture.
Would you call this a "retrospective?" Yes and no. Yes because we are showing work the past, no because it's not necessarily focusing on chronology or trying to recreate history. We wanted to show the most iconic pieces that all have very sculptural aspects. The title of the show is Viktor & Rolf: Fashion Artists so we wanted to focus on the conceptual, artistic elements of our work.
Is there anything we haven't seen before? We've made a selection of new pieces. We've always been very interested in the press and kept everything that was written about it. We keep every magazine and newspaper. Some of the clips important to our career we enlarged and turned into these giant tapestries that sort of frame the exhibit.
What are some of the highlights from those clippings? One of them is from W! I'm not joking. From the early years of our career.
A W story! You felt it belonged in a museum? You'll see — we turned it into the tapestry that's at the entrance of the show. It was a big article with a beautiful portrait of the both of us, probably one of the more important features we ever had, and it was very important in our early years. We just thought it would make a great introduction to the show, and to our work.
What is like going through old work? Is it enjoyable? Or do you think, "What were we thinking?!" It's kind of great to edit your own history. Sometimes we were like, maybe we shouldn't show this. But some of the pieces we still feel strongly bout. The Russian Doll collection is still important to us. And people still react to it when they see it on film. We're kind of sad, though, that one piece ca not make it — the kind of spectacle piece that ended the one-woman show that we dedicated to Tilda Swinton. It's a big piece that's mainly a coat with ten shirts underneath and it opens up like a fan in a way. It's quite theatrical. It was acquired by the Kyoto Costume Institute and it was just impossible to get it to Australia. That's a pity, but other than that, most of our important pieces are in the show.
What was the biggest challenge in putting this exhibit together? Working within three different time zones! Thierry was at home in Canada, we were in Europe, and the NGV in Australia.
Probably the biggest cultural shift from when you started to today is the growth of the internet and social media. Did you think about the effect of that when you created this show? Absolutely. Social media and the internet has changed everything for everyone on all levels — including little us and our work. We are only beginning to grasp what an enormous change this has caused. I think one thing springs to mind is that before, people would be less well-informed. Now, we assume that people will at least know a little bit when they come to our show, because the world is so connected and our work is much more available and accessible than it was in the past. What I think is great about this show is that people will get to see the craftsmanship that is involved in everything we do. When you see an image on a screen it's so different from seeing it in reality. There's so much more. I hope people enjoy that.
Should fashion be recognized as art? Why or why not? It's both. We think that fashion is not just a parade of clothes every season. Fashion can be much more. Our work has always been about this and we hope the show really zooms in on that, on the possibilities of fashion.
Watch: Meet India Makailah Graham, the Winner of the Wmag Model Search