Exclusive Music Video Premiere: Anna Wise's "Go" Is an Irreverent, Feminist Anthem
The Grammy winner and longtime Kendrick Lamar collaborator premieres a lighthearted satire of gender norms and organized religion.
---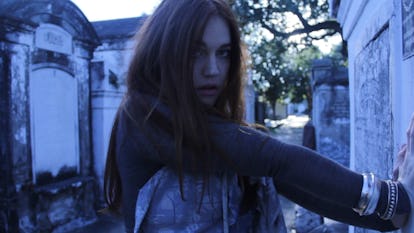 Emma Kanter
"I can totally roller blade," the musician Anna Wise recalled telling her director, Emma Kanter, prior to the shoot of her latest music video, "Go," which premieres exclusively here. Kanter had a vision: Wise, in a nun's habit with Adidas track pants, roller blading through Brooklyn's Prospect Park on a balmy June day. But there was a snag: "I cannot roller blade," Wise told me on the phone recently. "At all."
Roller blading is just one of the adventures Wise takes viewers on in the video for the final track off her debut EP, The Feminine: Act I, a seven-track album that explores different female archetypes in contemporary society, according to Wise (the nun, the bride, the slut, the witch, the business bitch). In "Go," she plays a singer on the scent of a charlatan preacher, played by actor and comedian Damien Lemon, who picks up from one town and moves on to the next when his con artist ways have been exposed. Wise and her clique of nun friends (played by Wise's friends Fernanda Meier, Oyinda, Chloe Goshay, and the comedian and musician Jean Grae) set out to exorcise him once and for all — by throwing a dance party in the church.
"I grew up Christian, but I would not classify myself as that anymore," Wise said. She was in Atlanta when we spoke, the day after a show; she'll take the stage again in Los Angeles next Friday. "The biggest problem I have with all the religions I have to choose from… is they all glorify men." Her record, and this video, is an antidote to that: "Even though these battles that women and people are fighting against the system every day, they're serious," she said. "Sometimes it's so absurd that you have to laugh at it." The various facets of femininity she explores on The Feminine — as well as the image of solidarity between women, or among nuns, as the case may be, in "Go" — are intended as a counterpoint to the Madonna-whore complex.
In the video's final scene, Lemon ad-libs a sermon pulled from the "Book of Uncle Luke" — he proceeds to quote Ice Cube's "You Can Do It" in dramatic fashion. It underlines his character's snake oil tendencies, and it also emphasizes Wise's own relationship to the hip-hop world. She was "pluck[ed] from obscurity" by Kendrick Lamar, who stumbled across her on YouTube and tracked down her phone number. They have worked together on every record of his since Good Kid, m.A.A.d City. "He loves women," Wise said, adding that he's a counterpoint to the amount of "anti-woman language in hip-hop, even now."
The shoot took place over two days in late June in New York, and despite the challenges Wise confronted with roller blading in Prospect Park — including a couple of cat callers who weren't put off by her faux-nun getup — everything fell into place when her team arrived at a church they were location scouting. A Black Lives Matter banner hung on the gate outside, and a peace sign dangled from the balcony. Inside, behind the pulpit, a rainbow gay pride flag draped down. It's visible behind Lemon during his sermon, and behind Wise and her fellow nuns during their dance sequence.
"This is the church right here," Wise recalled thinking. "It was super blessed."