Music Video Premiere: Bishop Briggs Enters a Lynchian Fever Dream With "Wild Horses"
The Los Angeles-based rising star debuts a dark, surreal new video for a dark, ruminative track.
---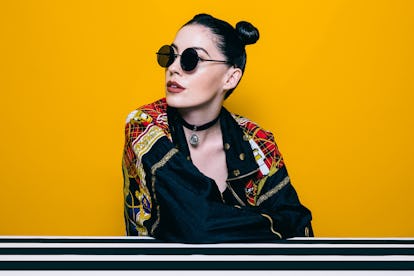 Jabari Jacobs
Around 4 a.m. on a crisp fall morning in Encino, California, an eclectic cast of characters and a horse named Buttercup assembled in the backyard of an older woman they'd never met to make a music video. The musician Bishop Briggs (and her sister, who manages her day-to-day affairs) sat on the sidelines, sipping tea, taking it all in as the various actors — ranging from a Jeff Bridges-looking guy in a yellow robe to a fur-clad blonde sans pants — learned the moves that would appear in the video for her second single, "Wild Horses." It was quite a sight, especially for the owner of the house, who peered out the window quietly.
"They were supposed to be different fragments of my imagination," Briggs said on the phone from Portland recently. Her sister sat nearby, occasionally chiming in. "The whole point was to kind of have this borderline fantasy world of people that are obscure and mysterious that you may find as you walk through life." In the video, which premieres exclusively on W, Briggs wanders around the fringes of a Lynchian fever dream where men in gorilla masks ride motorbikes, oxygen masks double as accessories, and even starlets have to do vigorous pushup sets. Briggs herself sports her trademark twin buns, a red bomber, and a choker, bobbing with the music as she encounters strange new characters.
The tableau was the invention of director Ramon Ayala, who Briggs entrusted with translating her music into video. "Writing that song, I already felt as though I had said everything I wanted to say," she explained. It was up to Ayala to imagine a visual world in which the track could exist.
The visuals' dark surrealism complements "Wild Horses," which Briggs wrote and recorded over several days in July 2015 (she recorded the track on her birthday). She tends toward darkness in her lyrics, even when she's content in her personal and professional life . "The whole point was the relationship that I was in then was good," she explained. "I wanted to know if you could be both free and happy at the same time."
The titular wild horses represent that freedom — they "run faster" than Buttercup, who doesn't qualify — but it's never clear whether their liberation comes at the expense of their happiness. "Wild Horses" was the second track that Briggs wrote and recorded with producers Mark Jackson and Ian Scott, the duo behind her upcoming debut album, currently slated for a 2017 release. Briggs, who grew up in Tokyo and Hong Kong but is now based in Los Angeles, released five singles throughout the year, but among those, "Wild Horses" and "River" were the product of the precious early days before anyone knew her name.
"It really was the beginning of everything," she said. "We held on to that when we continued writing the rest of the album. … There is an intimacy to what we're writing."
See W's most popular videos: