Exclusive Music Video Premiere: In "Us," Anna of the North Says Come As You Are
With a stylish new video for her latest single "Us," the Norwegian singer Anna of the North opens her arms.
---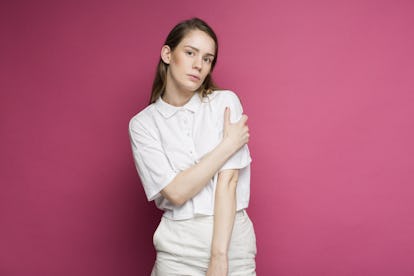 It was a cool Oslo afternoon when I caught up with Anna Lotterud — who records dreamy synth-pop under the name Anna of the North — to discuss the video for her latest single, "Us," which premieres exclusively here. She had made a couple videos before, for her first single "Sway" and for the follow-up "Baby," but for this one, she wanted to try something a bit different.
"The song is about being in a relationship — or in something — that is so good that it hurts," she said. "I wanted to show a glimpse of all relationships." To that end, she cast couples of varying sexual preferences, mostly her own friends, to appear in a series of vignettes, an attempt to depict the multiplicity of contemporary relationships.
"I wanted to make sure that in the video we have all kinds of human beings, not just stereotypes," she said. They shot it in a single September day, in a friend's photo studio. Against a Pepto-pink background, Lotterud looks dead at the camera, mouthing the lyrics while locked in embrace with the other actors. Occasionally, the video cuts to an exterior shot of a street corner, where lovers quarrel; it underlines the somber edge to the lyrics. In its original form (Lotterud has since recorded an acoustic version), the song is backed by a twinkling beat; it's not hard to imagine dancing along even to the murmured first verse: "Show up on your front lawn, high and with my jeans torn up."
Lotterud studied graphic design in Melbourne before she turned to music, and her strong aesthetic point of view (and, more technically, her understanding of composition) runs through the music she makes and visuals that accompany her songs. (She also appeared in the campaign for the Kenzo x H&M collaboration.) It was in Melbourne that she met her producer Brady Daniell-Smith, the other half of Anna of the North; on a whim, they recorded "Sway" and put it online, accompanied by cover art Lotterud shot herself.
"It ended up doing really well on Soundcloud, and boom, here we are," she said. Lotterud had never appeared on stage before she started making music as Anna of the North; the project has also been an exercise in figuring out who she is as an artist — in front of a massive audience. She's finishing up recording her debut full-length album, currently slated for a mid-2017 release.
"I hope 2017 is going to be our year," she said.