Exclusive Music Video Premiere: Pale Honey Channels "Stranger Things" in "Real Thing"
The first single off the Swedish duo's upcoming sophomore album gets a supernatural video worthy of Winona Ryder.
---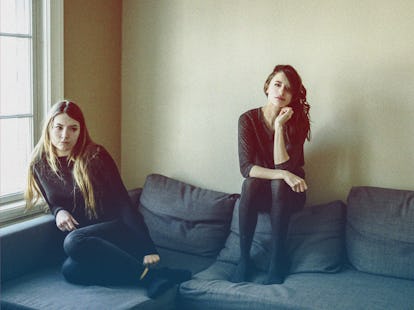 Pale Honey
Pale Honey's Tuva Lodmark and Nelly Daltrey had briefly considered an action-movie premise for their new music video, but when they met director Johan Stolpe for coffee to discuss concepts, they immediately bonded over a shared love for the Netflix hit Stranger Things. They decided to adapt it for themselves, and the result is the video for "Real Thing," the first single off their upcoming sophomore album, which premieres exclusively here.
Filmed over the course of a single weekend last month at Lodmark's father's house in Gothenburg, it opens with Lodmark playing a riff to herself, late at night — the same riff that was their starting point when they were writing the song — when the lights start flickering. She shoots Daltrey a quick text — "Hjälp!!!" — summoning her friend to her aid. Armed with axe and hockey stick, they march into the woods to confront the unknown.
"There's something obsessive about the song," Lodmark explained, speaking over the phone from Daltrey's apartment in Gothenburg. She recalled feeling as though they were on to something as soon as they started writing. "This is a song that is going to be pow, right in people's faces."
"We really liked the scary feeling, and we would be bad-asses," Daltrey added. "We knew there was going to be a showdown in the end." As fans of horror films like The Babadook and The Conjuring, they know a bit about suspense.
The two 23-year-old Swedish musicians have been playing together for a decade. They joined forces in high school at the behest of a music teacher. "We didn't really like each other," Lodmark recalled. "But then our teacher thought we should play instruments or something cool like that." Armed with guitars, they found they clicked. The resulting duo is a grungier, more guitar-laden counterpoint to their synthpop peers like Robyn, Tove Lo, Lykke Li, and Seinabo Sey. They share songwriting duties, though Lodmark is the lead guitarist and singer and Daltrey the primary lyricist and drummer. The duo is in the midst of recording their follow-up to last year's self-titled debut.
"We just want it to be 1,000 percent," Daltrey said. Lodmark finished her thought: "We need to let it go at some point."