Exclusive Music Video Premiere: Tennis's Alaina Moore Sings a Very Feminist Slow-Jam in "Modern Woman"
One-half of the husband-wife duo Tennis discusses feminism, a woman's relationship with herself, and making music in a Trump era.
---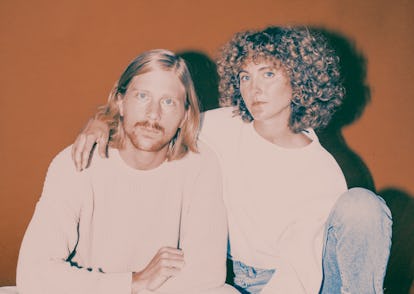 Luca Venter
After a pivotal sailing trip took them on a journey spanning the eastern seaboard of the United States, the band Tennis, husband-wife team Alaina Moore and Patrick Riley, released their debut album Cape Dory in 2011. The lull of the sea has proved irresistible for the duo: When it came time to write a new album, the forthcoming Yours Conditionally, they took to their boats once again, charting the journey on an Urban Outfitters blog in 2016. But the record that emerged is less a product of crashing waves and more the result of Moore's ongoing meditation on how she defines herself in relation to those around her and, as a self-professed feminist, how she navigates contemporary definitions of femininity and gender roles within a monogamous relationship.
So it's fitting that the second single off Yours Conditionally is "Modern Woman," a lilting reflection on an estranged friendship. "I know a modern woman by the look and by the feel," Moore sings. "We both cut imposing figures." Until the song came to her, all at once, Moore's work for Yours Conditionally had focused on how she defines herself in relation to the men around her, and to her audience.
"Women tend to define themselves in terms of their relationship to the world and other people, or at least I really do" Moore explained. It was only with "Modern Woman" that she began to examine her relationship with other women—and with herself.
In the video accompanying the single, which premieres exclusively on W, she peers into a vanity mirror at her reflection, maintaining eye contact with her own image as she reaches for various potions and salves, the products she leans on to make herself beautiful. The video comprises several dreamy vignettes shot over the course of a single day at a gallery in Denver. Director Luca Venter, who also directed the band's "In the Morning I'll Be Better" video, and set designer Kelia Anne envisioned different rooms for the shoot—"really feminine and really domestic," Moore explained. In each scene, there's a mirror, and Moore stares into it, transfixed.
That feminine softness contrasts with the narrative, a rumination on a woman's power and willingness to take up space. Musically, "Modern Woman" has all the qualities of a lullaby. Lyrically, it cuts deeper.
"As a feminist, where does my power, my toughness, my assertiveness, all of those things, not settling for certain conventions, where does that begin?" Moore wondered. "What sort of tropes of femininity are okay to embody because I want them, and which ones should I abandon?" These are questions that have no satisfying resolution. Much of Yours Conditionally was written over the course of Moore's 2016 travels. She returned home to America's "total chaos," a climate in which these questions are more necessary and relevant than ever.