Exclusive Song Premiere: TOPS' "Further" Is a Breakup Song By a Band That Didn't Break Up
"Further," off their upcoming album Sugar at the Gate, was written as TOPS frontwoman Jane Penny was ending a years-long relationship with guitarist David Carriere.
---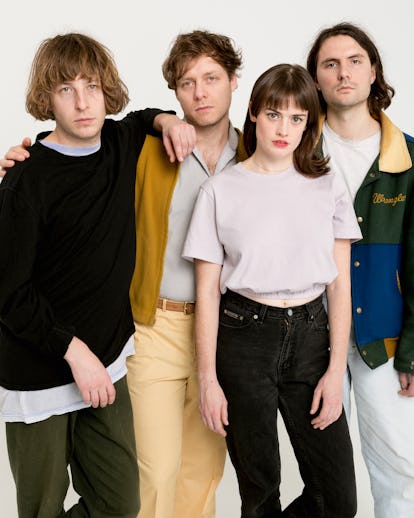 Richmond Lam
"We were craving a different context," said TOPS frontwoman Jane Penny recently. She was talking about her band, a Montreal fixture, and their temporary relocation to Los Angeles to record their third album, Sugar at the Gate, out June 2.
"We got a house in Glendale," she went on. "We recorded the whole record ourselves either in the garage or in a studio room that we made in the house."
That DIY approach is nothing new for TOPS, who broke through as part of the indie scene at Montreal's Lab Synthèse, the defunct music warehouse space and artistic hub that was frequented by Grimes, Braids, and Mac DeMarco.
"It's natural for people to want to create context around music," said Penny, 29. She grew up in Edmonton, Alberta, where she met her now bandmate and guitarist David Carriere in junior high.
At its core, TOPS is an intimate collaboration between the two.
"We like to write songs together, and we've also contributed some songs that we wrote ourselves on this record," she said. "What we care to do is trust the emotional intention behind the song. It's really helpful to have another lyricist with you. We help each other translate things."
Their newest single, "Further," premiering here exclusively on W, an incredibly catchy, dream-pop tune "about struggling with emotions," was first written by Carriere.
"And then when we were doing the vocals, I felt like it wasn't quite there, and I ended up rewriting most of the lyrics," said Penny. "We're both pretty open to taking things apart, and I think it's nice when both people get the opportunity to interpret it."
Until recently, the bandmates had dated for years—something they had refrained from sharing in the past.
"We broke up around the time that we finished the record, but we're still playing together and have known each other for like 17 years or something," she said. "I feel like there's definitely aspects of the record where you can really understand maybe what's been going on which is weird, because I'm not usually honest about that stuff."
TOPS didn't fully come together until the addition of American drummer Riley Fleck, whom they met inside a rehearsal loft space in Montreal during their earlier days.
"David has been writing songs since he was a tiny, tiny boy," Penny said, speaking to what they each bring to the band. "He just has this crazy ability to make songs that touch people, and he's a really good guitar player. He's very good at driving things through with production. And then Riley is an extremely tasteful drummer, which I think is a pretty rare thing."
Following the release of their 2012 debut album, Tender Opposites, TOPS has gone through some roster changes, recently adding bassist Jackson MacIntosh (who replaced Madeline Glowicki, who had taken over on bass after Thomas Gillies' departure) and Marta Cikojevic, who joins on keyboard for live shows as they prepare to tour Europe and the U.K. this June. "I'm excited to have another girl on tour," Penny said. "It's really important that women make music."
When it comes to the new album, many songs share a common theme, she said. "It's about when you work really hard to get to a certain place, and then you find out that you're there and you look around and you see that it's still going to be hard."
"The songs are really honest," she went on. "Lyrically, I feel I found a way to express the complexity of my experiences. It's a lot more multidimensional. You get a lot more of a sense of who I am and also what the band is about."
See what's trending on W video: