Exclusive: Stylist Pernille Teisbaek Launches a Jewelry Line
The creative director and perennial street style star collaborates with jeweler Orit Elhanati to release a line of raw yellow gold baubles, exclusively sold on FORWARD by Elyse Walker.
---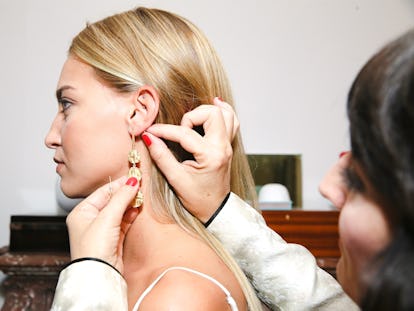 Noa Griffel/BFA.com
"I hate jewelry, hate it – it's horrible," joked Pernille Teisbaek.
The Danish creative director and stylist was sitting in the lobby of her hotel in central Paris near the Tuileries Garden on Saturday afternoon.
"No, I've always loved jewelry," she continued, in a colorful Stella Mccartney knit, structured pants, Miu Miu heels and pieces from her new jewelry collection. "It was a passion for me, secretly a dream of mine and a very amazing opportunity to be able to create with a very talented friend."
Teisbaek collaborated with Danish jewelry designer Orit Elhanati to release a one-of-a-kind line using pure, raw yellow gold.
"We met two, three years ago," said Teisbaek, whose engagement ring was designed by Elhanati. "We followed each other's work for a long time. My fiancé contacted her saying, 'I'm sure, you've got to do the ring.' And they did it together. It's very special…I've always admired her organic way of working with gold, which is something different that you don't see anywhere else."
The project came to fruition in April at Coachella, when Teisbaek was conversing with a representative from FORWARD, the California-based luxury e-commerce site, and mentioned the need for fine jewelry.
"I think a month and a half ago, I got an email from them saying, 'are you still interested in doing the collection'?" said Teisbaek. "We had to act really quickly on it, which has been quite stressful."
The collection is a mix between Elhanati's playful style and Teisbaek's more minimalistic approach: "It's discreet with a fun twist. I'm more subtle, so that contrast is kind of a fun way of figuring out how things should look like."
The inspiration was "under the surface of the sea," she said "Organic shapes from the underworld of the sea. I've always been quite attached to water. I grew up by the water."
The women met many times in Copenhagen as Elhanati formed the collection, advising with Teisbaek along the way. "It worked out, because we know each other so well," said Teisbaek. "It's not like we had a year to create. Our deadline was Paris Fashion Week."
With parties every night, as fashion week is soon coming to a close, I asked Teisbaek – who always seems to be at all the right places – what she's up to for the evening.
"I'm actually up to nothing," she said. "I want to be fresh for tomorrow, and my fiancé is coming as well. I'm pregnant, so I'm really tired at night, and I've been out every night since I've arrived. So, I think I'm going to have a slow evening."
On Sunday night, Teisbaek, who's 4 months along, hosted a dinner to toast the jewelry launch: "It's going to be amazing. FORWARD is the best partner to do this with. We're overexcited."
Is this the first of more collections to come?
"We hope so," she said. "You never know."
The collection – 16 piece in total with necklaces, earrings, rings and an anklet, ranging from $505 to $5905 – is now available, exclusively at FORWARD.
Pernille Teisbaek Launches Jewelry Line With a Party in Paris
Karina Laursen, Duveke Angelo

Noa Griffel/BFA.com
Giotto Calendoli, Patricia Manfield

Noa Griffel/BFA.com
Orit Elchanti, Pernille Teisbaek

Noa Griffel/BFA.com
Pernille Teisbaek, Elyse Walker

Noa Griffel/BFA.com
A necklace from the new jewelry collection by Pernille Teisbaek and Orit Elhanati.

Noa Griffel/BFA.com
Alex Carl, Hannah Loeffler

Noa Griffel/BFA.com
Raissa Gerona, Camila Coutinho

Noa Griffel/BFA.com