Exclusive Track Premiere: Rising Star Clay's Sultry New Single "Follow Me Down"
Meet the purple-haired singer who just wants to do her own thing.
---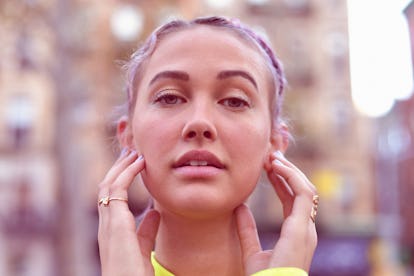 When Gabrielle Walter-Clay, who goes simply by Clay, was still a sophomore at the Berklee College of Music in Boston, she organized an all-woman funk band. She was chafing at the confines of higher education, and she found an outlet in her funk music that also comprised fellow students like bassist Alissia Benveniste and guitarist Maddie Rice (who now plays with the house band on The Late Show with Stephen Colbert).
It was with that same group that Clay reunited recently, three years on, when she took the stage at New York's Rockwood club in mid-October for an intimate 40-minute set. Two of the three Haim sisters, Este (a friend of Clay, visiting from Los Angeles) and Alana, observed from the back of the bar, heads bobbing along appreciatively. The band picked out a few buoyant chords, breaking into a laid-back rhythm while their frontwoman waited in the wings for her moment.
Then, clad in a yellow brocade suit, her purple hair vivid under the stage lights, she stepped onto the stage and broke into her new single "Follow Me Down," which premieres exclusively on W, below. The smooth, chill track is based on the Sirens of Greek mythology — "beautiful, female water creatures that lured the sailors in their boats to their watery death," she told me over dim sum later that week. But, at its heart, it's about casting off your inhibitions, delving into a place where fears and daily stresses can't follow. "It's very much an escapism song," she added.
The 22-year-old musician pulls inspiration from anywhere and everywhere: "I'm trying to open up my creative pores to just letting whatever wants to influence me, influence me," she said. "My songwriting has grown exponentially when I stopped being like, 'Okay, I have to write verse, chorus, bridge, verse, chorus.'"
It was a few days after the Rockwood show, and we were besieged by the arrival of tray after tray of plump dumplings and something called an "OG egg roll." In person, Clay, in a neon chartreuse top and iridescent skirt (both thrifted), is playful and gregarious, much like her stage persona. She's always the last girl on the dance floor; she described her facial expressions as "stretchy," going from stoic to cartoonish in an instant.
As the first wave of our shrimp- and vegetable-filled cornucopia arrived, Clay speared a dumpling, pulling the skin off to examine its contents. "We're playing Operator right now," she said, laughing.
Clay was born and raised in San Francisco to parents who co-run a hair salon — her dad's a stylist, her mother manages the shop. Her stepmother is an esthetician. "I'm pretty hooked up in the beauty department," she said. Though neither of her parents are professional musicians, she grew up in a house infused with old-school soul and funk — Stevie Wonder, Chaka Khan, Marvin Gaye — which led her to the following generation of R&B musicians like Lauryn Hill and Erykah Badu. She started performing at an early age — at four, she stood on a chair in her living room and sang to an audience of no one — and started writing songs in high school. When it came time to pick a college, she knew she didn't fit the liberal arts mold; she applied to three music schools and got into one, Berklee. She left after her sophomore year, moved to L.A., where she's now based, and started making music and connecting with other artists.
It wasn't until late September of this year that Clay made her debut, though, releasing "Wild Thing/3's A Crowd." "Follow Me Down" is just her second single ever, the second of three in the lead-up to her debut EP, The Clay Project, Chapter One: When Night Falls. (Slated for January release, it'll be quickly followed by The Clay Project, Chapter Two: When Day Breaks in March.) She has the next year all mapped out: a string of singles, two EPs, culminating in a full-length album she describes as more akin to a mixtape in the Lauryn Hill mold than a traditional record.
Yet she's still unsigned — of her own volition. "It's been pure guerilla warfare," she said, adding that it gives her more freedom both in the studio and with her fans. "All I'm trying to do is create safe spaces," she said. "All I'm trying to do is that all-encompassing message of me: having purple hair and wearing crazy bright clothes and being so radically myself that people are like, 'Oh, I want to be myself, too.'"