Exclusive Track Premiere: Weirdo Breaks Out the '80s Power Jams in "Sapphire"
Berlin-based musician Josh Christopher, aka Weirdo, just wants everyone to embrace their weirdness.
---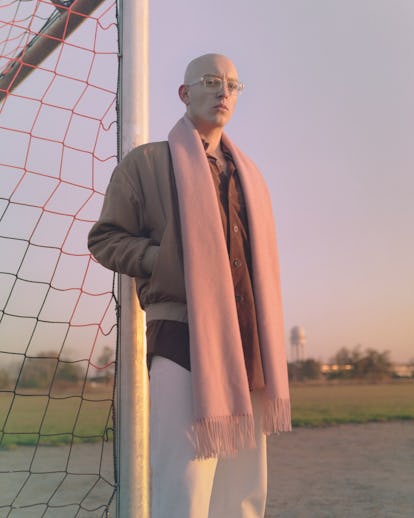 James Perolls
By his own admission, "Sapphire" is Josh Christopher's sad song. The musician, 26, who records as the enigmatic synth-rocker Weirdo, started writing it two years ago in bits and pieces, finishing a few piano-led demos, but it wasn't until eight weeks ago that the track, which premieres exclusively on W, reached a point of satisfaction.
"I'm such a perfectionist," he said, speaking over the phone from his home in Berlin after a marathon five-hour rehearsal. Though he's an adopted Berliner — he splits his time between Germany and London — he retains the think Birmingham brogue of his youth. Eventually, as with all songs, he had to let "Sapphire" go. "That's just down to being calm and just saying, 'F–k it, it's good enough.'"
The "good enough" version of "Sapphire," two years in the making, now emerges as a slow-burning retro jam, complete with Phil Collins-inspired drums (courtesy of Christopher's friend Debbie Knox-Hewson, Charli XCX's drummer) and a shimmering guitar solo to round it out. It's a more somber track than the previous Weirdo releases "Attitude," "Armanio," and "Butter," and in its earlier arrangements, it was even sadder. It's about a friend or lover, someone the narrator once saw as a sparkling, burnished sapphire, falling from their good graces. The song juggles the two connotations of the color blue: the shining gemstone and the melancholy, proverbial "feeling blue." (Also, not-so-coincidentally, Christopher's favorite color.)
Christopher is an alum of the Brighton-based trip-hop outfit Iyes, which he formed in 2013 with Melis Soyaslanová. The duo released their most recent EP History in July before going on hiatus to focus on their respective solo careers. Like Iyes, Weirdo started as a studio project — Christopher has yet to play a live show with his new band — that has grown organically, quietly racking up the views on Soundcloud, but he's planning to get out on the road in early 2017 accompanied by bandmates Pierre Leck on bass and René Corbett on percussion.
"I think Iyes is me in this Photoshopped world," he said. Where Iyes was hyper-stylized and monochromatic, featuring black, white, and shades of grey, Weirdo is pops of pastel; his stagewear will blend sportswear, high fashion, and vintage pieces. (He was also offered a spot in the most recent Maison Margiela menswear show, though he had to bow out due to music obligations.) And with Weirdo, as the name might indicate, Christopher is embracing his weirdness. "Weirdo is me now."