Exclusive Track Premiere: With "Vines," Dawn Richard Is Pioneering the Bayou Synth Sound
Recording as D∆WN, Richard reaches the conclusion of a concept album trilogy with the funky second single off her new album, Redemption.
---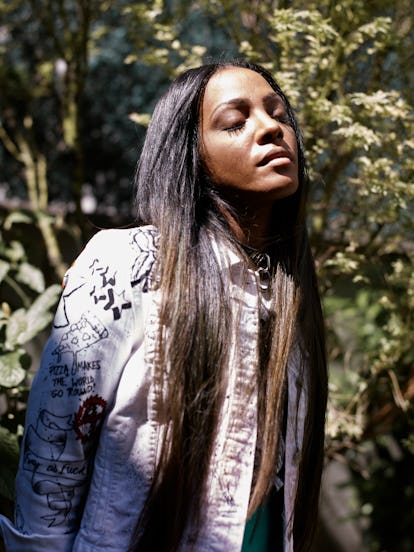 Bon Duke. Produced by Biel Parklee.
"I don't mean to talk about my personal business, but Imma have to put it out there," chants Dawn Richard, aka D∆WN, in the opening to her new track, "Vines." The soul- and R&B-inflected track, which premieres exclusively on W, is a right-turn from her previous, high-energy electronic work, but, in a way, the new single is the logical conclusion to a trilogy of concept albums (including 2013's Goldenheart and 2015's Blackheart) that's spanned five years and several EPs in between.
"I felt stifled coming out of the Black era," Richard said, speaking over the phone from Los Angeles. She was in the midst of some home renovations in the lead-up to the release of her new album Redemption. "Vines" is the second single ahead of the record, which is out November 18. "I felt like I was being put in boxes, and I didn't feel comfortable being typed," she added. The result was "Vines," an ode to growth and nourishment, using the metaphor of a sprouting tree. It's a vivid image, full of Richard's sensual lyricism and a really funky bass line.
"I had read The Odyssey, I had read The Iliad. I had seen the great things that could come from the power of words and the power of storytelling," Richard explained, "I just didn't know how I was going to fund it." (Now, the consummate self-made woman is studying up, reading Nicole Lapin's Rich Bitch.)
She recruited musician PJ Morton, lately of Maroon 5, a keyboardist and producer who attended high school back in New Orleans with her brother: "I called and I said, 'PJ, I need your magic,'" she said. He accepted immediately, drawn, as Richard told it, by the track's uncommon blend of electronica energy and southern-inspired soul — "bayou synth" or "sultry voodooism," Richard called it.
Redemption is thematically divided into two movements: The energetic, electronic first half, represented by its lead single "Renegades," is vintage D∆WN, while the second, of which "Vines" is the first cut, takes it down a notch, expressing more self-assurance (and in particular, acceptance of her own sexuality) than Richard had previously addressed.
"As a woman, you reach a place where you're comfortable in your own skin. You're fearless in what you talk about," she said. "As a woman, you shouldn't have to apologize for speaking on sexuality."
I asked if she feels fearless now.
"Oh, f*k yeah," she said, adding that she'd been called overambitious by naysayers over the past five years, and not just in her plainspoken acceptance of her own sexuality. Richard is unsigned by choice, and she has been putting out records on her own imprint throughout this concept project, securing funding for videos, tours, and for Redemption*, even releasing the album on a USB necklace complete with virtual-reality trailers she animated for each track. (A proficient graphic artist in addition to a musician, she also recently started animating for Adult Swim.)
"Vines," which Richard wrote a year ago and finished recording just over a month ago ("I'm never satisfied with the sound," she explained), is the gathering of all these various threads of her career. "I wanted a record that breathed, that was different from a lot of the records on the album, that had the space to just sit," she said. "I wanted it to be naked."