Exclusive Video: Miranda July, Fresh with a Middle Part, Is Here to Answer All Your Questions About the Whitney Biennial
The two-time Biennial alumnus has all the answers in "Through the Whitney Biennial Lens," premiering here.
---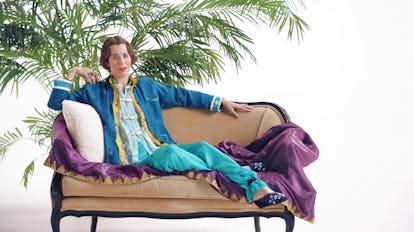 Miranda July has since gone on to become a filmmaker, an actor, a writer, and even an app developer in the decade-plus years since she was in the 2002 and 2004 Whitney Biennials. But the career-making survey of American art clearly still holds some significance for her, enough to gel down her distinctive mop of curls into an unabashed middle part and take on the persona of the museum's founder, Gertrude Vanderbilt Whitney, for a new video explaining the biennial, premiering exclusively on W.
"Through the Whitney Biennial Lens" is the second video in "New Ways of Seeing," a series by biennial sponsor Tiffany & Co. profiling art world figures like the critic Jerry Saltz, who kicked things off with artists like Kehinde Wiley. For her part, July's tapped fellow biennial alumni Edgar Arceneaux, Amanda Ross-Ho, and Catherine Opie to explain the survey and share their experiences with it, from Ross-Ho's drilling 100,000 holes into the museum walls to Opie's carving the word "pervert" into her chest. "It was pure fun to hang out with a gang of incredible artists on a film set for a day," July, who scripted the video, said. "The art and film worlds almost never collide like that."
The biennial's been making its own moves, lately. Next year's edition, which opens on March 17, will be the first in the museum's new downtown, Renzo Piano-designed space. And while the 63 names the curators Christopher Y. Lew and Mia Locks have chosen to show have already been announced, the lengthy selection process, which this year included more than a few surprises, seems to have stayed as "super secretive" as ever. "You get a phone call saying that 'you're in the show'!'" as Ross-ho explains. "'But don't tell anyone!'"
See W's most popular videos: