Exclusive Video Premiere: Kylie Jenner's Christmas Gift to You Comes Already Unwrapped
See her steamy new short film with Tyga, here.
---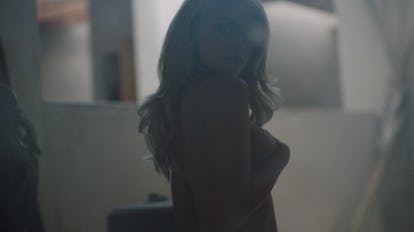 Sasha Samsonova
"Let's just call it our secret little place in Venice," the photographer Sasha Samsonova said on the phone from Los Angeles. She was referring to the "oasis" where she and her close friend and muse, Kylie Jenner, recently spent a day hiding out and shooting their steamy new short film, premiering here on W. "It fell into place very, very naturally," she added. "It just happened."
For Jenner, it was meant to be a "little surprise gift for the world" this Christmas morning. "The whole deal with this video is that it's a very personal experience," Samsonova explained. "It's like you're watching this person from a point of view that has never been seen before."
So focused was Samsonova on her subject that she almost didn't notice when Jenner's boyfriend Tyga stripped down and got in on the action. All this while Samsonova tried to not drop her 40-pound camera in the water, and as Jenner attempted to convincingly smoke a cigarette onscreen (she doesn't smoke, for the record).
"It's super raw footage," Samsonova said. "As soon as my shoots with Kylie come out, so many people write on my page and rant about how it's all Photoshop, Photoshop, Photoshop. But the thing about this video is that there's no post-production work whatsoever. It's only cut together. It's very raw, and we tried to keep it that way—no skin retouching, nothing."
Samsonova chose the soundtrack, a dreamy song by the singer Niia, to set the "meditative" mood of the film. Lately, though, Jenner's had more and more of a hand in the creative direction of their collaborations. "We go through each step of the process together," Samsonova said.
That's partly why, she went on, "this one feels so much more mature." She laughed. "And not just because of the nudity."
See W's most popular videos: