Exclusive Music Video Premiere: With Help From Beyoncé Stylist Zoe Zhou, Smoke Season Reimagines Lionel Richie's "Hello"
The alt-electronic duo fronted by Gabrielle Wortman offers a feminist take on the 1984 love song, just in time for Valentine's Day.
---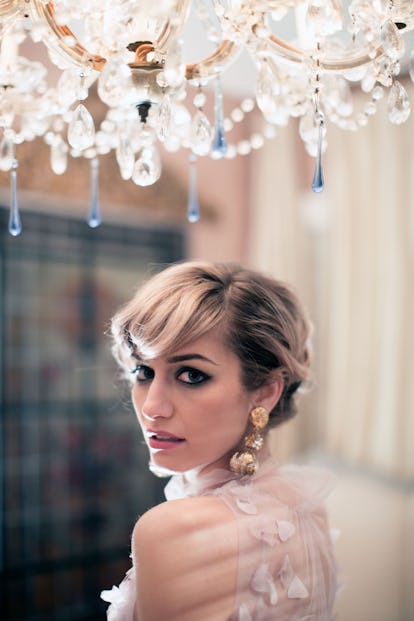 Natalie Obermaier
In 1984, Lionel Richie released his syrupy serenade, "Hello." The accompanying video stars Richie as a theater teacher pining over a blind art student; he thinks his crush is unrequited till the very end, when he walks into her sculpting studio and realizes she's putting the finishing touches on a bust in his likeness.
"When a man sings it, it's actually kind of creepy," Gabrielle Wortman, the frontwoman of the alt-electronic duo Smoke Season, said with a laugh. "But when it's sung by a woman, it becomes more longing and more sexy."
So Wortman, along with her Smoke Season bandmate Jason Rosen, set about reinterpreting song and video alike, their second cover effort. (They previously covered Talking Heads' "Psycho Killer" in October, an almost-unrecognizable, eerie take just in time for Halloween.) The result, directed by actress Megan Duffy and premiering exclusively on W, subverts the male gaze of the original, instead depicting a woman (Wortman) returning home from a grueling day at work, undergoing a baptism of sorts in a hot tub, and emerging rejuvenated, armor-clad, perched on a throne sipping a cup of tea, queen-like. Behind the scenes and in front of the camera, Smoke Season's "Hello" is a women-forward endeavor, with a female director, stylist, makeup artist, and star.
Wortman's armor, a marigold-colored caped gown out of Giles Deacon's latest couture collection, comes courtesy of Zoe Zhou, a stylist whose previous work spans both video and editorial, and includes assisting uber-stylist Marni Senofonte on Beyoncé's Lemonade video, her Super Bowl performance costumes, and the Lemonade world tour. ("Beyoncé is such an amazing storyteller," Zhou said.) Zhou and Wortman met through a mutual friend several years ago, hitting it off almost immediately; Zhou also styles Wortman for the stage, where her look tends towards androgyny, rather than the ultra-feminine looks in "Hello."
In the video, Wortman's character arc mirrors the narrative suggested by her succession of looks, a closet of Vivienne Westwood, Marchesa, Giles Deacon, and more. As the bass begins to pulse, Wortman sways up the stairs to her apartment, clad in a skirtsuit and cloche, taking a style cue from Faye Dunaway's character in Chinatown, with a nod also to Hillary Clinton's put-together suiting. Though they began work on the single in September, Wortman explained, Clinton's loss in the November presidential election lent the video project a sense of urgency: "The election changed the type of love story that we wanted to tell," Wortman explained—that is, the video centers women in their own narratives at a moment when women's rights and gender equality are particularly under threat.
The two covers Smoke Season has released over the past few months are breadcrumbs for their fans between major projects. Last summer, they released the six-track Ourobouros EP. Then they embarked immediately on tour—when we connected, Wortman was in Las Vegas for a show—before heading into the studio to write a full-length album, slated for release later this year.
And as for Zhou? She's balancing freelance projects, including ongoing work with Senofonte—and maybe her most famous client. "You know Beyoncé's performing at the—" she stopped herself and laughed. "She has a few things going on… I'll let that happen when it does."