Exclusive: Wes Gordon Premieres His Spring 2017 Collection
To showcase his latest work, the designer teamed up with model and It girl Margaret Zhang on a short film. Here on W, your first look at the video.
---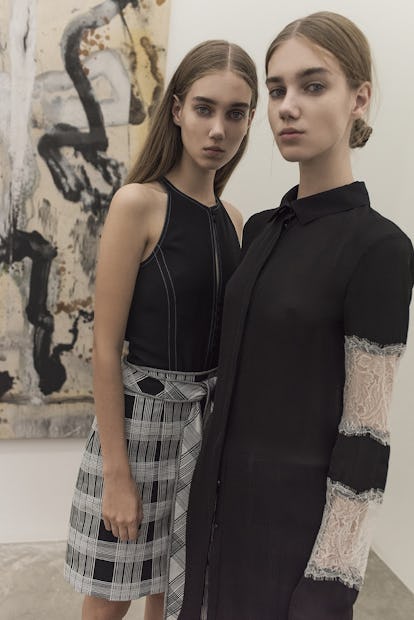 "It just gets so boring sometimes," New York City-based designer Wes Gordon said over the phone on Monday afternoon, referring to fashion week as we know it. "It's not that one format is wrong or one format is right, it's just figuring out what works for you."
Gordon, like many designers in recent seasons, has been playing around with how he presents his ready-to-wear collection in favor of a format that better speaks to his clothes. Last season, he opted for short, cinematic vignettes and by all accounts, it was a win for his beautifully constructed garments. "They just had a lot more soul and poetry and atmosphere than your lookbook or a runway show with four white walls," he said. "It was a really nice way to say the clothes are romantic and modern at the same time. This is her, walking through New York, and it painted it all so much more three dimensionally."
For his spring collection, he's taken it one step further with a short film, which makes its debut exclusively here on W. For the video, he enlisted pal, It girl and model Margaret Zhang, who is also a photographer and filmmaker, to help create the storyline, shoot, and direct the project. "Margaret is very creative and brilliant and wearing Vetements shoes at, like, every show and knows exactly what is going on. At the same time, she has a law degree," said Gordon. "Her finger is very much on the pulse of what feels fresh. For me, it was very important that this film had some energy."
Gordon and Zhang ultimately created a loose narrative in which two sisters (Danish twin sisters Amalie and Cecilie Moosgaard) parade throughout New York City in Gordon's latest designs. One sister has a bag of groceries and everything is falling out while the other sister tries to catch up with her and pick up the pieces. "It's fun, makes you smile, and really lets you see the clothes," said Gordon of the short, which was shot everywhere from Canal Street to Chelsea. "I love this idea of painting a picture of a woman in the context of her life and how the garments play into that."
In keeping with the past few seasons, where he has focused on defining the Wes Gordon codes, several iterations of his signatures appear in various forms, like an elegant slip dress with beautiful lace detail. Above all, his work remains grounded in strong, constructed tailoring and striking the balance between modernity and romance.
"A perpetual muse for us is always Carolyn Bessette-Kennedy," said Gordon. "I was looking at some old Peter Lindbergh photography of women on city streets, and also at Lee Radziwill's home and the interior color palette. It was really elegant, but in a nonchalant way—it didn't feel too stiff. I infused the collection with that same attitude." The collection is refined and full of timeless, wardrobe essentials Kennedy would surely have wanted.
Inside Wes Gordon's Carolyn Bessette-Kennedy-Inspired Spring 2017 Collection
Inside Wes Gordon's Carolyn Bessette-Kennedy-Inspired Spring 2017 Collection