Treat Yourself: 8 Exotic Yoga Retreats Worth The Investment
From Nicaragua to Cuba, these global yoga retreats boast stellar scenery and plenty of downward-facing dog time.
---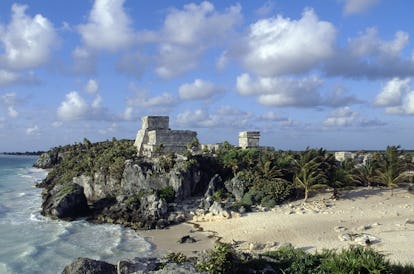 Photo by DeAgostini/Getty Images.
This year, forget a typical beach vacation or European urban excursion and opt for one of these exotic yoga retreats around the globe in favor of total body wellness. In celebration of International Yoga Day on Tuesday, here are eight yoga retreats for every type of traveling yogi. From an escape to a private island in the Philippines for a few days of healing, to a surfer's paradise in Nicaragua, we've got you covered.
1. Yoga For Bad People Retreat
When: December 4-10, 2016 Where: Havana, Pinar del Rio & Cayo Jutia What: Led by Yoga For Bad People's Heather Lilleston and Katelin Sisson, this retreat is a fun way to explore Cuba, which is one of the It destinations right now. Expect to start each day with yoga, then spend the afternoons seeing Cuba's most treasured spots, including La Finca Vigia (formerly the home of Ernest Hemingway) and Cayo Jutia (a stunning private beach you'll have all to yourself). We don't advise waiting to book this one—their retreats across the globe sell out quickly. Cost: $3,050-$3,250
When: November 12-19, 2016 Where: Tulum, Mexico What: Spend a few days in Tulum getting your zen on and lounging by the beach. The retreat includes two, 75-90 minute yoga classes each day (all levels welcome), along with two additional workshops and various group eco excursions (all optional) during the course of the week. Meals, which are heavy on the fruits and veggies, are served family style. Margaritas not included—it is a retreat, after all. Cost: $1,699-$3,199 3. Twin Farms Mind, Body & Soul Wellness Weekend
3. Twin Farms Mind, Body & Soul Wellness Weekend
When: July 8-9, 2016 Where: Barnard, Vermont What: For those looking for a more classic experience, this weekend retreat at Twin Farms (a Relais & Chateaux property and Vermont's only five-star resort) is a perfect fit. It includes mindful meditation coloring classes with artist Kelsey Montague (who recently published adult coloring book, What Lifts You), nature walks, cold press juice mixology classes, clean eating classes with executive chef Nathan Rich, and of course, yoga and meditation classes led by Katy Ann Leadbetter. There are group and individual classes, as well guided relaxation and yogassage (a yoga-meets-massage combination). Skincare enthusiasts will also be excited about the master skincare classes offered at the spa with Tata Harper. Cost: Rates starting from $1,700 per night
4. Amanpulo Alignment and Movement Retreat
When: October 21-27, 2016 Where: A private island in the Philippines What: It doesn't get more luxe than this—spend four nights in a beach casita on a breathtaking private island in the Sulu Sea with Amanpulo. The healing retreat, which focuses on aquatic bodywork, pilates, therapeutic massage and healing therapies, includes three morning yoga and evening meditation sessions, three specialist sessions per day, and a 90-minute traditional hilot massage. Amanpulo has enlisted the help of several top, whole-body healing specialists, including Yukako Kitajima, Robert Hyrsky, and Abigail E. Larsen for the four-day affair. Cost: $7,965-$10,530
When: July 28-August 1, 2016 Where: Whistler, BC, CA What: Unplug for a few days and head to British Columbia for Wanderlust Whistler. They offer vinyasa flow and yin classes for all levels, and for the adventurous types, there's stand-up paddleboard yoga and aerial yoga as well. They've recruited a top roster of yogis, speakers, DJ's, and meditation experts to lead you through a few days of transformational, total-body and wellness sessions. Cost: $95-$475
6. Red Rock Yoga and Hiking Retreat
Photo courtesy Get in the Wild.
When: October 12-16, 2016 Where: Goblin Valley State Park, Utah What: For an extra outdoors-y experience, head to Goblin State Valley park in south central Utah to explore the otherworldly, red rock canyons. Meditate, hike, and practice restorative yoga by day and night, and spend the rest of the evening around the campfire and taking in the stars. The retreat is open for yogis of all levels.
Cost: $1,195
7. Sky Ting Maderas Village Retreat
When: October 2-8, 2016 Where: Maderas Village, Nicaragua What: Calling all surfers and wanna-be surfers—this retreat is for you. Led by Sky Ting instructors Kumi Sawyers and Sophie Green, the retreat at the ever-so-trendy Maderas Village in the jungles of Nicaragua includes plenty of fresh juices and healthy meals, time for reading, reflecting, downward dogging, surfing (of course), and straight up chilling. For the super active, there are also catamaran sailing trips, horseback rides, surfing lessons, and massage therapy sessions. Cost: $1,600-$2,075
8. Yoga Shanti Koh Samui Retreat
Photo courtesy Yoga Shanti.
When: December 3-10, 2016 Where: Samahita Retreat in Koh Samui, Thailand What: Head to the exotic island of Koh Samui for two yoga sessions a day, Sunday through Friday, led by yoga power couple Colleen Saidman and Rodney Yee of Yoga Shanti. Visit the famous Laem Sor Pagoda, or just relax and enjoy the stunning sunsets and sunrises. Cost: $3,000-$4,000