Flying High
With Faena district, the hotelier Alan Faena aims to transform Miami into a world-class cultural capital—mega amenities included.
---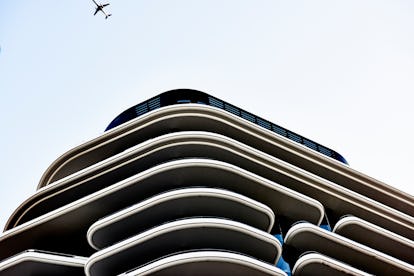 Photographer: Adrian Gaut
Dressed all in white—white shirt, white pants, white shoes—Alan Faena cuts a striking figure, like a prophet in the tropics. His message is the future of cities—what they can and should be, what people living in them want next—and together with his wife, Ximena Caminos, a bohemian pixie who wears all the colors he doesn't, he makes that future happen. Talking about the genesis of his new Faena District, an eight-block swath of Miami Beach, he speaks in sentences that have a vaguely oracular ring, owing to the grandeur of his outsized vision, a poetic way with a language that is not his mother tongue, and, perhaps, the faint echo of a great-great-grandfather who was a rabbi and an adviser to the king of Morocco. "I don't come from business or intellectuality," Faena says. "I come from the world of dreams. I come from the world of creation. I come from the world of turning the darkness into light."
Faena, 52, also comes from Buenos Aires, where 16 years ago he bought a warehouse and a factory built at the turn of the 20th century, in a part of the old port that served as the city's outer limit. Others saw derelict buildings on a dirt lot in the middle of nowhere, with no cars or buses or people or signs—there weren't even streets—but Faena saw the possibilities. Today, Puerto Madero, as the area is known, is a thriving neighborhood, with the historic buildings Faena acquired now restored and reconceived as an independent hotel and a center for adventurous contemporary art, surrounded by new apartments, restaurants, and shops. "I created the city inside my city."
It was on the strength of this success that he arrived three years ago in Miami Beach, to take on a project even bigger and more complex, with an all-star design team that included Rem Koolhaas/OMA, Foster + Partners, and William Sofield: the conversion of two rundown hotels into apartments and Faena Hotel; Faena House, a new condominium tower; Faena Forum, a cultural center; Faena Bazaar, a market for unique retail items; and a parking garage with glass-walled elevators for the cars.
Faena's plans defy the existing categories for real estate development, which in his case feel several sizes too small. "Luxury" doesn't begin to describe the materials and service he offers. Take, for example, his Faena Hotel Miami Beach, opening this month, with its artist-designed mosaic floors, gold-leaf ceilings, private bars, staff of 550, and "cathedral"—a soaring entry hall with eight enormous murals by the Argentine artist Juan Gatti and a view that stretches from the front door through the back glass wall to the sea. The sole purpose of this space is to inspire a sense of wonder, with an impact that Faena, who cannot be accused of thinking small, likens to that of the Sistine Chapel. "These murals 100 years from now will tell the story of the people here today," he says. "When you have the chance to create something like this, it's a big responsibility, because you're creating a legacy, a place not only for us today but for the Miami Beach of the future, with all this great architecture, these geniuses one beside the other. People will come and say, 'How did this happen?' "
Just how it happened is the result of what Faena calls his "collaboratory," a collection of A-listers "who have consecrated their lives to what they do," in the words of the architect Fabio Grementieri, who has worked with Faena. "Alan stimulates people to join him in crossing all boundaries and assembling a 'gesamtkunstwerk'—a total work of art. That practice and attitude was lost almost a century ago." The language people use to describe what Faena has conjured—and the language Faena himself uses—would come off as pretentious and sink under its own weight if invoked to refer to projects by almost any other developer. For that matter, "real estate developer" seems an absurdly reductive term for Faena's role. "What he's doing is urbanism," says Shohei Shigematsu, who has overseen the design of the Forum at OMA's New York office. Miami Beach mayor Philip Levine considers Faena "a lifestyle creator." The Argentine film director Andy Fogwill, a friend of Faena's, calls his projects "the creation of his own utopia." Manuel Ameztoy, another Argentine artist whose work Faena and Caminos have commissioned, says that their talent is for "creating experiences, with scenes that combine elements from different fields into a dazzling 'curated reality.' " To that end, Faena and Caminos have "mortgaged" five years of their lives, she says. "We don't do anything that's not perfect. Whether it's a lemonade or an exhibition, we do it with a lot of thoughtfulness, and we try to raise the bar, to challenge a little bit the person's perception and engage them in the here and now." The objective throughout, Faena says, is "to elevate people."
He has championed adaptive reuse, often at a higher cost than building new. Instead of starting from scratch, he prefers to "keep the identity of the place, of the past, of the old families and the old mentalities of the people that were here before us, that created the city." Faena and Caminos refer to their approach as "urban alchemy." They reinvent the neighborhood according to their philosophy of how cities can be at their best, of the ways in which their inhabitants gather and interact with one another and with buildings, nature, and art.
"We have to fight a lot against the perception that we're using art as marketing," Caminos, 44, says. A painter herself, she has found her calling as an independent curator working with other artists, articulating their ideas and helping to stage their work. As a curator at Buenos Aires's Museo de Arte Latinoamericano, she was instrumental in commissioning new work from established international artists and in showcasing the work of young artists in Argentina. Twelve years ago, Faena recruited her to incorporate art into his master plan for Puerto Madero. "I want the theme of the district to be art," Faena told her. In mile-a-minute English, a souvenir of the years she spent in junior high school in Washington, D.C., where her father was posted as a diplomat, Caminos recalls: "The hotel wasn't open, nothing was there—it was like a dump. I didn't want to do it, but I was flattered by his insistence." She told him she would be on board for nine months, until the hotel opened. The hotel opened. She never left. "It has been my personal challenge to make Alan's wish a meaningful reality that would have a true impact, not that bullshit that all these developers hang in their lobbies."
With Faena Forum, as in Puerto Madero, Faena and Caminos are looking at new ways of integrating art into urban life, making what Ameztoy calls their "daily experience of art" available to others. Unlike the bunkers that ordinarily house high culture in sunny climates, the Forum is porous, penetrated by the bright Miami sun, with space that is easily adapted for concerts, dance performances, and gallery shows. Its windows, their striking shapes formed by the facade's curved cantilevers overlaying the hurricane grid, frame views of Indian Creek and the surrounding buildings. "Instead of locking up the culture inside the fortress of a museum," Caminos says, "we open the building and let it spill out"—onto the street and even onto the beach, where a temporary rink by Assume Vivid Astro Focus will be set up for roller dancing. "The art world can be very snobby and protective and elitist," Caminos says. Alan, she says, is quite "punk" in this regard. "What we try to do is go exactly the other way."
Faena has been going his own way from the start. His path to real estate began in fashion. His family, Sephardic Jews who emigrated from Syria to Argentina in the 1920s, had a successful textile business. Though Faena was without formal design training, he had an almost infallible instinct for how his generation wanted to dress at a time when the country was emerging from decades of repression. He was always different, according to his mother, Elisa Faena. "I didn't know what to do with him," she says. The second of four children, "he was the one who always wanted more." At 16, in the early '80s, Faena announced that he was going to make a big sweater at a time when all the girls were wearing close-fitting ones. "I told him, 'You're crazy—nobody will buy it,' " his mother recalls. "But then, all the teenagers, they wanted that sweater."
In 1986, he launched his own clothing brand, Via Vai, which fast became one of the most popular labels in Argentina, with a denim line and a ready-to-wear collection that capitalized on the trends. With bold design, innovative shows, and sexy ads, Via Vai made Argentine fashion "more extroverted, freer, more rebellious," Fogwill says. "It put fashion at the center of the cultural discussion."
Nine years later, Faena sold the company. The prophet goes off into the wilderness and awaits a vision. The wilderness, in his case, being his seaside retreat in Uruguay, which he christened Tierra Santa—hallowed ground. He spent the next five years there, growing roses. What brought him back was Puerto Madero and the chance to work large, to create what he calls "an urban installation."
Miami was Len Blavatnik's idea. An American investor born in Ukraine, and a partner in Puerto Madero, Blavatnik is big on Miami, which he calls "the Monaco of the U.S." It is also the capital of Latin America, according to Mayor Levine, who is only half-joking, and a "live-and-let-live community" that has historically been hospitable to different ways of life and different cultures. Faena likes the idea that Faena District reverses the flow of ideas. "America," he says, "always has been looking to Europe. Never has a big project, a big mind, arrived from the South." Among the pictures on the walls of the guest rooms at the Faena Hotel are photographs by Gonzalo Fuenmayor: of Buckingham Palace pierced by a palm tree, of crystal chandeliers hanging in a grove of palms—evoking the magical realism of Latin American novelists. The hotel restaurant, under the direction of the Argentine chef Francis Mallmann, will revolve around cooking with fire. "I wanted to bring our flavor to the world," Faena says.
Plans for Faena District were ambitious but not without local precedent. The Rubell family had opened a museum in Miami showcasing their collection of contemporary art in 1994, and the Design District rapidly grew around it; not long after, they opened two hotels in Miami Beach, which was still ungentrified. Still, Faena's idea was greeted with skepticism in some quarters. When he first arrived and began telling people about the district he intended to make, starting at the intersection of 32nd Street and Collins Avenue—an area known as "mid-Beach," as if it were neither here nor there, stuck between the '90s revitalization that began with Lincoln Mall and the Delano and the classic resorts of the '50s, like the Fontainebleau and Eden Roc—realtors tried to dissuade him. "They would say, 'Don't do it. Nobody will want to live there. That's not a good area,' " Faena recalls. "So I thought, This must be the right place." He is skeptical of the so-called experts, having accomplished what he has "from nowhere," he claims. "I did it with my common sense and my heart and my smell of things. Sometimes knowing less is knowing more."
At first glance, the dynamic between Blavatnik and Faena seems like the kind of shotgun marriage that's typical in business, with one guy bringing the money and the other the ideas. But both Faena and Caminos insist that Blavatnik's involvement is as much creative as it is financial. It was Blavatnik who insisted on doing a hotel, when both Faena and Caminos, after their experience in Buenos Aires, were set against it. ("It's like having a tiger in your backyard," Caminos says. "If you don't feed it, it eats you.") They now concede that he was right. Likewise, it was Blavatnik who saw The Great Gatsby at the Cannes Film Festival and suggested that they hire Baz Luhrmann, the film's director, and his wife, Catherine Martin, its designer, for the hotel's interiors. "I thought the mood, the art direction, the party scenes were exactly what we need here," Blavatnik says. As it turns out, Luhrmann and Martin have been the ideal collaborators because, Faena says, "they are used to working with a script and making it better"—the script in this case being his notion of the kind of people who will stay at the hotel and the experiences they will have there.
Some of those people, undoubtedly, will be residents of Faena House, next door. For most of them, this will be one more home in a constellation of many. Lloyd Blankfein, the chairman and CEO of Goldman Sachs, bought in; so did Larry Gagosian, the art dealer, and Ken Griffin, the hedge fund manager, who bought the penthouse for $60 million—a record for Miami and $10 million more than the asking price. In a city that's now a scheduled stop on the international art-and-design circuit, it would be easy for Faena and Caminos to talk over the heads of the locals and gear their district to the hard-partying esthetes and itinerant billionaire collectors, the movie stars and supermodels who descend a few times a year. "We all meet fancy-pants people who are successful at this and that," Levine says. "But what I really like about Alan is he has the common touch."
It's hard to square this remark with the picture of Faena at home in Miami, where the eye meets walls painted peacock blue, an extravaganza of leopard- and tiger-print upholstery, a kilim, a 19th-century French ottoman, a crystal chandelier, and gilt candelabras holding dozens of candles that are lit at sundown by his household staff. "Alan likes to live like a king," Caminos says. At fairs, and shops in Palm Beach and Buenos Aires, the couple trolls for antiques. "We have such different tastes in many things, very similar in others. We super-respect each other. I love the things he loves; it's just that I don't have to live like Queen Elizabeth." Above a baronial fireplace, resting on the massive granite mantel, is a wood-framed leather oval, embossed with a coronet. The Faena coat of arms? Caminos rolls her eyes: "It's a Venetian headboard." Propped in front of it is her contribution to the tableau—a small artwork in a simple black frame of a red heart with a message superimposed on it: fuck off. Better than her taste or his, she says, is the combination.
The next morning, Faena is touring the construction site, as he does daily. No detail escapes his attention. The crews report to him directly. The developer with the billionaire buyers and the Lobmeyr crystal sconces inspired by the Metropolitan Opera's is talking to the workmen in a quiet voice, as if he were their colleague. He compliments one on the stone inlay; he asks another about the installation of a banister. The respect is clearly mutual. "I am one of the people," Faena says, and not only does he believe this, but the people—or, anyway, these people—seem to believe it, too. As does Shigematsu. "Alan is very straightforward," he says. "He treats everyone the same." Faena insists that "this is not an elitist project—we work for the community." For the opening of the Forum in April, Caminos has organized a procession of thousands, to include food carried into the Forum's kitchens, where it will be cooked to feed the crowd; high-school marching bands; Los Carpinteros, two provocative Cuban artists; members of the New World Symphony—"all sorts of people," Caminos says. "And we need to speak to all of them. If the roots don't go deep, the plant won't grow far." As Faena makes his rounds, it is raining, as it has been for two days—the storms unleashed by a hurricane somewhere off the coast. Dressed entirely in black, a visitor from the world where big ideas get shot down and the people who conceive them are dismissed as "dreamers" does her best to keep up, charting a path through the mud and puddles. Up ahead, in pristine white pants and a white silk shirt, Faena leads the way.
Photographer: Adrian Gaut
Alan Faena, at home in Miami, October.

Photographer: Adrian Gaut
Alan Faena at the site of the cathedral at Faena House.

Photographer: Adrian Gaut
The exterior of Faena House.

Photographer: Adrian Gaut
The view from the penthouse of Faena House

Photographer: Adrian Gaut
Photographer: Adrian Gaut
Photographer: Adrian Gaut
A perspective of the construction of Faena Forum.

Photographer: Adrian Gaut
A perspective of the construction of Faena Forum.

Photographer: Adrian Gaut
Ximena Caminos, in front of Transchromie Faena, 2014–2015, an installation by Carlos Cruz-Diez, at Faena House.

Photographer: Adrian Gaut
This page, clockwise, from above: At the Faena Arts Center, Buenos Aires, are Franz Ackermann's Walking South, 2012. Courtesy of Faena.
Faena, with Ernesto Neto's O Bicho Suspenso na Paisagem, 2011. Courtesy of Faena.
detail of Manuel Ameztoy's installation Pop-up Paradises, 2012. Courtesy of Faena.
FaenaFaena and Caminos, 2013. Courtesy of Faena.
Los Carpinteros' Plane, 2011. Courtesy of Faena.
Baz Luhrmann, Faena, and Len Blavatnik, in New York, 2014. Courtesy of Faena.
In Faena and Caminos's home: Alan's hat has a gilded perch.

Photographer: Adrian Gaut
An antique headboard shares space on the mantel with a small artwork given to Caminos by the Belgian and Dutch design duo Studio Job.

Photographer: Adrian Gaut
Austrian wooden deer heads with real antlers flank a window.

Photographer: Adrian Gaut