This Fall, Take a Chance on Green Eyeshadow
Among this season's myriad eyeshade colors, deep green stands out.
---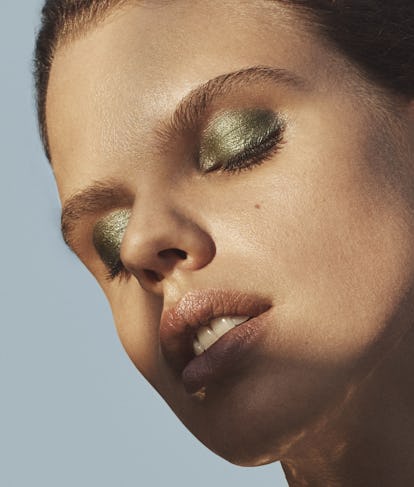 Photograph by Emma Tempest, Hair by Dennis Gots; Makeup by John McKay for NARS at Frank Reps; Manicure by Michelle Saunders for Essie at Forward Artists; Styled by Michelle Cameron at Streeters; photography assistants: Shayan Asgharnia, Cris-Ian Garcia; fashion assistant: Desi Aguilar.
Green eyeshadow made a splash on the Fall 2016 runways. Here, a guide to getting the look this season.
10 Green Eyeshade Colors to Try This Fall
Clé de Peau Beauté Eye Color Quad in N. 315, $55, barneys.com.
Elizabeth Arden Beautiful Color Bold Defining 24HR Liquid Eye Liner in Mystic Green, $25, elizabetharden.com.
By Terry Ombre Blackstar Color Fix Cream Eyeshadow in Midnight Forest, $44, barneys.com.
Estée Lauder Double Wear Stay-In-Place Eye Pencil in Emerald Volt, $24, [macys.com]9http://www1.macys.com/shop/product/estee-lauder-double-wear-stay-in-place-eye-pencil?ID=1795449&pla_country=US&CAGPSPN=pla&CAWELAID=120156340001405629&CAAGID=13678113266&CATCI=pla-163926480266&catargetid=120156340005304804&cadevice=c&cm_mmc=Google_BeautyPLA--Beauty_Estee+Lauder++Makeup+-+GSEstee+Lauder--55659171986-_-pg53779_c_kclickid_be00c57e-516b-46a5-8b0a-ea809c7681ff&trackingid=450×53779&gclid=CJXht-WV8c4CFVBbhgodd28B9g).
Nars Single Eye Shadow in Night Porter, $25, sephora.com.
Watch W's most popular videos here: